Billionaire Jay Bloom and YouTube Stars Share Accounts of Nearly Being Aboard Doomed OceanGate Sub
Here are the stories of billionaire Jay Bloom and others who were almost aboard the OceanGate sub that imploded attempting to tour the Titanic site.
The world has been captivated by the doomed OceanGate submersible that never made it back from its attempted exploration of the ruins of the Titanic.
Tragically, all five people on board the small craft, which imploded upon its descent, were killed.
Article continues below advertisement
Jay Bloom exchanged chilling texts with late OceanGate CEO Stockton Rush.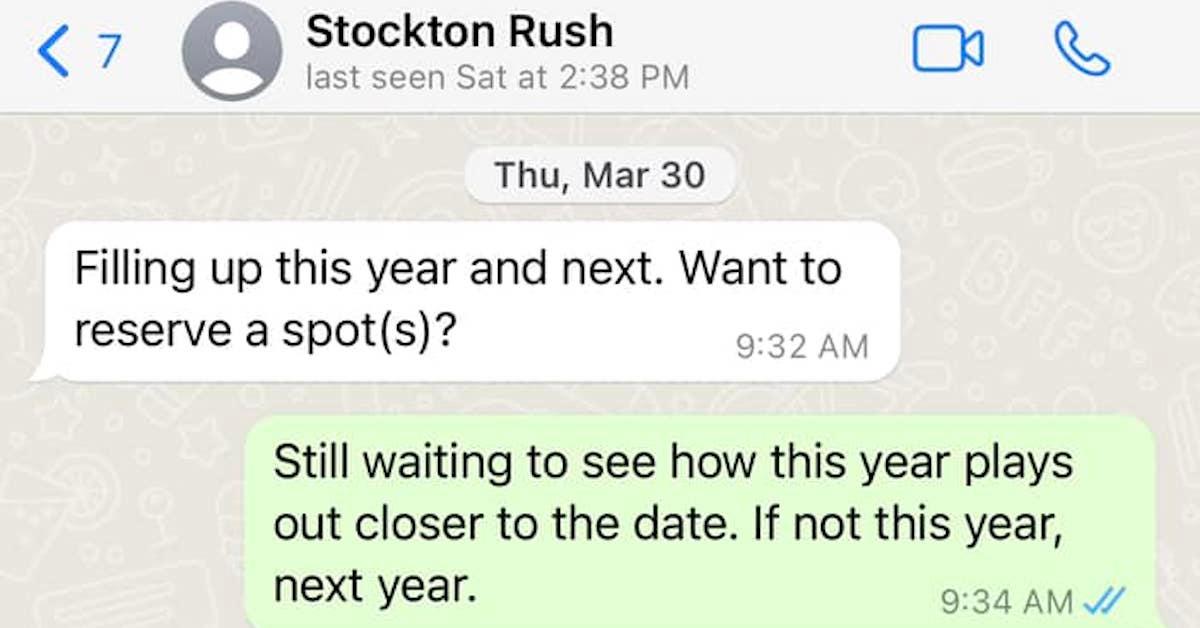 Las Vegas billionaire Jay Bloom has taken to Facebook with shocking details about his invitation to join the doomed mission to the Titanic site.
"In February, Stockton asked me and my son, Sean, to go with him on the dive to Titanic in May. Both May dives were postponed due to weather and the dive got delayed until June 18, the date of this trip," he wrote, going on to publish a chilling text from OceanGate CEO Stockton Rush, who perished in the accident.
Article continues below advertisement
One of the texts shows Stockton assuring a concerned Bloom: "While there's obviously risk it's way safer than flying in a helicopter or even scuba diving. There hasn't been even an injury in 35 years in non-military subs."
"I am sure he really believed what he was saying. But he was very wrong," Bloom concluded his post, going on to say, "I told him that due to scheduling we couldn't go until next year. Our seats went to Shahzada Dawood and his 19-year-old son, Suleman Dawood, two of the other three who lost their lives on this excursion."
But Bloom and his young son weren't the only people who could have been on board the doomed ship.
Article continues below advertisement
YouTuber DALLMYD was also pitched on joining the OceanGate mission.
Jake Koehler, who shares content on YouTube as DALLMYD, is also opening up about the near miss of being seated on the OceanGate sub.
He shared in a lengthy video that his mission was canceled. "What you're about to watch is footage from Mission III days before the submersible went missing on Mission V taking place on the exact same ship and I was also in the exact same submersible that is missing today," he posted on June 23, 2023.
DALLMYD then showed his followers what the inside of the sub looked like, as well as preparations with Rush, and Titanic expert Paul-Henri Nargeolet, who also died in the tragedy.
The footage obviously sent shivers down the spines of anyone watching. "Can't believe you were so close to this tragedy," one commenter wrote.
Article continues below advertisement
MrBeast was also nearly on the doomed OceanGate sub.
Like his fellow YouTuber, MrBeast, real name Jimmy Donaldson, was also invited to chronicle the OceanGate expedition. Taking to Twitter, the content creator, who counts over 21.1 million followers among his sphere of influence, shared an eyebrow-raising exchange.
Article continues below advertisement
In the post, MrBeast shares how he was pitched that "the team would be stoked to have you along" on the Titanic exploration.
To be fair, many commenters were suspicious of the post.