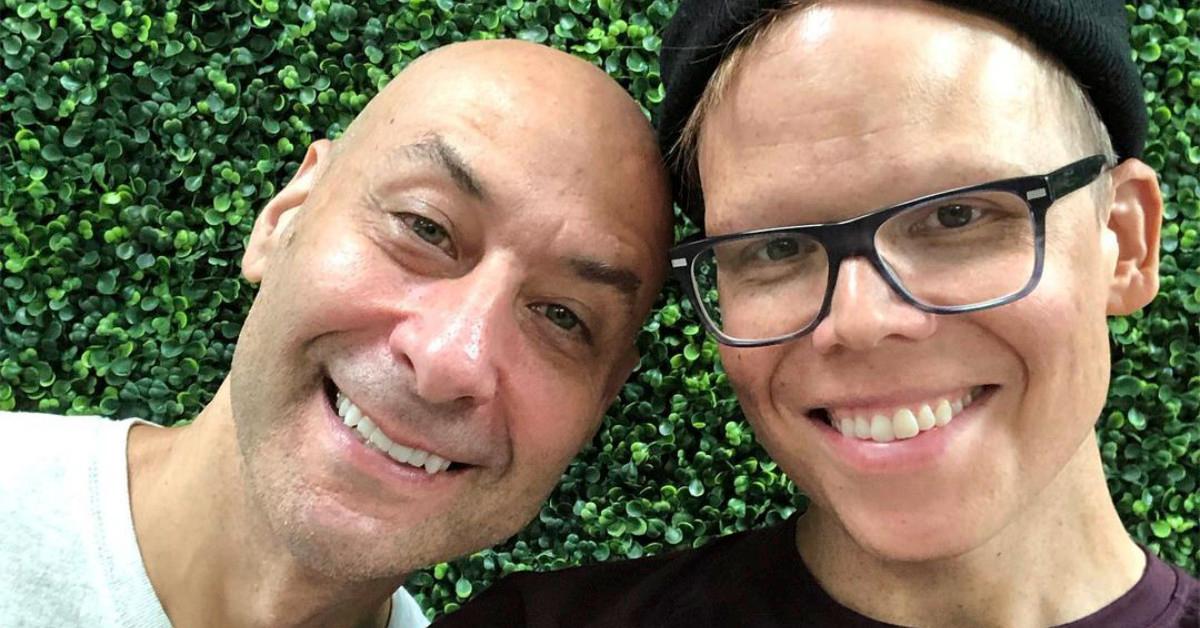 'Somebody Somewhere' Star Jeff Hiller Has a Seriously Talented Husband
There's a lot of talent in one particular one-bedroom apartment in Manhattan's Lower East Side. That's where Jeff Hiller — one of the stars of HBO's new show Somebody Somewhere — lives with husband Neil Goldberg (and their cat, Beverly).
Article continues below advertisement
And Neil, whom Jeff describes as the "best husband/cat-sweater-maker in the world," is an artist, too. Neil's multimedia work has graced the halls of top museums in the Big Apple. And on his podcast, he's been "indexing" other New York-based artists with the help of thousands of index cards! Read on…
Neil is an artist and a teacher.
As he says on his website, Neil creates photos, mixed media, and performance about "embodiment, sensing, mortality, and the everyday." His work has been displayed at The Museum of Modern Art, The New Museum of Contemporary Art, The Museum of the City of New York, and other venues.
Article continues below advertisement
Neil is also an instructor, having taught at the Yale School of Art since 2013. He was previously a teacher at the Skowhegan School of Painting and Sculpture and a mentor with the Queer | Art | Mentorship program. And he's been a visiting artist at Cooper Union, The School of Visual Arts, New York University, Parsons School of Design, Rhode Island School of Design, and the MIT Media Lab.
He created 'Hallelujah Anyway, Anyway' to show New York City's change and resilience.
Last March, Jeff released Hallelujah Anyway, Anyway through the New York Times' Op-Docs. "I revisited a video I shot in the early 1990s, of shopkeepers near my East Village apartment throwing open their gates in the morning, to reflect on the perpetual change and resilience that mark life in New York City," he explained to the Times.
Article continues below advertisement
In the four-minute film, Neil pairs that footage from 1992 with video of a neighbor waving a white handkerchief from their window during quarantine. "I loved it, and looked forward to it, and recorded it night after night," Neil says in the film. "Waving a white flag can mean surrender, but that's not what I saw. To me, it was a gesture of gratitude, and also a way of saying, 'I'm here.' Another way of saying, 'Hallelujah anyway.'"
Neil is the host of the podcast 'She's a Talker.'
Since 2019, Neil has hosted the podcast She's a Talker, using thousands of index cards — on which he has written observations like "Forever 21 sounds like a curse" and "the semi-existential choice between showing elapsed time or time remaining on the elliptical" — to delve into conversations with his favorite New Yorkers.
Along the way, Neil has interviewed hip-hop artist Cakes da Killa, fashion designer Isaac Mizrahi, Golden Globe winner Kathleen Turner, and — yes — Jeff, too.
So what's with the name of that podcast? "One night in the early '90s, I was combing my roommate's cat and found myself saying the words 'She's a talker.' I wondered how many other gay men in NYC might be doing the exact same thing at that very moment," Neil explains on the podcast's website. "With that in mind, I set out to videotape gay men all over NYC in their living rooms, combing their cats and saying, 'She's a talker.' A similar spirit of NYC-centric curiosity and absurdity animates the podcast."