A Transgender Contestant on 'Jeopardy!' Is Making History With Her Winning Streak
Amy Schneider is a transgender contestant on 'Jeopardy!' While she's far from the first, she's breaking 'Jeopardy!' records with her winning streak.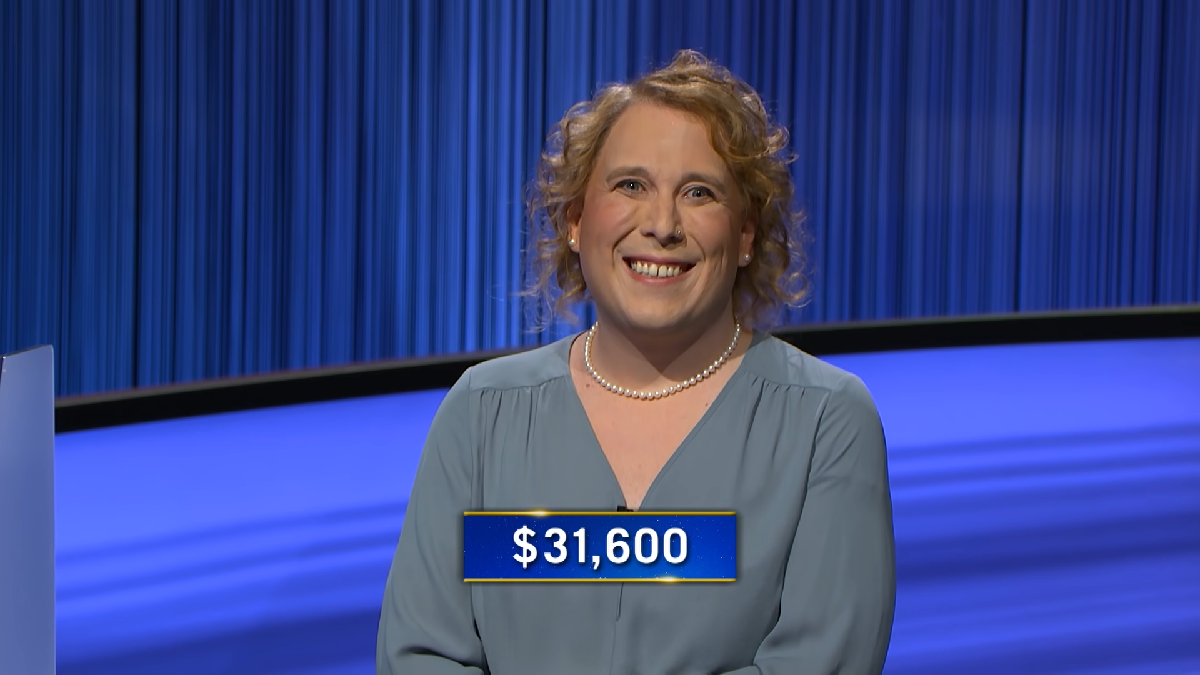 The long-running trivia game show, Jeopardy!, has a decorated history of winning streaks. From Ken Jennings' record that garnered him a role as the temporary new host, to Matt Amodio's historic 2021 run, the show is no stranger to landmark winners. So let's take a break from the drama of who's hosting the show this week and celebrate Amy Schneider, a transgender contestant who kicked off a hot streak during a time-honored occasion for the trans community. Amy uses she/her pronouns.
Article continues below advertisement
Jeopardy! has been on the air for almost 60 years, and always airs from Monday to Friday. Contestants choose categories and are then given a tidbit of trivia they must respond to in the form of a question. When a contestant wins, they always come back for the next game as the "Returning Champion."
As of Dec. 21, Amy Schneider is the current Returning Champion and has won 14 consecutive games on the show.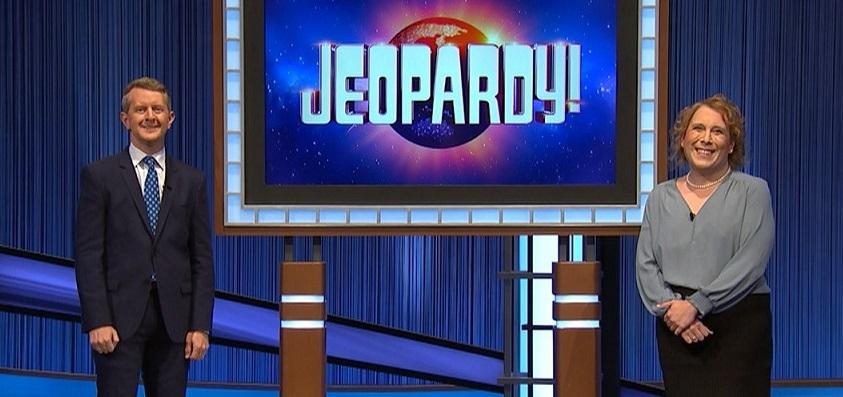 Article continues below advertisement
Amy Schneider is unafraid to be proud on 'Jeopardy!'
Amy is an engineering manager from Oakland, Calif. On her Twitter account, she openly discusses being transgender and how she follows in the footsteps of other LGBTQ+ and trans folks on the show.
"I am not the first out trans person to appear on Jeopardy," she tweeted. "There have been a handful before, including one, Kate Freeman, who was the first out trans champion on 12/16/20. My thanks to all of them for blazing the trail!"
Amy first appeared on the show Nov. 17, right in the middle of Transgender Awareness Week. She finished the episode by dethroning five-day champ Andrew He. She would go on to finish the week by winning three straight games in a row. On Nov. 22, she won again and became a four-day reigning champion. Her current total winnings amount to $155,600.
Article continues below advertisement
After each of her episodes air, Amy always tweets about her thought process for different categories and how she managed to come out on top. She always offers compliments to her fellow contestants and elaborates on how wonderful filming was for her.
"At the end of the first round, I had a sizeable lead. But no lead is really safe before Double Jeopardy!" Amy tweeted on Dec. 22.
Article continues below advertisement
Amy Schneider is a part of trans history on 'Jeopardy!'
As a trans woman, Amy adds to the venerable history of LGBTQ+ contestants on the show. In December 2020, financial specialist Kate Freeman (she/her) wore a transgender pride flag pin on her lapel as she won during her episode. Kate was widely reported as the first trans player to win an episode of Jeopardy!, though there was reportedly another trans woman in the 1990s who also won. Though she was not out at the time, she won several games in a row during her run.
Days before Kate's victory, contestant Cody Lawrence (he/him) wore a bisexual pride flag during his episode in solidarity with the bisexual community.
"We need more bi visibility in media," Cody tweeted, along with a picture of him alongside Alex Trebek.
Jeopardy! airs every night from Monday to Friday on ABC.