Kourtney Kardashian Is Pregnant, and Fans Want to Know When She'll Give Birth
Kourtney Kardashian announced her pregnancy during a Blink 182 concert, leading many to wonder about her due date and how far along she is.
After many attempts to get pregnant with her husband Travis Barker, Kourtney Kardashian recently shared the news that she's pregnant in the cutest way possible. While attending a Blink 182 concert, where Travis serves as the drummer, Kourtney held up a poster that said "Travis I'm pregnant," announcing to both her husband and the world that she was expecting.
Article continues below advertisement
Following that stunning reveal, many people were curious about Kourtney's due date and how long she has been pregnant. Here's what we know about her due date.
When is Kourtney Kardashian's due date?
Kourtney's concert announcement may have been cute, but it didn't come with much detail as to exactly when the baby was conceived or how long Kourtney has been pregnant. Because we know so little, it's anyone's guess when Kourtney may actually be due.
It seems likely, though, that Kourtney wouldn't have announced that she was pregnant until she was at least through the first trimester.
Article continues below advertisement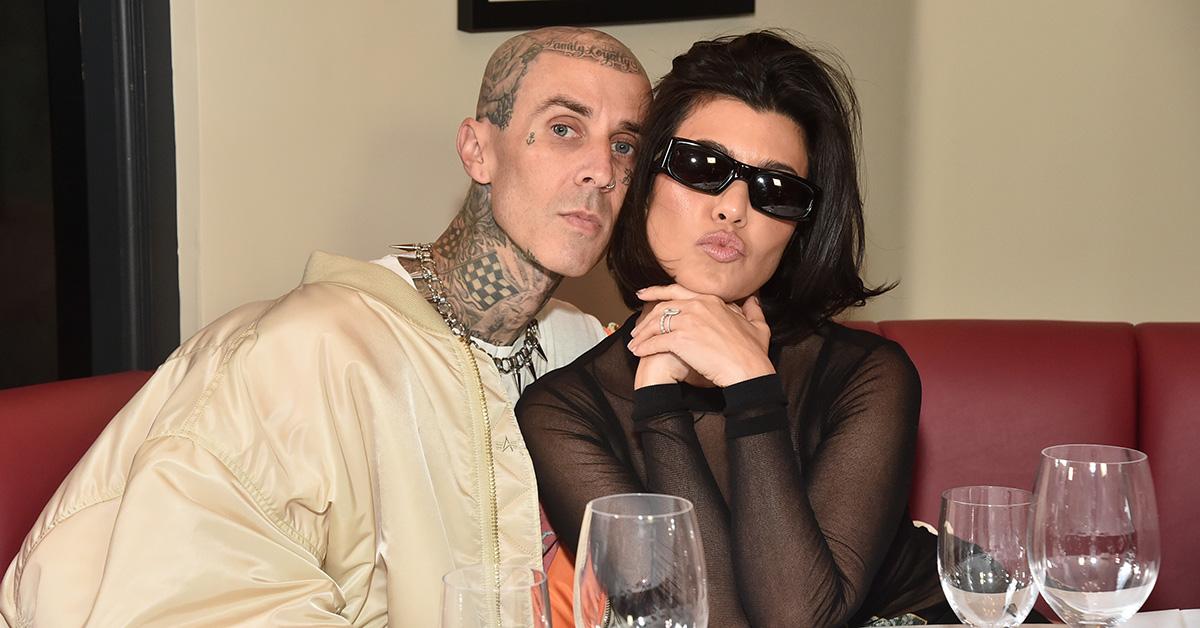 If that's the case, then Kourtney is at least three months along, which means that the baby could be due anytime in the fall or even winter. The probable due date range is in the last few months of the year, with November perhaps being the likeliest month.
Ultimately, though, all we can do is speculate as to exactly when Kourtney might give birth. Unless Kourtney and Travis share more details, we won't know for sure when she's due.
Article continues below advertisement
Kourtney recently debuted a bump on Instagram.
Although women show differently, another clue as to when Kourtney might be due came on June 18, 2023, when the reality star debuted her baby bump on Instagram. The photo was one of several in the post, which served as her Instagram announcement of her pregnancy.
"Overwhelmed with gratitude and joy for God's blessing and plan," Kourtney wrote alongside the post.
This child will be the first child for Kourtney and Travis together, but their seventh child in total. Kourtney has three children — Mason Disick, 13; Penelope Disick, 10; and Reign Disick, 8 — with ex Scott Disick. Travis shares Landon Barker, 19; daughter Alabama Barker, 17; and stepdaughter Atiana De La Hoya, 24, with ex Shanna Moakler.
Travis and Kourtney have been very open about their desire to have a child together since the earliest stages of their relationship.
Article continues below advertisement
In 2022, Kourtney confirmed that she and Travis were exploring IVF as a means of getting pregnant. Kourtney said that she would ideally want one or even two more children if it were possible.
"I think when you find love that you can't live without and there's still a chance — she's in her early 40s — I think they definitely want to see what life would be like with a baby," Kourtney's sister Kim said during an interview with Ellen DeGeneres.
Kourtney was also open about her struggles with IVF. "It hasn't been the most amazing experience," she said. "The medication that they've been giving me, they put me into menopause."
Ultimately, though, it seems like her IVF treatments may have worked, and now, she's officially expecting.