Til Death Do They Part — Kourtney Kardashian and Travis Barker's Love Story
Kourtney Kardashian and Travis Barker's PDA-filled love story started way before they went Instagram official. Here is a complete relationship timeline of the couple.
In May 2022, Travis Barker and Kourtney Kardashian tied the knot in a romantic Italian wedding fit for reality and rock royalty.
However, their love story started years before they even officially started dating.
Article continues below advertisement
In fact, Travis, who also lives in the Kardashian mecca known as Calabasas, was linked to another Kardashian sister before dating Kourtney. So, how did they meet, and how long did they date before walking down the aisle three times?
Here is Kourtney and Travis's complete relationship timeline.
2007: Travis Barker moves to Calabasas.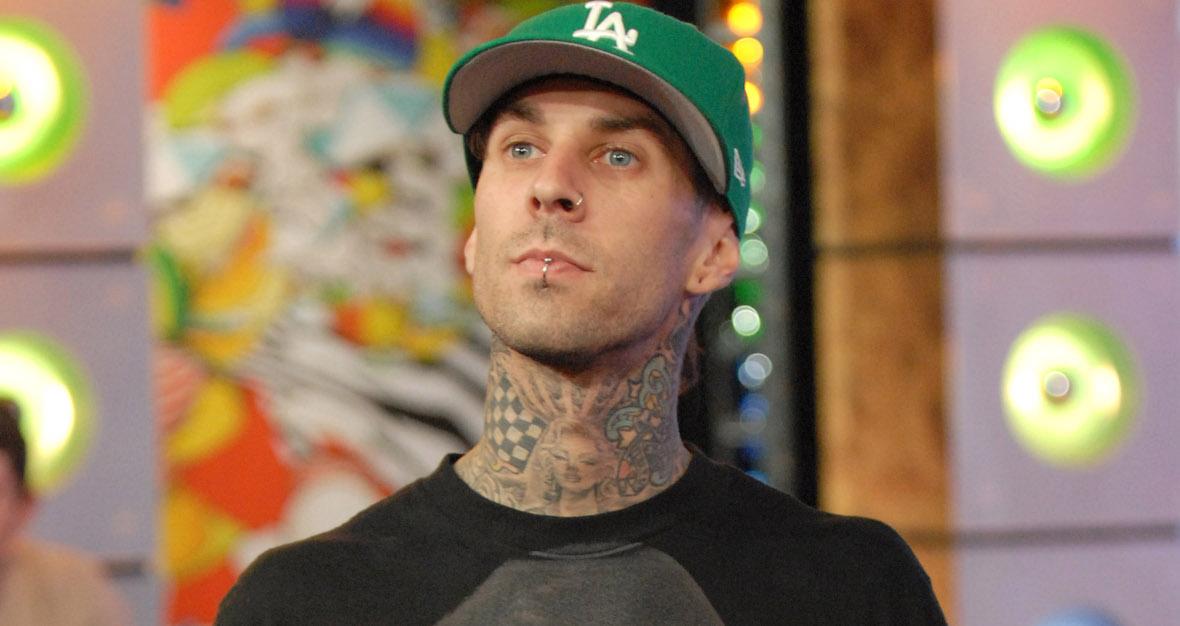 In Season 1, Episode 5 of The Kardashians on Hulu, Kris Jenner made the shocking revelation that Travis actually moved to Calabasas because he was determined to date Kourtney.
"Do you want to know the real reason why he moved to Calabasas?" Kris asked Kourtney. "He said, 'Because I knew she lived in Calabasas, and I knew she was the love of my life, and I didn't even know her like that, but I just knew if I couldn't date her or be with her because she was with someone else that at least I could live by her."
Travis bought his home in Calabasas in 2007, one year after his split from wife Shanna Moakler.
Article continues below advertisement
2015: Travis admits to having a crush on Kourtney's sister Kim in his memoir.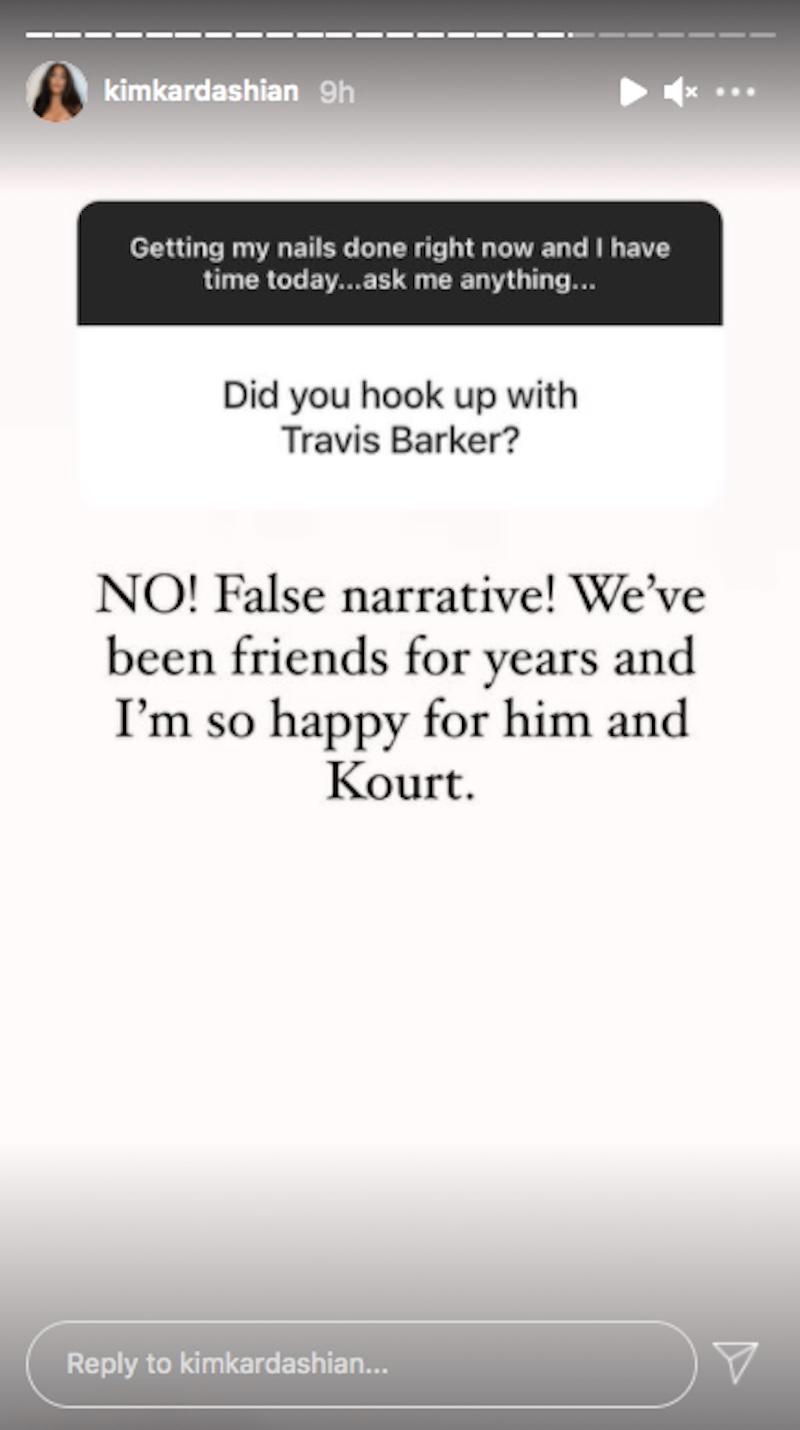 Despite his claims that he moved to Calabasas for Kourtney, Travis wrote in his memoir, Can I Say: Living Large, Cheating Death, and Drums, Drums, Drums, that he actually had a crush on Kim Kardashian.
"You might think I would be doing the worst things with this girl because of her [sex] tapes, but it was the exact opposite of any other encounter I've had with a woman: with Kim, I wanted to be nothing but a gentleman to her. It was so weird," he wrote.
However, he went on to add that nothing happened between them and "it just wasn't meant to be," opening the door for a romance with Kourtney.
Article continues below advertisement
2015: Kourtney Kardashian and Scott Disick split for good.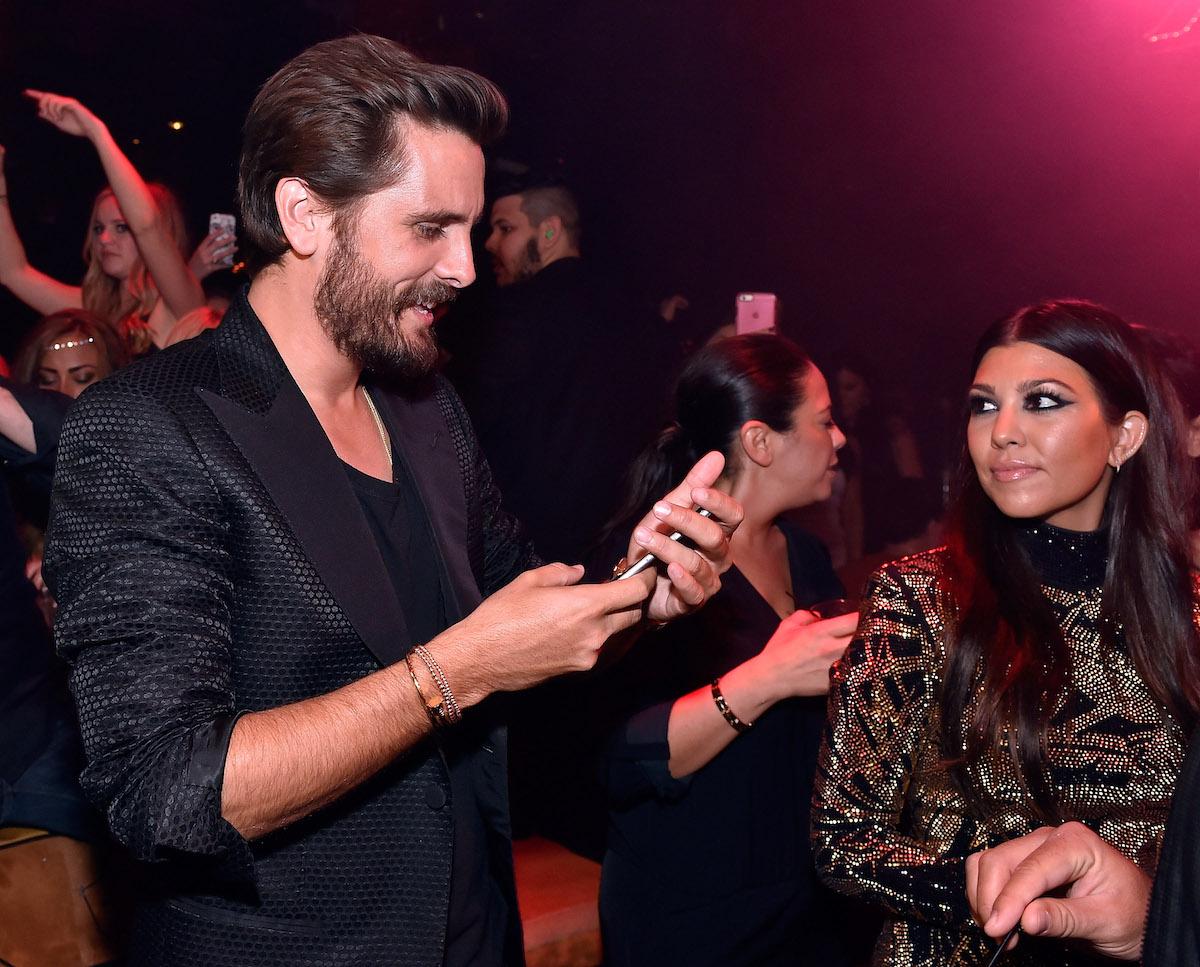 After nine years together and three kids, Kourtney officially ended her relationship to Scott Disick the same year Travis's memoir was released.
Kourtney definitely enjoyed her time as a single woman, dating Justin Bieber (2015), Younes Bendjima (2016), and Luka Sabbat (2018) before settling down with Travis.
At this time, Travis was briefly linked to Rita Ora.
Article continues below advertisement
April 2017: Travis makes his first appearance on 'KUWTK'
In Season 13, Episode 8, Travis made his very first appearance on the popular reality show, but only as Kourtney's "neighbor and friend."
"Our neighbor and friend, Travis Barker, decided to come over to Khloé's house because his kids and my kids are really good friends," Kourtney said on the episode.
He went on to appear on a few more episodes of KUWTK, including Kourtney's 40th birthday party in 2019.
Article continues below advertisement
March 2019: Travis and Kourtney are still "just friends."
After being spotted together in Calabasas, Travis denied dating rumors, telling People magazine, "Kourtney's like a dear friend. That's it. I mean, I love her to death. I love her family to death. But yeah, just friends."
Article continues below advertisement
December 2020: Kourtney and Travis start dating.
In was reported by E! News that Travis and Kourtney started dating in December 2020 after Kourtney posted photos in Palm Springs, with Travis sharing photos with the same exact background on his Instagram.
"They are a really good match, and Kourtney's entire family already loves Travis. They have been neighbours and great friends for years, and it just recently turned romantic," the source told the outlet. "He's an amazing, hands-on dad, and Kourtney loves that about him. They love relaxing at home with their kids, and everyone gets along. It's going well, and they aren't putting pressure on it being super serious at this point."
Article continues below advertisement
February 2021: Kourtney and Travis go Instagram official.
Just a couple days after Valentine's Day, Kourtney shared her first instagram photo with Travis, or his hand at least. However, it wouldn't be long before Travis would take over her grid.
Article continues below advertisement
March 2021: Kourtney and Travis go on a double date with Machine Gun Kelly and Megan Fox.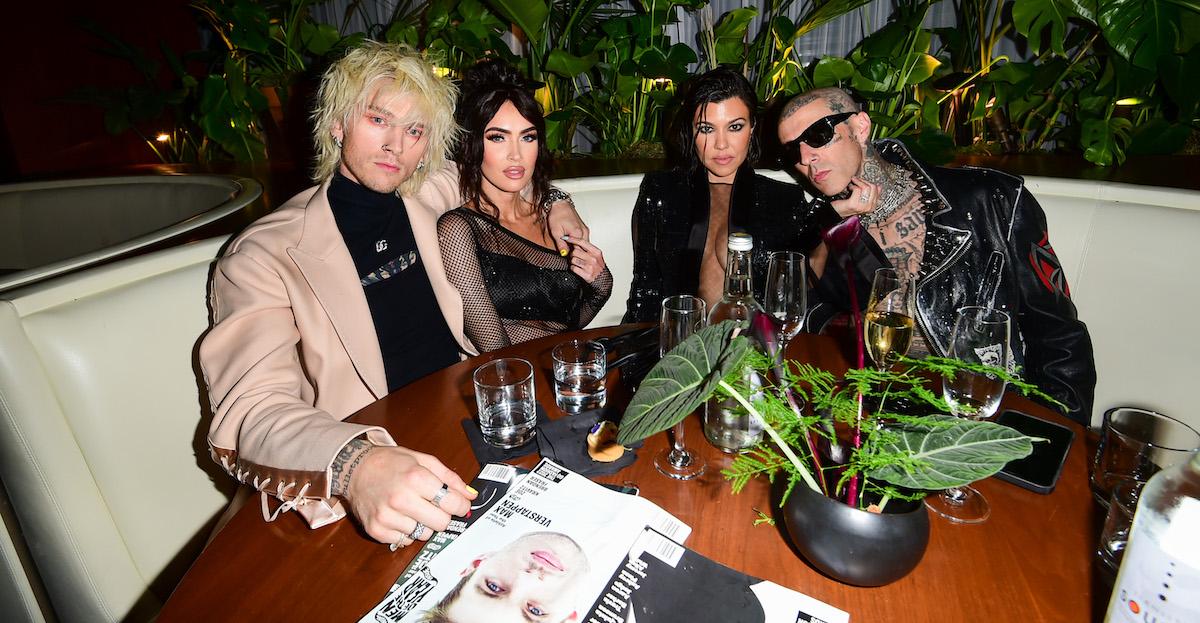 Article continues below advertisement
April 2021: Travis gets Kourtney's name tattooed on his chest.
It isn't long before Travis gets some new ink in honor of Kourtney. The rocker found a spot for her name on his chest, right next to his tattoo of the Cadillac emblem.
Kourtney shows off the tattoo on Instagram, clearly loving the romantic gesture.
Article continues below advertisement
April-July 2021: Kourtney and Travis make out everywhere.
Taking their PDA to new levels, Kourtney and Travis are not shy about showing off their new relationship, with the couple share NSFW photos on social media.
They were even rumors that they eloped in Vegas, but wouldn't happen until a few months later...
Article continues below advertisement
August 2021: Travis gets on his first plane ride with Kourtney since his crash.
In 2008, Travis was involved in a horrible plane crash, with four of the six people on board dying. Travis survived with but with major injuries that required 27 surgeries after suffering third-degree burns on 65 percent of his body.
Following the crash, Travis suffered from PTSD, and it wasn't until August 2021, with the support of Kourtney, that he was able to get on a plane again.
"'With you anything is possible," he captioned a photo of the couple in front of the plane, which took them on a romantic Italian vacation.
Article continues below advertisement
October 2021: Travis proposes to Kourtney in Montecito, California.
After exactly one year of dating, Travis proposed to Kourtney at Rosewood Miramar hotel in Montecito, California, with a stunning oval cut diamond engagement ring.
Of course, Travis asked for Kris Jenner's blessing, telling the Khloé on The Kardashians, "Like I told your mom, I've been madly in love with Kourtney forever. I believe she's my soulmate. And I would like to propose to her on the day that I first was with her."
Article continues below advertisement
March 2022: Travis and Kourtney take their PDA to the Oscars red carpet.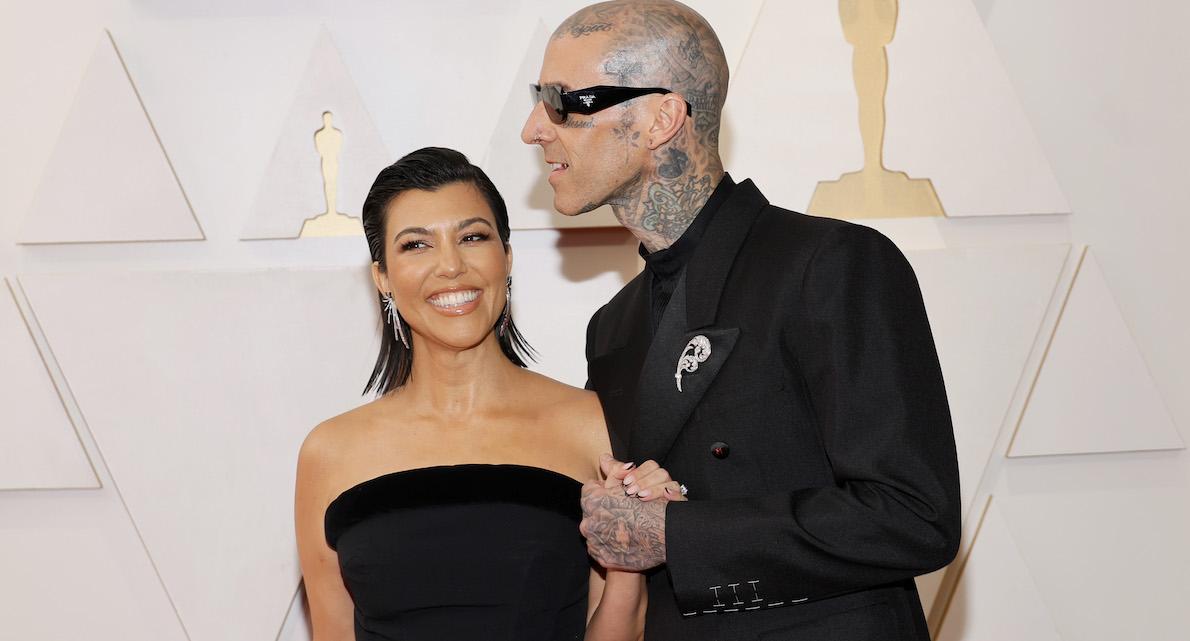 The couple attended the 2022 Academy Awards as Travis was set to perform at the show.
Article continues below advertisement
April 2022: Kourtney and Travis elope in Las Vegas!
After attending the Grammy Awards together, Kourtney and Travis got "married" in Vegas, complete with an Elvis Presley impersonator.
"Once upon a time in a land far, far away (Las Vegas) at 2am, after an epic night and a little tequila, a queen and her handsome king ventured out to the only open chapel with an Elvis and got married (with no license). Practice makes perfect," Kourtney captioned photos from the spontaneous wedding.
Article continues below advertisement
May 2022: Kourtney reveals she is undergoing IVF treatment to have a baby with Travis.
"We are super excited because it's the first time we have made it to an egg retrieval in six months of doing fertility treatments," Kourtney shared of her IVF process on The Kardashians.
However, the journey has not been easy for the couple.
Article continues below advertisement
May 22, 2022: Travis and Kourtney officially get married.
In what can only be described as a fairytale wedding, Kourtney and Travis officially said "I do" in Portofino, Italy, surrounded by family and friends and wearing custom Dolce & Gabbana.
Third time was the charm for the couple, who had already eloped to Vegas, and had a smaller second wedding on May 15 in Santa Barbara, California.
It was later revealed that Kris gifted Kourtney her wedding band from their late father Robert Kardashian ahead of the nuptials.
Article continues below advertisement
August 2022: Kourtney gains "tour wife" status.
Following their wedding, Kourtney joined Travis on his tour with Machine Gun Kelly. She was also ready to support Travis on his Blink-182 tour. However, in March 2023, Travis injured his finger forcing the band to postpone their tour to May 2023.
Article continues below advertisement
December 2022: Kourtney reveals she stopped IVF treatments.
In an Instagram story, Kourtney updated fans on her fertility journey, writing, "Finally started getting my energy back 10 months after stopping IVF, for anyone else going through it, it gets better!"
Previously, she shared that IVF "really took a toll on my health and mentally." She also called out trolls on Instagram commenting on her body in March 2023, writing, "I only acknowledge this comment bc I do think it's important to know how IVF affects women's bodies and it's not spoken about much) … Also are we still asking women if they're pregnant?"
Article continues below advertisement
April 2023: Hulu drops 'Til Death Do Us Part: Kourtney & Travis' special.
The 90-minute TV special gives fans a behind-the-scenes look at Kourtney and Travis's big day, including never-before-seen footage of their their Las Vegas and Santa Barbara courthouse weddings.