Everything You Need to Know About Kourtney Kardashian and Travis Barker's Wedding Venues
Here's everything you need to know about Kourtney Kardashian and Travis Barker's multiple wedding venues, from Las Vegas, to Portofino, Italy.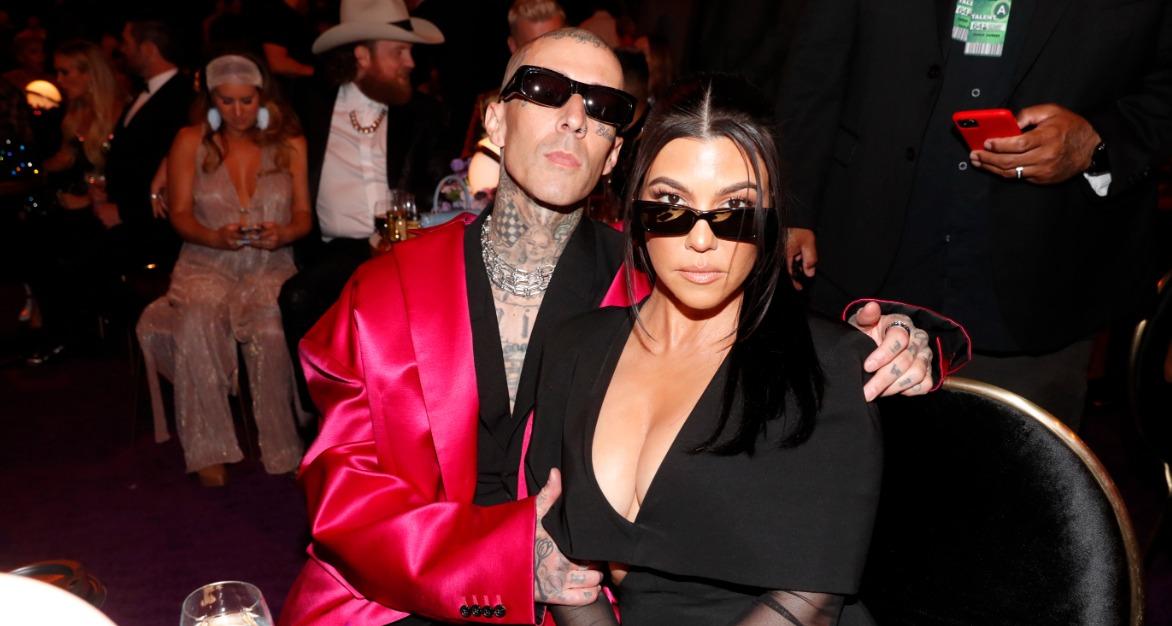 Reality TV couple Kourtney Kardashian and Travis Barker said "I do" not once, not twice, but three times. Their love fest spanned from Las Vegas, to Santa Barbara, California, to Italy.
So where exactly did the duo exchange vows on all these occasions?
Article continues below advertisement
Read on for a look inside Kourtney and Travis's wedding venues in all three locales, which could not have been more different. Still, each venue featured elements that reflected the PDA-prone stars' tastes and personalities.
Kourtney Kardashian and Travis Barker's first wedding venue was a chapel in Las Vegas.
Kourtney and Travis first tried on being husband and wife at the One Love Wedding Chapel in Las Vegas on April 4, 2022.
An Elvis impersonator married the famous pair, with the chapel owner explaining to People, that it was "very important" for Kourtney and Travis to get "the Vegas experience."
Marty Frierson added, "They just seemed totally in love."
Article continues below advertisement
Unfortunately, Kourtney has admitted to not remembering much of the first wedding, as she was quite intoxicated. Plus, the first nuptials were not legally binding. Luckily, the Hulu star soon had a chance to marry the Blink-182 drummer for a second time.
Kourtney Kardashian and Travis Barker's second wedding venue was a courthouse in Santa Barbara.
On May 15, just weeks after exchanging vows in front of Elvis, Kourtney and Travis obtained a legal marriage license at a courthouse in Santa Barbara.
The wedding-happy couple dressed the part, with the reality diva sporting a white mini-dress while Travis donned a suit. Meanwhile, the newlyweds chose matching wine-toned shoes to tie the knot a second time, and drove off in a car adorned with a "Just Married" sign.
Article continues below advertisement
It seems each time they wed, the guest list grew. Although it was just the two of them in Vegas, the Santa Barbara wedding attendees included Mary Jo "MJ" Campbell, who is Kourtney's grandmother, and Randy Barker, Travis's dad.
Soon, Kourtney and Travis would be heading for the their third wedding venue in Portofino, Italy, which was by far the most extravagant of the ceremonies.
Kourtney and Travis's Italian wedding was just ... wow.
On May 22, Kourtney and Travis walked down the aisle for the third and final time. Their wedding venue in Portofino was none other than designers Domenico Dolce and Stefano Gabbana's villa, L'Olivetta.
This time, the entire Kardashian clan was on hand to see the couple exchange rings, as were Travis's kids, Landon and Alabama, and a healthy amount of friends.
Article continues below advertisement
Following the wedding ceremony, which had a Versailles meets gothic meets vampire vibe, Mr. and Mrs. Barker, the famous group receded to Castello Brown to dance the night away. Billed as one of the most unique locations on Earth on its website, the wedding venue features a "lush terrace" setting that caters to the "jet set" — otherwise known as the rich and famous, like Kourtney and Travis!
Meanwhile, details such as a performance by Andrea Bocelli and a custom wedding gown created by Dolce & Gabbana, added up to an event that we can only dream of.
But ultimately, as Travis said about the three weddings, "It's like choosing a child, I can't pick the best one."
You can see behind-the-scenes photos and video from the lovebirds' three weddings on their new reality show, Til Death Do Us Part: Kourtney and Travis, streaming on Hulu and Disney+.