Kyle Dickard Is Really Testing the Waters on 'Below Deck Adventure' — What Is His Deal?
The waters are getting a bit choppy for 'Below Deck Adventure's' Kyle Dickard. Is he about to permanently dock? What we know about Kyle Dickard.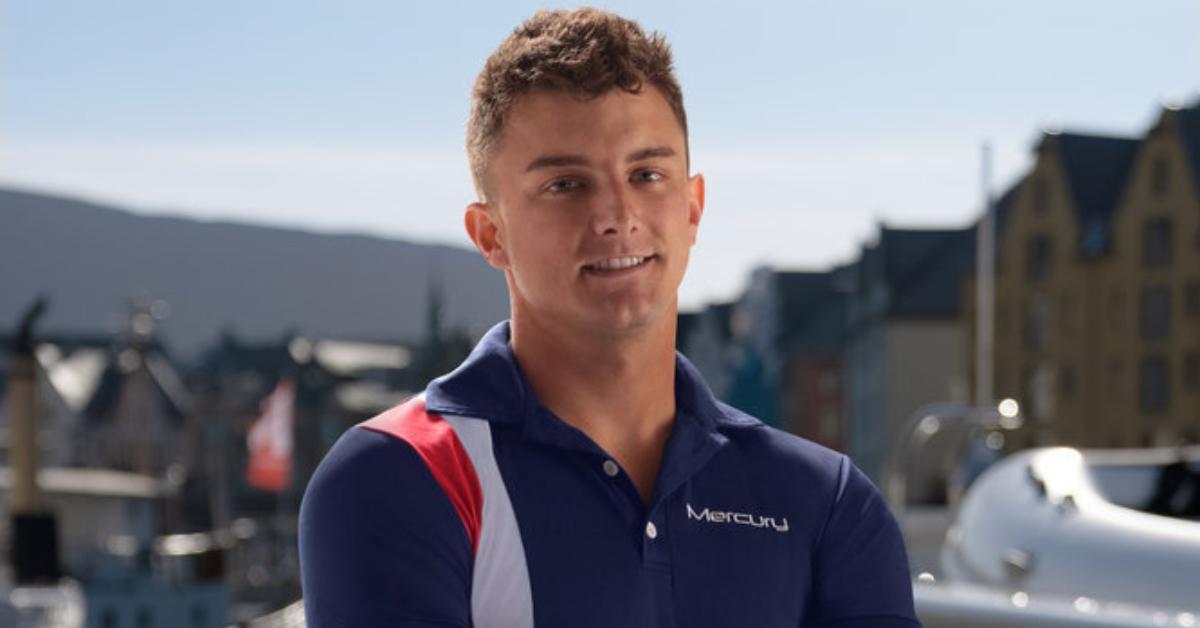 Recently, the least-popular-crew-member award is definitely going to Below Deck Adventure's Kyle Dickard, whose last name is suddenly more of a descriptor than anything else. Kyle has been stirring things up for the rest of the crew on the Mercury and is causing emotional temperatures to rise. Between inappropriate flirting and fighting with his co-workers, he is no one's favorite at the moment. What's the deal with Kyle Dickard? Here's what we know.
Article continues below advertisement
Who is Kyle Dickard from 'Below Deck Adventure'?
According to Bravo, Kyle hails from Texas and struck out at age 19 to see the world. It was in the Bahamas where Kyle discovered his passion for yachts. (Wow, what an unusual thing to fall in love with — huge expensive boats. What could be the appeal?) Obviously buying his own yacht was not on the agenda, so Kyle began working as a deckhand.
Article continues below advertisement
Kyle's personality can best be described as cocky and off-putting, but he hides both those things behind a sea of southern charm and an aw-shucks attitude. On the show's premiere he described himself as a "hopeless romantic" and "lovable cowboy," though we have yet to see any evidence of either. As far as romance goes, Kyle is mostly interested in older women who can buy him things. We hope someone buys Kyle a long walk off a short pier. Beyond being insufferable, he's also making enemies on the Mercury.
Kyle might already be getting fired from 'Below Deck Adventure.'
In an exclusive look at Episode 3 given to Us Weekly, we learn that Kyle might be walking the plank pretty soon. "Today Nathan [Morley] was really upset because Kyle started threatening him with violence," Captain Kerry Titheradge tells Lewis Lupton in the sneak peek. "I feel that he is a threat to the safety of other crew members."
Whoa, that sounds more serious than some run-of-the-mill hijinks. Before this mysterious incident, Kyle's future was looking bright.
Article continues below advertisement
"I'm a little bit upset by it; I was going to save him — you know, he is the most experienced and I would have liked him to become lead deckhand," Lewis responds in the clip. "I mentioned it to him that if could behave more professionally — it is his to lose."
It is at this point in the clip that Captain Titheradge floats the idea of firing Kyle.
"So when I bring this up with Kyle, he has the right to explain himself. But these actions are grounds for instant dismissal," explains the captain.
In a confessional, Lewis expresses his desire for Kyle to do better. "He is definitely not the picture of a perfect crew member," says Lewis. "But Kyle is experienced enough that I could learn some things from him." Lewis goes on to say, "But I need him on deck and I hope this conversation goes well with Kerry. I hope Kyle can turn this around."
To find out Kyle's fate on the Mercury, tune into Below Deck Adventure Tuesday, Nov. 15, at 9 p.m. EST on Bravo.