Lily Collins' Parents Make Her a Nepo Baby — Not That She Thinks So
Lily Collins' parents are Phil Collins and his second wife, Jill Tavelman. The 'Emily in Paris' star doesn't think she's a nepo baby.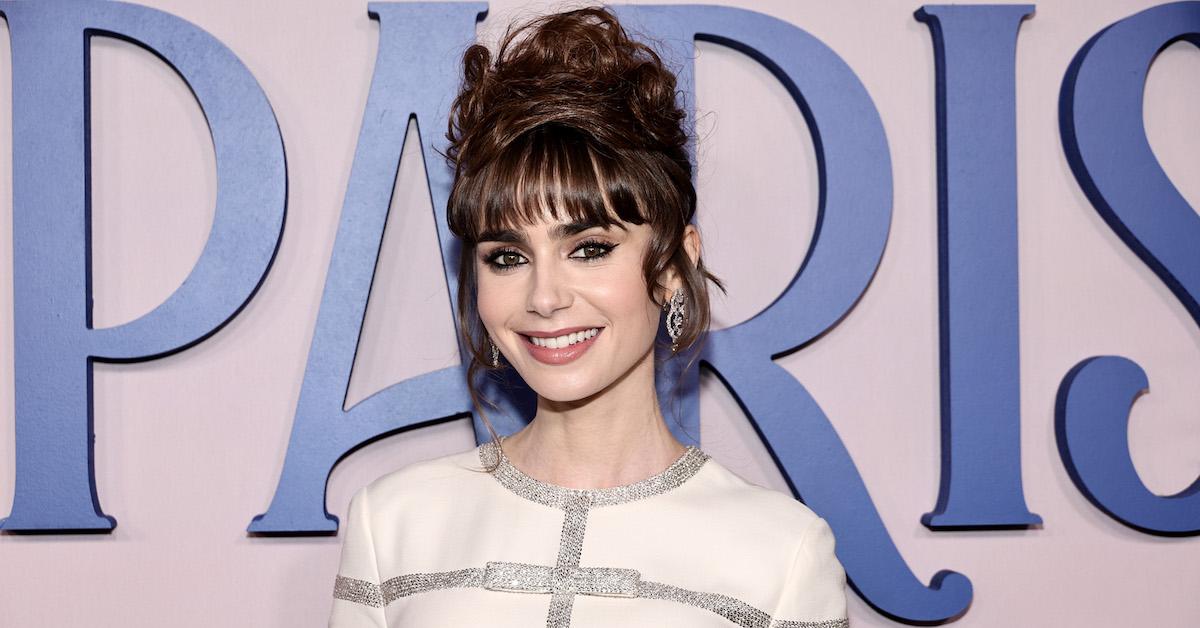 Actress Lily Collins of Emily in Paris has actually been a Hollywood fixture since she was a child. The star lent her voice talents to the Disney film Tarzan at just 10 years old. You may also remember her in The Blind Side and Mirror Mirror per IMDb.
Article continues below advertisement
And, if Lily's last name sounds familiar, well, it is. As fans may already know, the actress has a very famous father, and her mom is an accomplished artist as well. Let's get to know Lily's parents and answer the burning questions of whether she and her iconic dad are on good terms following her difficult childhood, and if she thinks of herself as a nepo baby.
Lily Collins' parents are Phil Collins and Jill Tavelman.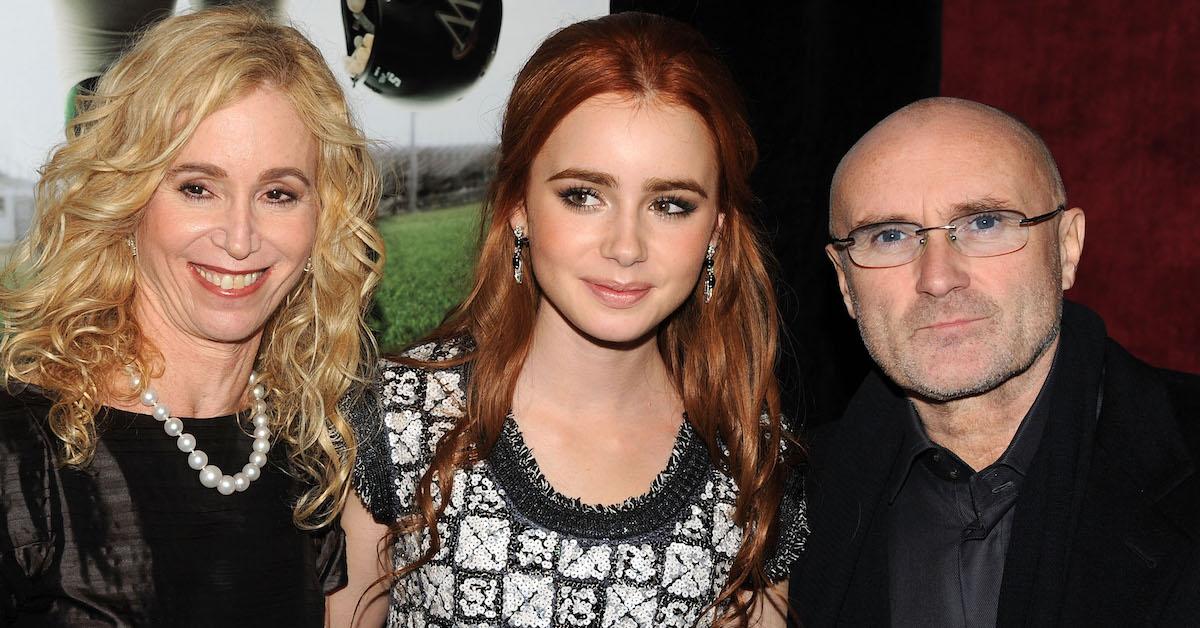 Okay, so the cat is out of the bag that Lily is a nepo baby. For those of you who missed hearing about this viral term, it basically means that the Emily in Paris star is the child of famous people and likely benefited from their connections in the industry.
Article continues below advertisement
Lily refutes the notion that she is where she is thanks to her dad, Phil Collins, telling Vogue France in November of 2022, "I'm proud of my dad, but I wanted to be me, not just his daughter. For that, I was ready to wait to break through." Per Just Jared, Emily Cooper's alter ego added, "By dint of failed castings, I learned to focus more on my work, and I managed to make acting my job."
Putting the debate over nepo babies aside for a hot minute, let's talk about the man, the myth, the legend who is Lily's dad. Although the actress says he is "just my dad," Phil is a superstar in the music industry. According to Smooth Radio, the singer has seven number one hits in the U.S. alone.
Article continues below advertisement
The musician has been married three times, with his second wife, Jill, being Lily's mom. The couple was together from 1984 until 1996, and welcomed their only child in 1989. Phil also has kids from his other marriages. Although her parents are divorced, Lily is seemingly close with both of them to this day — still, she struggled with her relationship to Phil. More on that in a moment.
Article continues below advertisement
First, according to The U.S. Sun, Jill is also an actress, as well as an architect and antique shop owner. The famous mom said about her business, per Grazia, "All of a sudden, I found myself with a lot of free time, because my daughter had grown up and was on her path. I had been doing different charity work for 20-some years. … And I thought, 'It's time to do something for me, that I'm good at.'"
Lily had a difficult relationship with her dad.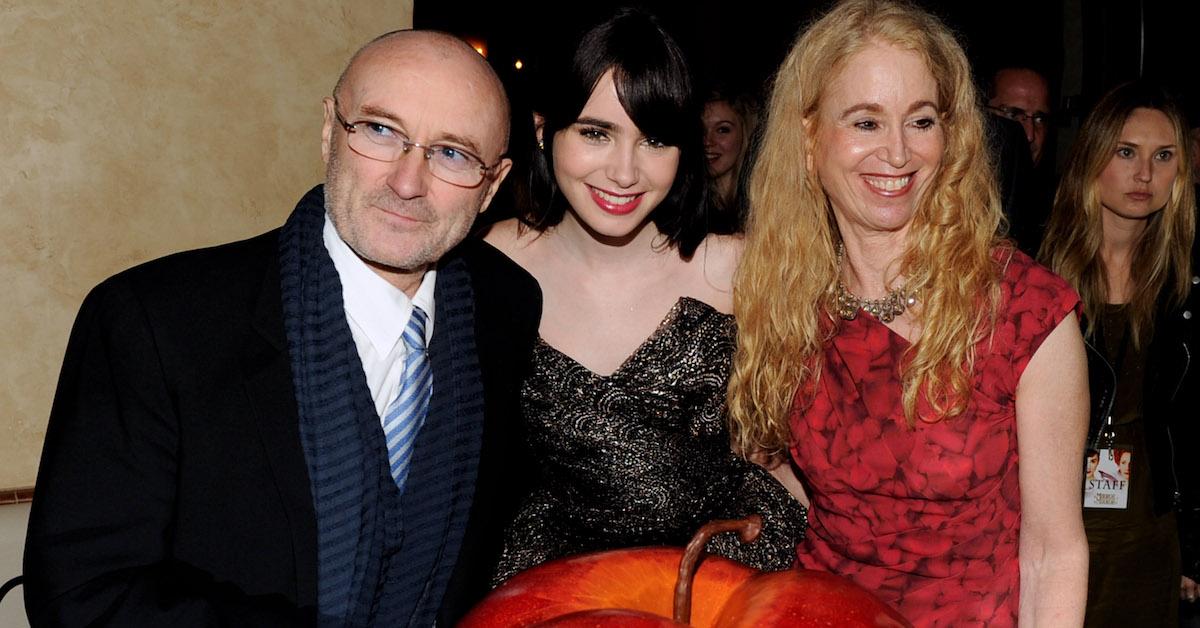 Lily penned a book in 2017 in which she discussed the difficulties of being Phil' daughter. In the tome, Lily Collins Unfiltered: No Shame, No Regrets, Just Me, she confessed, "Because my dad was often gone, I never wanted to do anything that would make him stay away even longer. I became extra careful about what I said and how I said it, afraid he'd think I was angry or didn't love him."
Article continues below advertisement
Lily went on to admit in the book, "And the truth is, I was angry. I missed him and wanted him there. I've realized that many of my deepest insecurities stem from these issues with my dad. It's taken me over a decade to resolve some of them (others I'm still resolving) and to finally build up the courage to speak my mind to him."
In Phil's own book, Not Dead Yet, he also recounts not being the most present father, per The New York Times. Meanwhile, according to The Things, Lily and Phil are on good terms today, with the Genesis alum having been at his daughter's 2021 wedding, although he reportedly isn't in the best of health.