'Madden 23' Is Jam-Packed With New Features — Does It Have a Release Date?
When is the release date for 'Madden 23'? The latest entry to the long-running football video game series has a bevy of new features.
If you football fans out there are stuck in that lull between seasons, there's always the Madden series to help tide you over. The long-running video game series will soon release its latest mainline entry with Madden NFL 23. The series first began with John Madden Football in 1988, but has seen yearly releases and updates since 1992. The latest game includes several new gameplay features and even pays homage to a football legend on the cover.
Article continues below advertisement
When is the release date for the latest Madden game? And what new features can fans expect to see in the newest title? Let's dive into everything we know so far about Madden 23.
Article continues below advertisement
When is the release date for 'Madden 23'?
The release of Madden NFL 23 is something of a landmark for the series overall. The game franchise is known for featuring a prominent football player on the cover art for each new entry. For 23, the game pays homage to a known football legend who passed away last year.
John Madden — former Oakland Raiders NFL coach and sports commentator — passed away in December 2021. As the series' namesake, he appeared on the cover of the first Madden game as well as several subsequent titles up until 2000.
In honor of his passing, John Madden will once again be the cover star of Madden 23. The next-gen version of the cover will reportedly be a picture of John celebrating his Raiders win at Super Bowl XI in 1977. The "All Madden Edition" cover art pays homage to the original John Madden Football cover.
The game is currently set to release on Aug. 19, 2022, on PlayStation, Xbox, PC, and Google Stadia. Madden 23 will also be available on the Epic Games Store, a first for the series.
Article continues below advertisement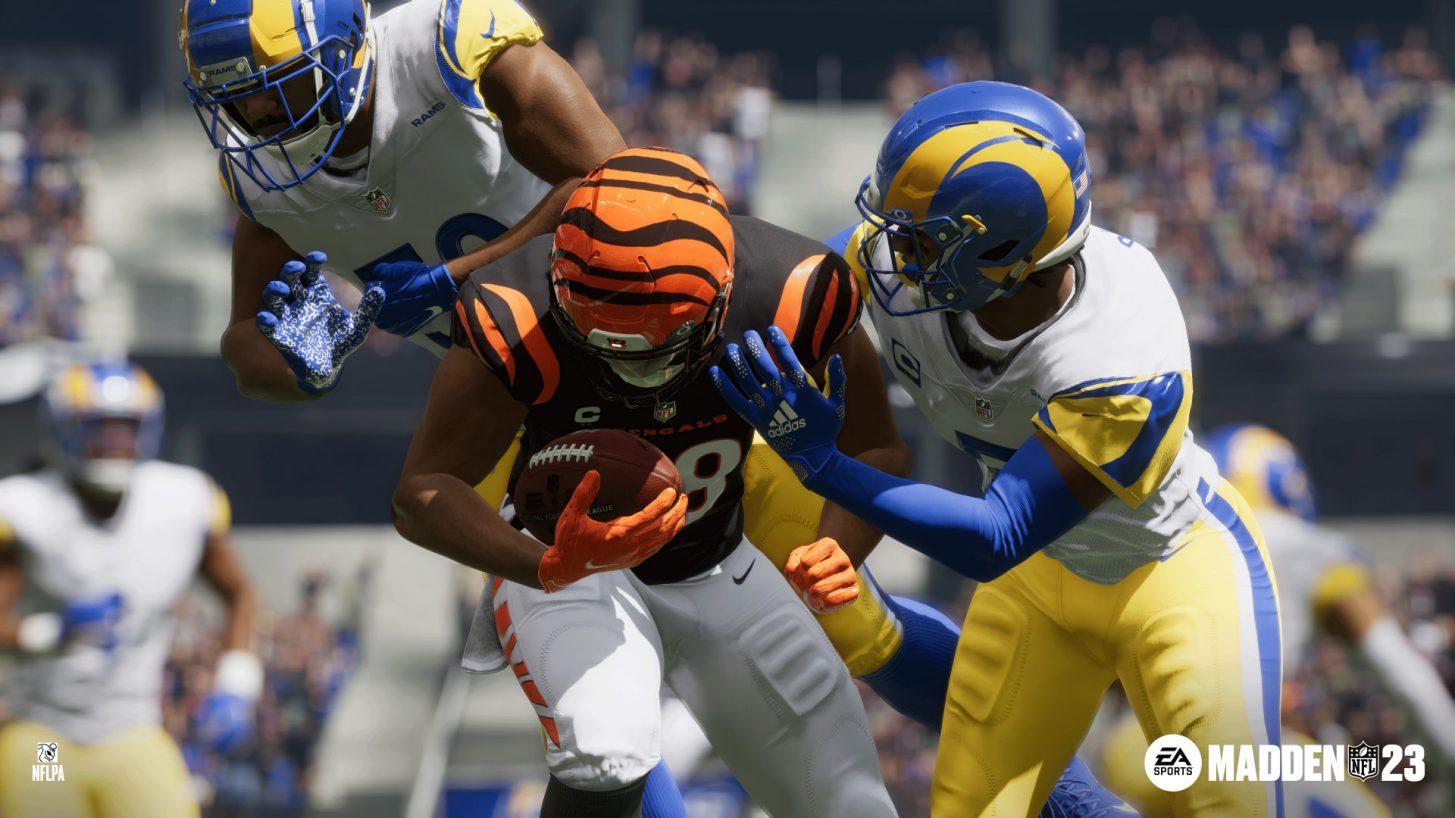 Will 'Madden 23' be available on Game Pass?
Xbox's subscription-based game library is well loved by many, especially thanks to its same-day releases of some popular titles. MLB The Show 22 and NBA 2K22 were both made available on Game Pass, but unfortunately, it seems that Madden 23 will not be available on launch day for Game Pass subscribers.
This confused many, as a banner on Xbox's website made it appear as though the game would be made available to subscribers on its launch day.
Article continues below advertisement
"This was an error in how Madden NFL 23 was displayed on Xbox.com and has since been corrected," a spokesperson for EA told GameSpot. "Madden NFL 23 will not be available with Xbox Game Pass Ultimate."
Just because the game won't be made available on launch day for Game Pass subscribers doesn't mean it won't come to the service in the future, though.
Article continues below advertisement
'Madden 23' will feature its traditional co-op and several more gameplay features.
As a franchise staple, co-op play will reappear in Madden 23. For the newest title, players will be able to use co-op in "Superstar KO" mode. In this new mode, players always have access to their Superstar X-Factor abilities and can adjust the rules to their liking.
Madden 23 is also packed to the brim with several new gameplay features to twist things up. One of them is the new "FieldSENSE" mechanic.
According to the official website, this feature allows players to control all positions in every mode for a more intimate and realistic football experience while you play. FieldSENSE is woven together with several more new mechanics. For instance, "Hit Everything" allows players to make their defense more aggressive for every play. Skill-Based Passing enables more accurate and strategic passing maneuvers. 360-degree cuts lets you view the game from all angles to adjust your play accordingly.
Lastly, WR (wide receiver) versus DB (defensive back) Battles liven things up with exciting counter strategies and fancy footwork.
As both a new game and a landmark entry, Madden 23 is looking to quite literally change the way gamers play football.