Unraveling Mads Lewis and Tana Mongeau's Drama From Tweets to the Tanaween Party
Influencers Mads Lewis and Tana Mongeau have been feuding for years it seems, but after Mads was spotted at Tana's party, fans predict reconciliation.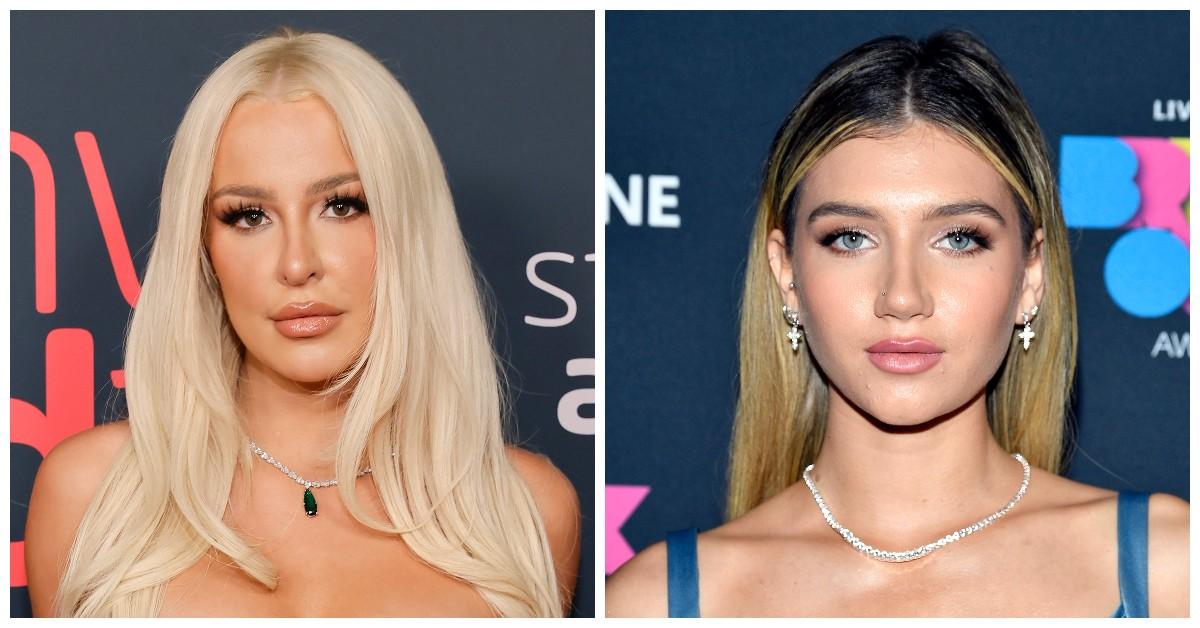 The Gist:
Mads Lewis and Tana Mongeau's feud began with a tweet from Mads criticizing Jaden Hossler's music being used in a tribute to the late Cooper Noriega, with Tana throwing shade in response.
The feud continued as Mads and Tana exchanged comments on various podcasts, sharing different perspectives on their relationship and interactions.
Mads was spotted at Tana's Halloween party, leaving fans speculating about a potential reconciliation.
Article continues below advertisement
The world of influencers is mind-boggling to many of us — it's full of feuds, on-again-off-again friendships, and drama that even they can't keep up with. But for the rest of us, it's entertainment. We listen to them talk about their beefs on podcasts, watch their Instagram stories and TikTok videos, and put the pieces together like we're the Nancy Drews of social media.
The latest internet sleuths have figured out that Mads Lewis and Tana Mongeau's long-standing beef might finally be over. Each of them has said various things about one another for years, from insults to apathy, and they've successfully confused fans about if they were ever friends or not. So, we'll make it simple and explain their feud.
Article continues below advertisement
Mads Lewis and Tana Mongeau's "feud" began when Tana criticized Mads's tweet in 2022.
While most of Mads and Tana's beef got heavy in the summer of 2023, it actually dates back to a tweet Mads wrote when influencer Cooper Noriega passed away. At the time, Cooper's fans made a tribute video set to music by Mads's ex-boyfriend, Jaden Hossler, because they had allegedly been best friends.
Article continues below advertisement
But instead of keeping the peace at a difficult time, Mads used the opportunity to criticize Cooper's fans, as well as Jaden. "Y'all know thing!" Mads tweeted (via The original TikTokroom). "Please stop using Jaden's music over edits of Cooper it's disrespectful. You're a hypocrite, Jaden, a f--king hypocrite." Naturally, Tana got the feud going when she retweeted Mads and said, "? who tweets this," throwing shade at the grieving influencer.
Article continues below advertisement
The influencer feud continued when Mads called Tana's Coachella outfits "boring."
Both Tana and Mads frequent the Barstool podcast, BFFs, where all drama seems to begin. Dave Portnoy and Josh Richards pulled up Tana's Coachella outfit and asked what Mads thought. They joked that Mads "hates everything," but Mads quickly defended herself.
"I don't hate everything and I don't have beef with Tana," Mads said. "She just switches up on people so fast. You know what I'm saying? I was really good friends with her, actually." As fans ran to the comments to share their own opinions about Tana and Mads, many agreed that Tana is known to "switch up." Tana decided to defend herself on her own podcast, CANCELLED.
Article continues below advertisement
"Mads and I met via social media," Tana said. "[We] exchanged 25 story replies, had one phone call one time, when I was drunk as f--k on a boat in Mexico, where she explained the whole Nessa Jaden situation … We never hung out when the sun is out, we've never hung out alone, I couldn't tell you anything about her. Respectfully, Mads, you don't know me well enough to know what me switching up would look like."
Article continues below advertisement
But after that, Mads shared a screenshot of a series of texts between the two of them on her TikTok in which it looks like they're definitely good friends. In the exchange, Tana even texted, "U KNOW I GOT YOU FOR LIFE," which most acquaintances wouldn't say to each other. They also referenced multiple phones, which implied that they have multiple phone numbers for each other.
Mads and Tana's feud might finally be done after Mads was spotted at Tana's Halloween party.
After all the back and forth, Tana went on the BFFs podcast as well, where she explained, "No, I've never hung out with Mads really except for at parties, like two times. I've only ever met her in person like … I'll say six [times] just so it doesn't become a thing … She's living her best life with her boyfriend. Their TikTok came up on my For You Page the other day and it was really cute."
Article continues below advertisement
Tana seems to have no hard feelings towards Mads but just doesn't want Mads spreading gossip about their friendship (or lack thereof). Regardless of their history, Mads was spotted at Tana's "Tanaween Party," so perhaps their future will be feudless!