Father of the Late Cooper Noreiga Called "Money and Game Hungry" by Fan Account
Cooper Noreiga died by an accidental drug overdose at 19 years old. Now, his parents Treva and Harold are working to keep their son's memory alive.
The Gist:
TikTok star Cooper Noreiga passed away in June 2022 after an accidental drug overdose.
Since his death, Cooper's parents have worked to continue their son's mission of talking openly about mental health and addiction.
They are currently heading up Coop's Advice Foundation and Coop's Discord in their son's honor.
Article continues below advertisement
On June 9, 2022, TikTok star Cooper Noreiga was found dead in a parking lot in Burbank, Cali. The social media influencer, who was friends with fellow internet personalities Jaden Hossler, Josh Richards, and Nessa Barrett, was just 19 years old at the time of his death.
Per the Los Angeles County Medical Examiner-Coroner, Cooper died from the combined effects of fentanyl, lorazepam, and Xanax. His death was found to be accidental.
It was no secret that Copper was a recovering substance addict. Multiple times in 2021 he had taken to Twitter to celebrate his sobriety anniversaries, but it is unclear when he started using again.
Article continues below advertisement
Prior to his death, he had set up a Discord channel where he wrote 'I've been struggling with addiction since I was 9 years old, you may think that's crazy, but that's the life I've been dealt," according to Metro.
Ultimately, Cooper's death was a huge loss to the influencer community and his fans — but also to his family. Speaking of his family, who are Cooper's parents?
Article continues below advertisement
Who are Cooper Noreiga's parents?
Cooper was survived by his parents, mom Treva Noriega and dad Harold Noriega, as well as his older sister Parker Noriega. Since Cooper's passing Treva, Harold, and Parker have worked to keep Cooper's memory alive and continue his mission of helping society talk more openly about mental health as well as destigmatizing addiction. They have continued to operate Coop's Advice Foundation and Coop's Discord, both of which Coop launched while he was still alive.
Furthermore, Harold hosts the Coop's Advice podcast and continues to educate his followers about the dangers of fentanyl usage.
Article continues below advertisement
Fan calls Cooper's family "money and game hungry" for posting from Cooper's account.
A fan account dedicated to influencers Mads Lewis, Sabrina Quesada (whom Cooper previously dated), and Nessa Barrett posted an Instagram story reprimanding Cooper's family for posting on their late son's account.
"It is so triggering to log into Instagram and see your dead idol has posted," wrote the account @mads_sab_ness (via @teatoktalk), upset that the account wasn't serving as a memorial for Cooper.
Article continues below advertisement
@mads_sab_ness then went on to accuse Cooper's family of using Cooper's account for clout. "You're coming off as extremely money and game hungry at the expense of your dead son," they wrote.
@mads_sab_ness continued to note that posting from his account was "inappropriate," "gross," and "triggering."
Article continues below advertisement
Harold responded to the post by apologizing to the user and explaining that he had forgotten he was logged into Cooper's account and "accidentally" posted. He confirmed that he had deleted the post from Cooper's account. "I would never want anything I do related to our beautiful boy to have a negative effect on anyone," he wrote.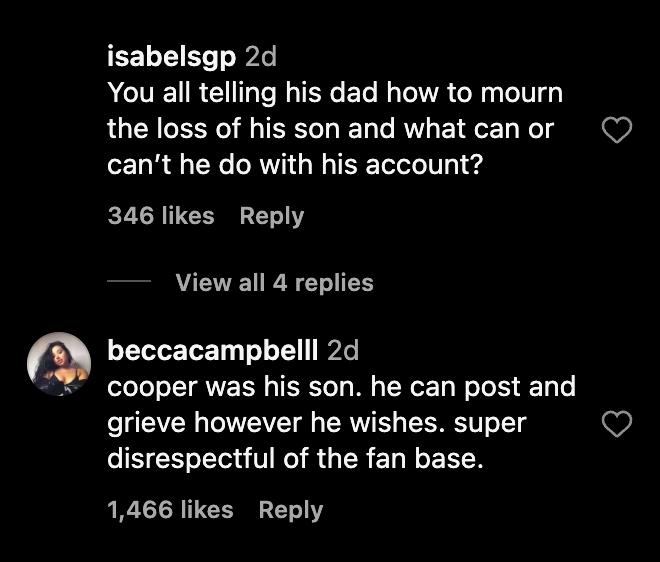 In the comment section, users rallied behind the grieving father. "Cooper was his son. He can post and grieve however he wishes. Super disrespectful of the fan base," wrote one user.
Another comment read: "How dare fans who never even knew him personally tell his family how to grieve? That post from the fan was disgusting oh my god."