Wild Facebook Marketplace Ad: Pay Me $500 to Remove a Potential Bomb off My Property for Me
A Facebook marketplace ad went viral on Reddit as the original poster was criticized for asking folks to pay them $500 to remove an old gas tank.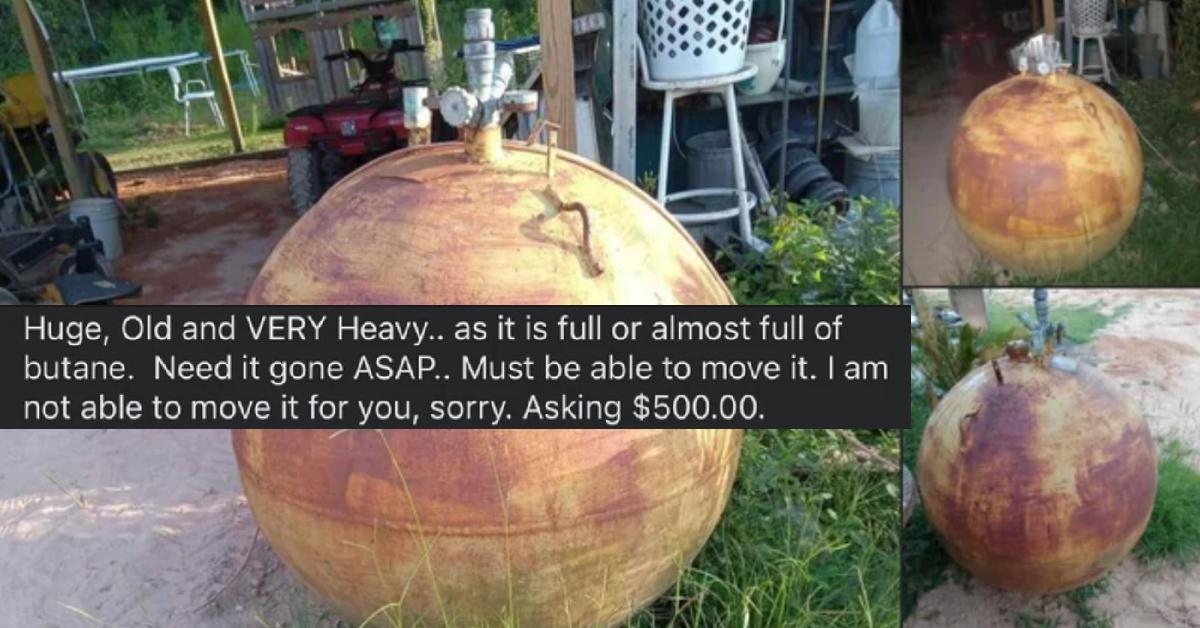 Article continues below advertisement
Sure, oftentimes you'll find some folks who are serious buyers/sellers, and you'll have some transactions go off without a hitch. But if you spend enough time on these apps, sooner or later you're going to come across someone with some unrealistic expectations of what they think they can get away with paying for an item.
On the flip side, you may find yourself face to face with a person who posts an offer that sounds absolutely asinine, like this one post highlighted by Reddit user @throwaway1976_ of a Facebook Marketplace find that's nothing short of bonkers.
Article continues below advertisement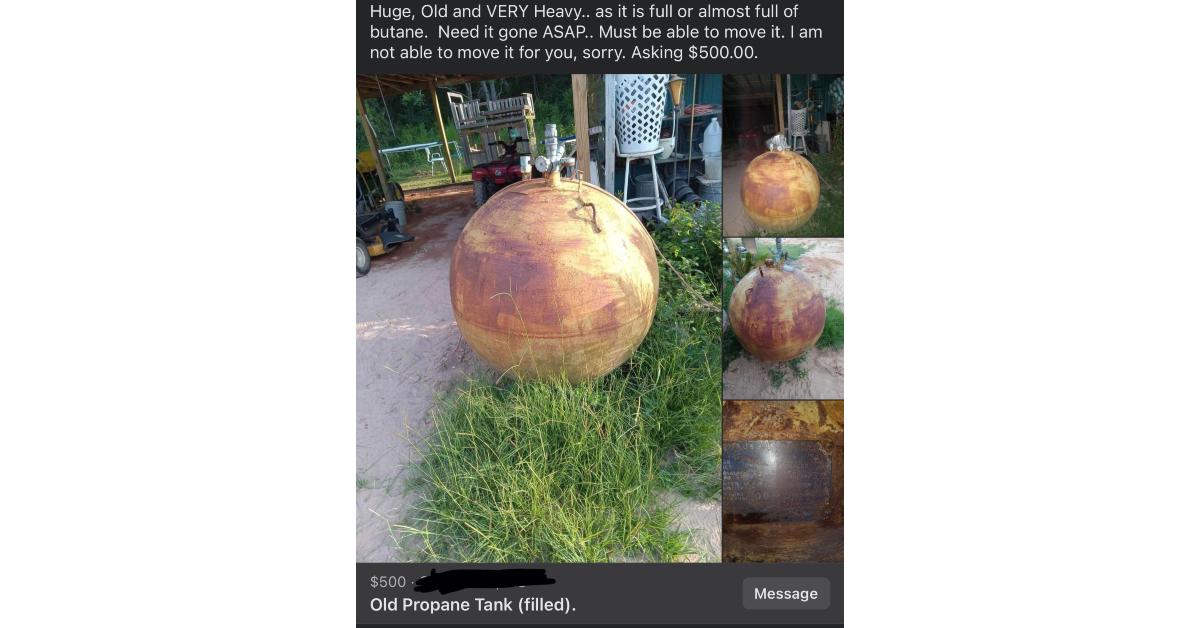 They uploaded the post to the popular social media site's r/choosingbeggars sub, where they took a screenshot of what looks like a World War 2 era sea mine just chilling on their property.
Article continues below advertisement
Seriously, this thing looks like the type of glowing object in a first-person shooter that a gaggle of enemies, for some reason, crowds around, just waiting for you to shoot and annihilate every single one of them with a single bullet.
The post reads: "Huge, Old and VERY Heavy.. as it is full or almost full of butane. Need it gone ASAP.. Must be able to move it. I am not able to move it for you, sorry. Asking $500.00."
Article continues below advertisement

The Redditor who posted the Facebook Marketplace post seemed astounded by the posting, summing up the ridiculousness of the ask in a pithy headline for their post submission.
Article continues below advertisement
"Come pay me $500 to remove this possibly very volatile bomb from my property," they wrote.
But seriously, this seems like a bad deal all around. Not only are you going to work your butt off to try and get the super heavy and round propane tank off of the person's property, but you also have to worry about the fact that it's shaped perfectly to roll away and crash into something.
Imagine loading that thing up into a van, hitting a speed bump, and then it bumps into the back of your vehicle, possibly cracking open and then leaking butane gas everywhere, or the nozzle on it cracking and hitting another piece of metal in the van, creating a spark.
Article continues below advertisement

The thing explode, probably killing anyone and everyone in the vehicle and causing a massive traffic jam in the process.
Oh and for the privilege of getting to pull off this death-defying stunt, you get to pay the individual $500 in order to do so.
Article continues below advertisement
The capacity of the tank wasn't listed in the Reddit post, but judging from the blurred and rusted tag on the spherical terror, it seems like it taps out at 150 gallons. However, when looking up other propane tank sizes and seeing the size of this thing, that doesn't seem to add up (the relic looks like it could hold a heck of a lot more gas than that.)
And while newer large storage propane tanks certainly cost a lot more money than $500, would you want to buy something that could cause a miniature apocalypse near your home or business to save some cash?
Article continues below advertisement

One Redditor highlighted a detail that delineated the potential danger of the situation: the fact that whoever made the posting didn't seem to know what kind of gas goes inside of the tank.
Article continues below advertisement
This could mean that there's either butane, propane, or a combination of different cases, which would result in, like OP said, a bomb just waiting to go off.
They went on to suggest that OP simply call the local Fire Department to take care of the hazard, or pretend to be the owner of the tank and offer it up for free takeaway on a community application telling any takers that's it's all fair game.
Article continues below advertisement

"If they don't know the difference between butane and propane, there could be anything in it.
This is a job for the fire department.
Where I am (southern Scotland) the easiest way to get rid of it would be to publicize its location on Nextdoor or FB and say when you won't be at home. Sit back and wait for someone to steal it."
Article continues below advertisement
However, there were some folks who thought that the $500 asking price was pretty good for the tank, especially if it was in decent condition and filled with gas.
How does this find stack up against some of the things you've seen on Facebook Marketplace? Is it the weirdest of the weird? Or have you seen even stranger ones?