Here's How the Unusual Beef Between Rappers Eminem and Melle Mel Got Started
Eminem and Grandmaster Flash and the Fast Five member Melle Mel are beefing. Here's the backstory about their heated feud.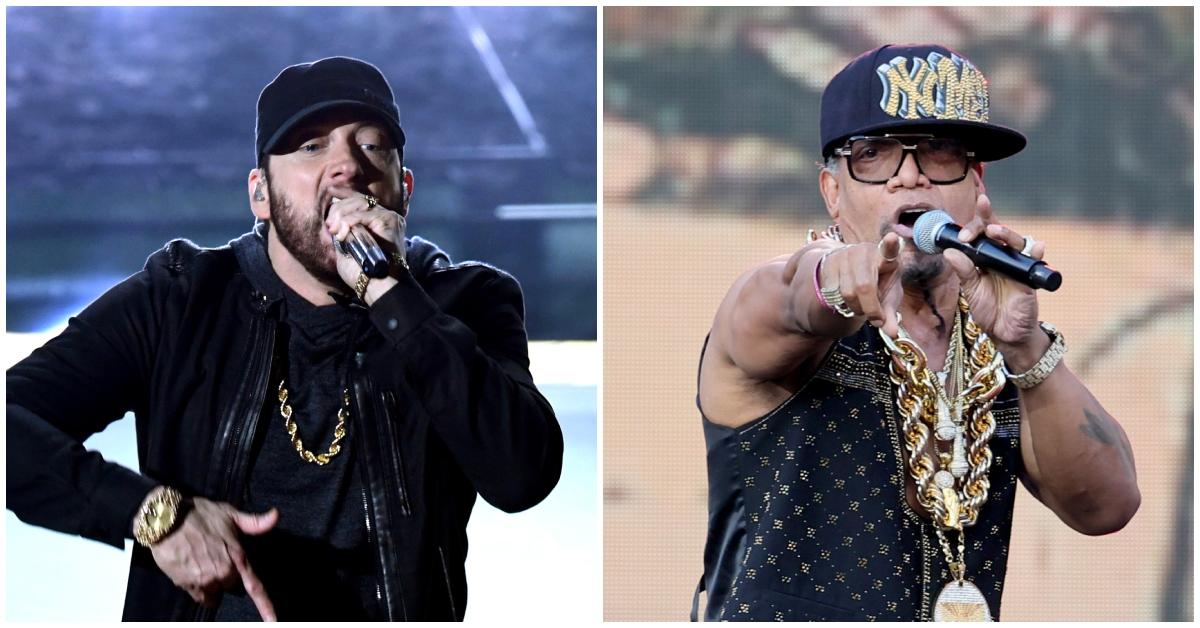 The gist:
Rappers Melle Mel and Eminem have been embroiled in a viral feud.
Their beef stemmed from comments Melle Mel made about the fact that Eminem came in at No. 5 on Billboard's "Greatest Rappers of All Time" list.
After releasing diss tracks aimed at each other, Melle Mel shared an apology statement in which he "took ownership" of his behavior.
Article continues below advertisement
There were plenty of things that were not on our bingo card in 2023 — including but not limited to Carlee Russell's kidnapping hoax, the Battle of Montgomery, and Justin Trudeu's divorce. Additionally, there's the feud between two hip-hop heavy-hitters: Melle Mel and Eminem.
Both legends in their own right, their beef had hip-hop fans torn. The pair released diss tracks directed at one another that have since gone viral.
Now, everyone's wondering — WTH happened between Eminem and Melle Mel? Read on for a breakdown.
Article continues below advertisement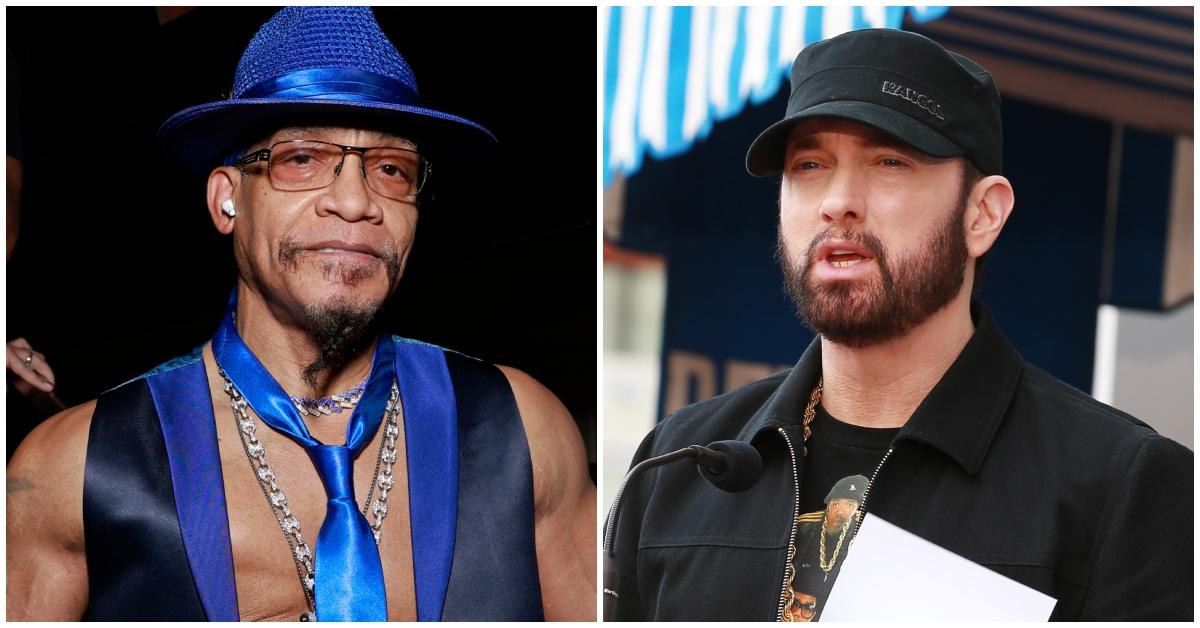 Why are Eminem and Melle Mel beefing? Details on their feud.
While Melle Mel was No. 48 on Billboard's "Greatest Rappers of All Time" list, Eminem took the No. 5 spot.
Melle said in an interview with Art of Dialogue: "So now if Eminem was another [n-word] like all the rest of us, would he be Top 5 on that list when a [n-word] that could rhyme just as good as him is [number] 35?"
He continued: "And anybody could be as mad … They could feel how they wanna feel," he added. "Eminem gets a top spot because he's white."
Article continues below advertisement
Not long after, Eminem released a diss track that ethered his opponent. He rapped on a verse of Ez Mil's single, "Realest." "My skin color's still working against me / 'Cause second I should be to none," he raps in the song. "Being white ain't why they put me at five / It's why they can't put me at one."
Article continues below advertisement
In the song, Eminem threw hella shots — shouting out Melle Mel ex-rap group. Eminem goes on, "Shout to the Furious Five and Grandmaster Flash / But boy there's someone who really is furious / Stays out his path his wrath avoid."
Article continues below advertisement
To add fuel to the feud, Eminem accused Melle Mel of being pumped up on steroids: "A juice head whose brain is like half-destroyed / Like a meteor hit it well there went Melle Mel / We lost his a-- to 'roids," he said of the rapper.
Following the release of "Realest," Melle Mel dropped a diss track of his own.
Melle Mel responded to Eminem with diss track — gets backlash online: "Melle Mel truly embarrassed himself."
In his diss track, Melle Mel says Eminem looks "bad" — "like a roach crawling out of a bookbag."
He continues: "In a packed class, you lack class / Go to bed with no supper 'cause you gotta suffer the backlash / The top five is cap / You the p--s that's on the floor in the elevator of rap."
Article continues below advertisement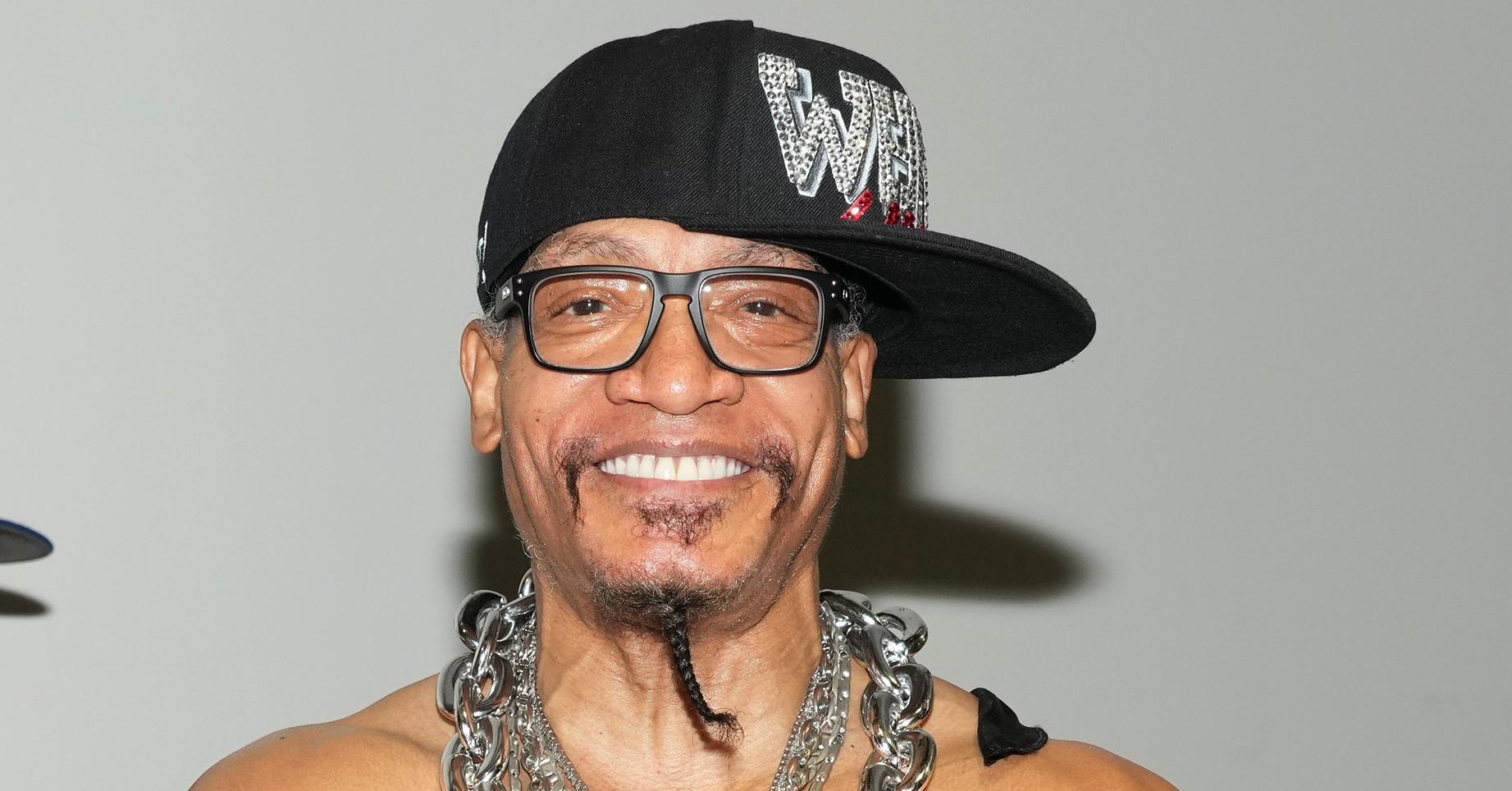 Melle Mel could be considered one of the godfathers of hip-hop, however, he probably just should have left well enough alone. Because according to the internet, Mel's response was not giving what was supposed to be gave.
"Is there a worse response to a diss in the history of hip-hop? Melle Mel truly embarrassed himself," @vanbibber_josh tweeted.
Article continues below advertisement
Melle Mel offered a public apology to Eminem.
Regarding the Eminem diss track, Melle Mel has agreed to "take ownership" for his behavior, admitting that his perspective was "ill-conceived."
He wrote in the statement published by AllHipHop: "In light of the 50th anniversary of hip-hop, my original intention was to contribute an engaging and enjoyable endeavor to enrich the cultural landscape."
"Regrettably, my response fell short in its execution, and I accept full responsibility for the misjudgment," he continues.
It looks like the beef between Melle Mel and Eminem has been cooked. Or has it?