A Woman's Connection With a Fisherman From a Message in a Bottle Has the Internet Smitten
One woman shared the adorable true story of meeting her long-distance crush, who also happens to be a fisherman, from a message in a bottle.
There's nothing quite like telling the story of how you met your significant other to people who have never heard it before. No matter how many years have passed since you met your "person," it's hard not to get butterflies when discussing the circumstances that led you to meet the one you think you could spend the rest of your life with.
Article continues below advertisement
On TikTok, a user named Anna Molinari (@annamolinstinct) shared the fantastic way she met the possible man of her dreams. After she told the story in a video, she received tons of comments from romantics everywhere rooting for her and the mystery boo to make it.
Keep reading for the full scoop!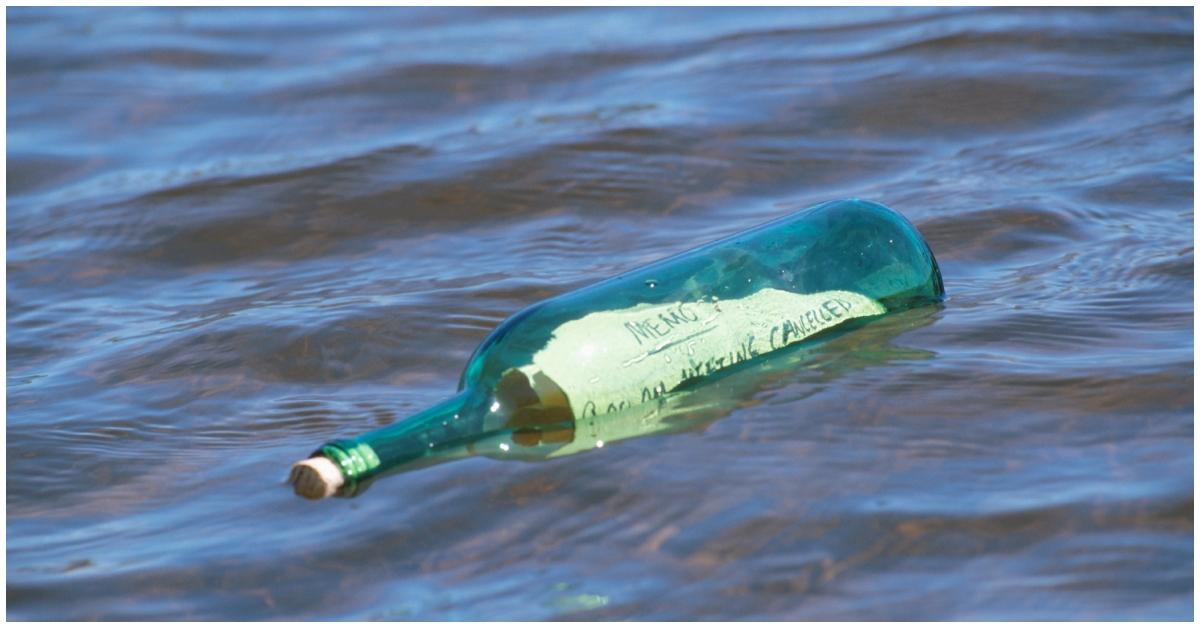 Article continues below advertisement
A woman's message in a bottle led to her storybook connection with a fisherman.
On June 9, 2023, Anna, 25, posted a GRWM (Get Ready With Me) on her account. The video showed Anna applying makeup while telling one of the cutest stories ever. We're not kidding.
As she applied her makeup, Anna recalled spending a semester of high school on a sailboat. The six-week excursion meant that Anna and the other students couldn't use their phones during the trip, including a five-day sailing stretch between the Dominican Republic and the Bahamas.
Article continues below advertisement
During that time, another student suggested they write messages in bottles. Anna was into the idea, and she wrote a letter about the things she learned from living at sea along with the things she used to take advantage of at home.
To keep it more anonymous, the then-teenager signed her name slightly wrong and used her school's address in the message, in order to avoid letting a stranger know where she lives.
Article continues below advertisement
Two months after her trip, she received a note from an 18-year-old fisherman who retrieved the bottle while fishing in North Carolina. Moved by the letter, the fisherman wrote Anna back to tell her how much her message "resonated" with his life, as he was living her six-week adventure daily.
Following the fisherman's note, he and Anna connected on social media. During their conversations, Anna discovered her pen pal lived in the Outer Banks, an island off the North Carolina coast. Anna shared with him that she and her family visited Outer Banks every summer. However, when she told her classmates about the experience, they warned her not to meet up with someone she met through a message in a bottle.
Article continues below advertisement
"My friends, they were all like, no, don't do it," Anna recalled, adding that they also warned her, "'That's weird; you could get kidnapped; it's so sketchy."
The TikToker admitted her friends' warnings "scared" her from meeting up with the fisherman at first. However, she reached out to him the following summer when her family returned to Outer Banks and invited him to have dinner with them. The fisherman accepted the offer and drove "five hours in traffic" from his ship in Camp Hatteras, N.C., to see her in person.
Article continues below advertisement
Anna described her long-distance love as having "sun-kissed" brown hair. She also noted that the fisherman and his friend looked like a "real-life John B and JJ" from Netflix's Outer Banks.
In addition to his being incredibly cute, Anna said the fisherman gifted her with a shirt with his ship's name on it to commemorate the reason they met. She said the fisherman "shucked corn" for her family and even met her parents and grandparents to make the whole thing even cuter. Aww!
Article continues below advertisement
The long-distance lovebirds have reunited in their twenties!
After they met face-to-face, Anna said she kept in contact with the fisherman on social media. However, she never saw him again because her work schedule prevented her from visiting Outer Banks. But Anna shared on TikTok that she and the fisherman would reunite after she published her TikTok since she's calling the vacation spot for the summer!
The influencer said she would see the fisherman the following day to catch fish with him, her mom, and other family and friends. While Anna declined to post him on TikTok, she received plenty of offers from her commenters to turn her story into a YA romance book-turned-movie one day!