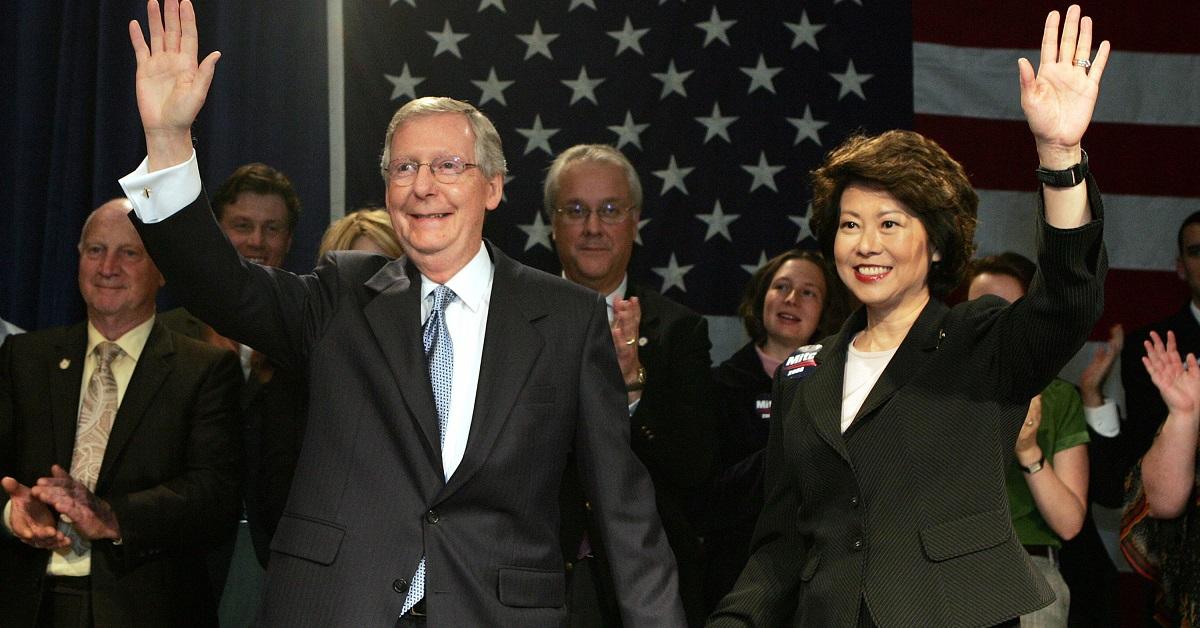 Mitch McConnell's Wife Elaine Chao Is Resigning From Her Political Role
For several years, Mitch McConnell has enjoyed his position as one of the most powerful men in Washington. In the aftermath of November's elections and the run-offs in Georgia, there's been a lot of attention paid to the Senate, and to McConnell in particular. Now, many want to know who the senator's wife is.
Article continues below advertisement
Who is Mitch McConnell's wife?
McConnell's wife is Elaine Chao. In 2017, she was confirmed as the Secretary of Transportation under the Trump administration. The two married in 1993 and have since become one of the most powerful political couples in Washington. McConnell has served much of his time in Washington as a member of the Senate, and his wife has had a series of high-profile cabinet positions that made her a name in Washington.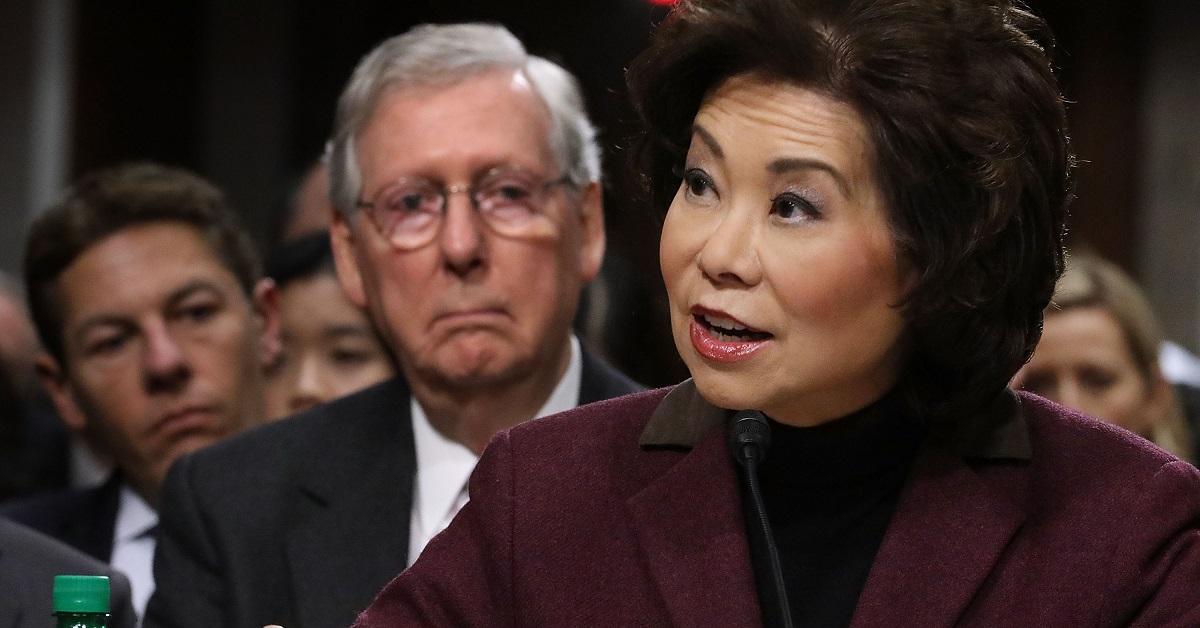 Article continues below advertisement
Prior to serving as the Secretary of Transportation under Trump, Chao was the Secretary of Labor under George W. Bush and held other cabinet positions under Ronald Reagan and George H.W. Bush. Before entering public service, Chao worked at Bank of America, and she also ran the United Way and was a member of the Heritage Foundation, a conservative think tank in Washington.
Elaine Chao immigrated to America at a young age.
Chao is one of the most prominent Asian Americans in politics and came to America from China when she was just eight years old. She is the eldest of six children and is the daughter of Ruth Mulan Chu Chao, a historian, and James S. C. Chao, a shipping magnate. She went to Mount Holyoke College and received her M.B.A. from Harvard Business School in 1979.
Article continues below advertisement
Chao and McConnell have come under scrutiny for potential conflicts.
Because both McConnell and Chao have held high-ranking positions in the U.S. government, there's been some scrutiny placed on their dealings. Chao has come under investigation for two separate potential conflicts of interest.
The first is because of her father's business, which makes most of its money in China. Throughout her tenure as Transportation Secretary, Chao has been accused of trying to stifle American shipping companies in order to benefit her family.
Article continues below advertisement
Chao's family's business came under scrutiny because cabinet officials are forbidden from taking any public action that might benefit themselves or their families financially. Reports also suggest that Chao attempted to include members of her family in meetings with Chinese government officials.
Chao and McConnell have also caused controversy because of the perception that Chao was favoring her husband's native state of Kentucky in selecting where new transportation projects should go. In May of 2020, President Trump fired Mitch Behm, the Inspector General at the Department of Transportation, who was investigating the conflict of interest between Chao and McConnell.
Article continues below advertisement
Chao announced her resignation following the violence at the U.S. Capitol on Jan. 6, 2021.
On Wednesday, Jan. 6, 2021, a mob of Trump supporters broke into the U.S. Capitol, causing chaos and interrupting the process of certifying electoral votes for the 2020 presidential election. The following day, Chao submitted her resignation as U.S. Secretary of Transportation, which will take effect on Jan. 11. In a statement she posted to Twitter, Chao said that she will now focus on helping her announced successor, Mayor Pete Buttigieg, as he prepared to take on the role.
Chao's husband has not resigned from his own political position at this time. We're guessing conversations around their dinner table might be a touch more awkward than usual.