6 Mother's Day Sitcom Episodes to Watch With Your Mom
Looking for Mother's Day sitcom episodes? See recommendations from fans and critics as Mother's Day rolls around on Sunday.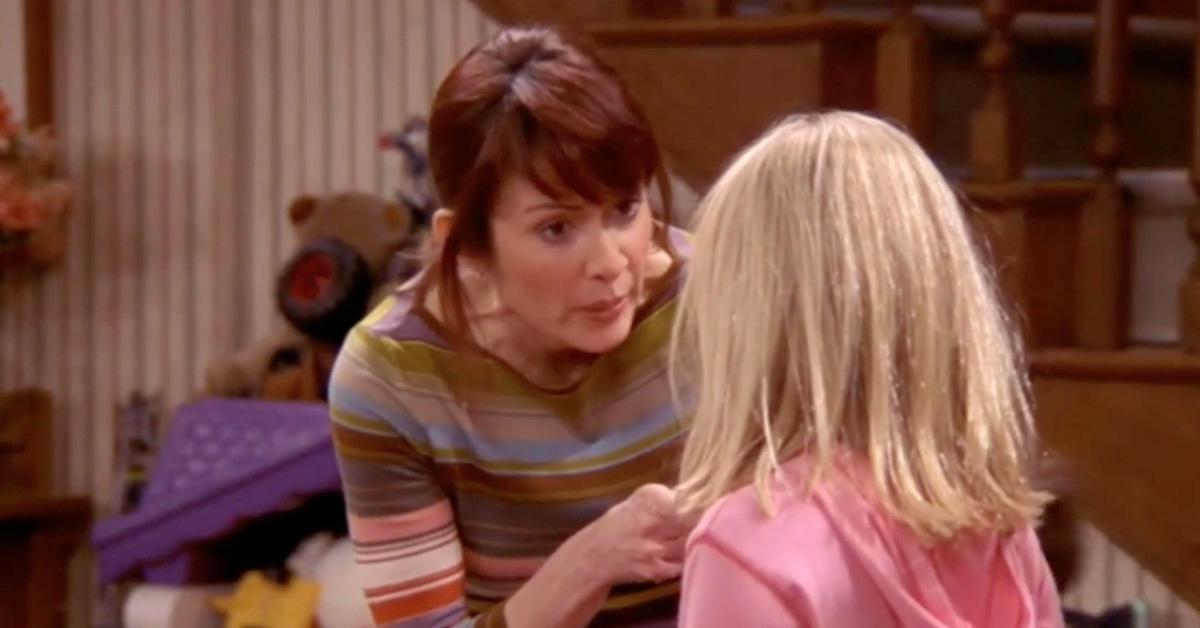 Stumped about what to do with Mom for Mother's Day this year? Why not gather around the old idiot box and watch some classic Mother's Day sitcom episodes?
Article continues below advertisement
It seems like Mother's Day-themed installments are a rite of passage for TV comedies, considering how many there are to choose from. Over the years, however, fans and critics have recommended some of the best. Here are six of those selections, including and especially the ones that put the "fun" in "family dysfunction."
'Black-ish' Season 1, Episode 22: "Please Don't Ask, Please Don't Tell"
This Mother's Day-themed episode has guest star Raven-Symoné dropping in as Rhonda Johnson, sister of Dre (Anthony Anderson) and daughter of Ruby (Jenifer Lewis), the latter of whom is the only person in the family who doesn't know Rhonda is gay. "That's So Raven is playing a lesbian who is getting married on this episode of Black-ish and I love it," a fan tweeted as the episode aired.
Article continues below advertisement
'The Golden Girls' Season 3, Episode 25: "Mother's Day"
In this episode of the beloved, '80s-era sitcom, the titular foursome reminiscence about Mother's Days past as they await calls from their children.
"Rose's [Betty White] story is the best. I had tears in my eyes watching the ending. Such a sweet, emotional story, well fitting to Rose's character," an IMDb reviewer wrote. "It was also great to see Dorothy [Bea Arthur] playing Sophia's [Estelle Getty] mom."
'Everybody Loves Raymond' Season 6, Episode 22: "Mother's Day"
Raymond tries to smooth things over in this episode after his wife, Debra (Patricia Heaton), offends his mother, Marie (Doris Roberts).
"In classic Raymond style, it doesn't go well, and that's just the beginning of how the story rolls," observed TVOvermind's Aiden Mason.
Article continues below advertisement
'Modern Family' Season 2, Episode 21: "Mother's Day"
As the Pritchett-Dunphy-Delgado clan honor their mothers, Claire (Julie Bowen) and Gloria (Sofia Vergara) take the kids on a disastrous hike, while Phil (Ty Burrell) and Jay (Ed O'Neill) have an awkward time preparing a family dinner.
On IMDb, a fan said this "funny episode" was "another good chapter in the sitcom."
'The Fresh Prince of Bel-Air' Season 4, Episode 23: "Mother's Day"
Jazz (DJ Jazzy Jeff) and his wife, Jewel (Karen Malina White), want to become parents in this episode … and they ask Will (Will Smith) to, ahem, make a contribution to their fertility journey.
"If your mother is a Will Smith fan, this is an episode she will definitely appreciate," wrote Romper's Alexia McKay.
'30 Rock' Season 4, Episode 20: "The Moms"
As the fictional show-within-a-show TGS airs a Mother's Day episode, so too did this NBC sitcom. In this 30 Rock chapter, Tracy (Tracy Morgan) forms a mother-son-like bond with an actress Pete (Scott Adsit) hired to play his mother.
"I like the mothers of all [the] characters," one fan wrote in an IMDb review. "They are so well-developed as characters. … My favorite was actually the Tracy story. It is funny how the fake mom story had the most heart-warming message."