'NCIS' and 'NCIS: Hawaiʻi' Teams Try to Stop a Large-Scale Attack in Crossover Event
Long-running CBS procedural NCIS is coming back for its 20th season on Monday, Sept. 19 — right before its spinoff NCIS: Hawaiʻi returns for its second season. And fans of the NCIS-verse are getting another crossover between the two shows that night!
As you'll recall, NCIS Season 19 ended with Special Agent Alden Parker (Gary Cole) on the run with ex-wife Vivian Kolchak (Teri Polo) after she'd been kidnapped and he'd been framed for the murder of his former FBI partner.
Article continues below advertisement
As a result of that cliffhanger, one NCIS team will collaborate with another more than 7,000 miles away in Monday's crossover event. "During a suspenseful two hours, the hunt for a dangerous suspect unveils a complex network and a larger sinister plan that will take the D.C. team to Hawaiʻi in a race to thwart the next large-scale attack," CBS says in a press release about the pulse-pounding double premiere.
The D.C. team gets Tennant and Malik's help clearing Parker's name.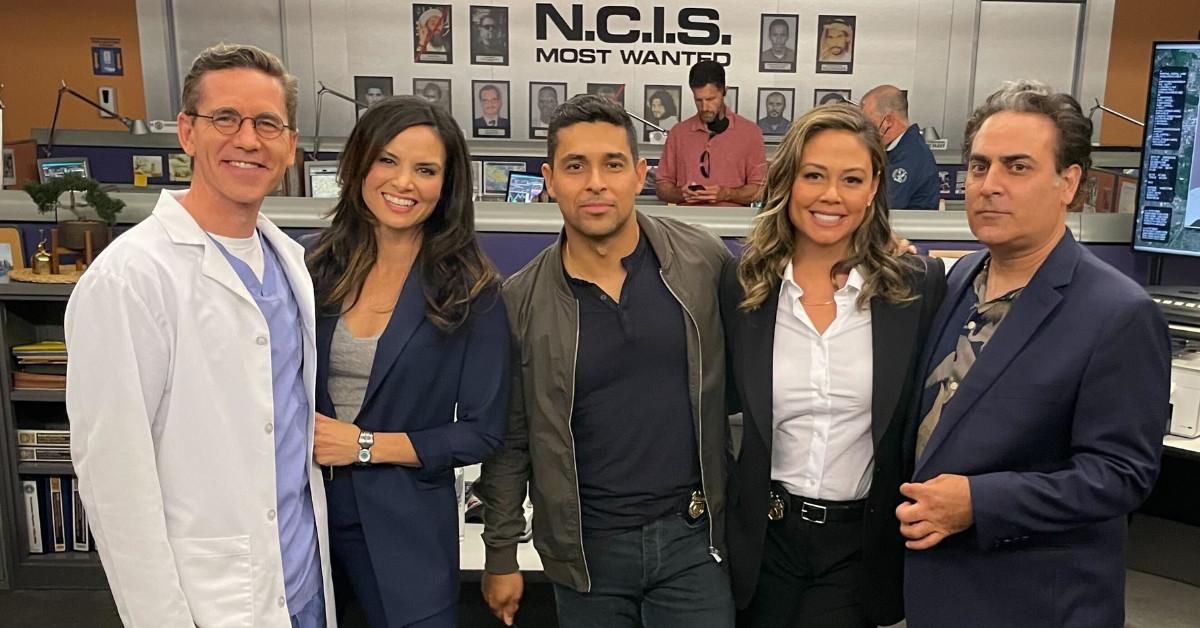 The NCIS Season 20 premiere, "A Family Matter," picks up where Season 19 left ff, with Parker still on the lam with his ex-wife. (Of course, what we viewers know that Parker doesn't know is that Vivian seems to be working against him. In the Season 19 finale, she covertly sent a text reading, "It's done. I have him.")
Article continues below advertisement
In Monday's premiere, the NCIS team will try to exonerate their supervisor, looking into Parker's past to see who might have a long-standing grudge against him, as CBS explains. And they'll get an assist from two characters from NCIS: Hawaiʻi.
"Enlisting the help of NCIS: Hawaiʻi's Special Agent Jane Tennant (Vanessa Lachey) and computer specialist Ernie Malik (Jason Antoon), who are in town meeting with director Leon Vance (Rocky Carroll) in preparation for a global military exercise, the group tracks down their prime suspect, The Raven," CBS' press release says.
Article continues below advertisement
Then Torres and Knight help the Hawaiʻi team uncover their suspect's plot.
The second part of the crossover is the NCIS: Hawaiʻi Season 2 premiere, titled "Prisoners' Dilemma." In that episode, NCIS D.C. agents Nick Torres (Wilmer Valderrama) and Jessica Knight (Katrina Law) link up with Tennant's team and track The Raven to Oahu. That's when the agents "learn about his plans to attack RIMPAC (The Rim of the Pacific Exercises), the world's largest international maritime warfare exercise," according to CBS.
In addition to Parker, NCIS characters Jimmy Palmer (Brian Dietzen) and Kasie Hines (Diona Reasonover) will also guest-star in that NCIS: Hawaiʻi episode.
Article continues below advertisement
Keep your eye on Jimmy and Ernie, 'NCIS' showrunner Steven D. Binder says.
In a recent interview with TVLine, NCIS showrunner Steven D. Binder previewed what might happen when NCIS cyber-sleuth Timothy McGee (Sean Murray) meets his Hawaiʻi counterpart, Ernie. "I think that just by virtue of Tim having been around the block for 20 years, he's inherently not going to be as in awe of Ernie as one might expect," Steven says. "Now, Ernie might feel differently about that, but Ernie is the new kid on the block, so to speak."
But Steven did suggest a different pair to watch: "The one to keep your eye on more is Jimmy and Ernie [since] they both have a fascination with Agent Knight [Katrina Law]."
The season premieres of NCIS and NCIS: Hawaiʻi air on CBS on Monday, Sept. 19, at 9 p.m. and 10 p.m. ET, respectively.