How to Set New Year's Resolutions For Kids That Add Value to Their Lives and Yours
When we think of New Year's resolutions, often they're focused on our own goals, like getting that promotion at work, finally learning to "love" Pilates, and eating at home more often than dining out. But when it comes to aiming higher and doing better, there really is no age limit! In fact, incorporating New Year's resolutions for kids into your year-in-review routine offers benefits for the entire family.
Article continues below advertisement
First and foremost, according to HealthyChildren.org, group goal setting is a great way not only to spend time together as a family, but to hold one another accountable. Read on for ideas for how to help kids make resolutions that will challenge them and even change them — and perhaps inspire parents and caregivers, as well!
Making New Year's resolutions for kids that are age appropriate is the most important rule.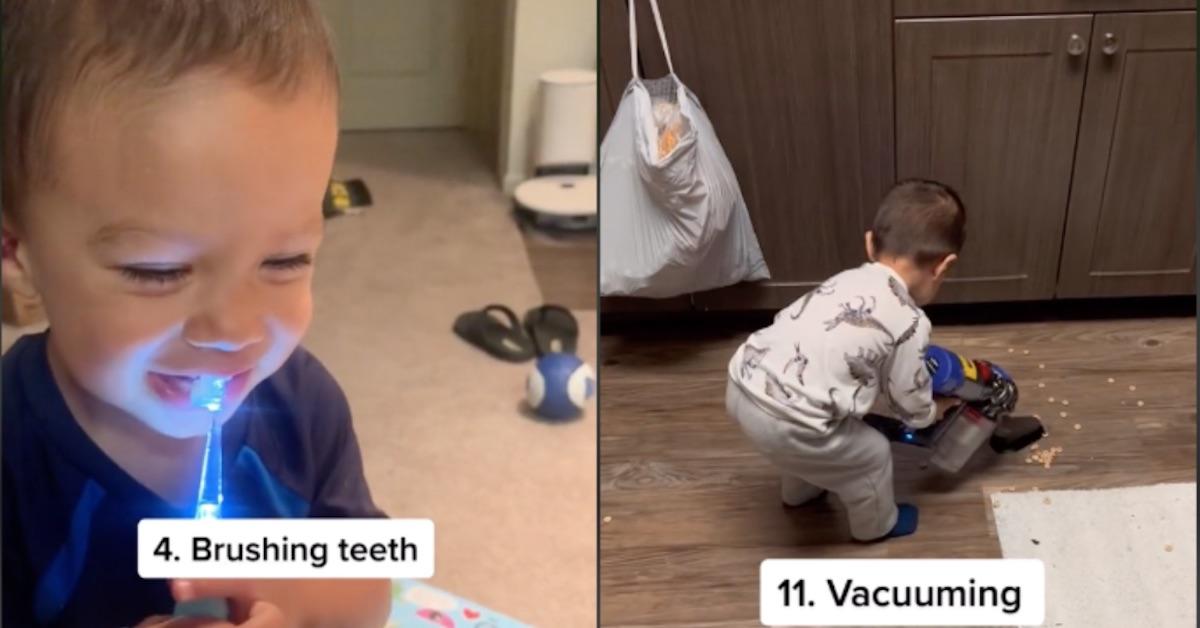 Setting your child up for success in the New Year starts with determining goals that are age-appropriate. For instance, a preschooler can aim to brush their teeth twice per day, pick up their own toys the first time you ask — instead of the 20th! — or bring their own dish to the sink after dinner.
Article continues below advertisement
An elementary-school-aged child can set reading goals, either to cuddle up with a book for a certain amount of time before bed, or to read a certain number of books each week, month, or throughout the year. A tween or teen might resolve to do their own laundry, put more effort into a class they're struggling in, join a new club at school they've been curious about, and volunteer in the community. Or, um, maybe to be nicer to their parents! Just sayin'.
Indeed, Lauren Mejia, who creates content for TikTok as Motherhood and Montessori, shared 13 practical life tasks even a 2- or 3-year-old can master! So, almost no one in the family is too young to help out at home and be more responsible.
Article continues below advertisement
Focus on a keyword instead of a list of New Year's resolutions for kids.
One clever way to help kids focus on their goals for the New Year is to ask them to organize their thoughts around one keyword, according to Cassie from Create-abilities on TikTok. Examples include "grit," "curiosity," "hope," "kind," and "adventure." Then, encourage kids to write down how they will try to embody that word in their actions this year.
See, this is what we meant when we said adults may also feel inspired by some of these great tips! In fact, as blogger Elisabeth McKnight notes, the practice of selecting one word of the year to center your goals around may feel less intimidating than compiling an entire list of resolutions, as well as help you organize your thoughts into one cohesive theme.
Article continues below advertisement
Record the New Year's resolutions for kids to keep them accountable — and because it's cute.
Whether you make a video of your child sharing their New Year's resolutions or write them down, be sure to keep a record of their goals. Then, as the year progresses, you and your child can go back and revisit the resolutions — especially if you feel they are not holding up their end of the bargain when it comes to pledging to help out around the house, be kinder to a sibling, or study more after school.
Also, it must be said that recording kids' New Year's resolutions is just plain adorable. Imagine a tween going back one day to review their resolutions from when they were a preschooler. Sniff. We're okay. Happy New Year!