Want to Buy the Robot Dog From 'Stars on Mars'? We Tracked It Down
In addition to 'Stars on Mars' featuring 12 celebrities, it also has a robot dog. Where can you buy the robot dog? We tracked it down for you!
We know you've heard of Dancing With the Stars. You've probably also heard of RuPaul's Drag Race All Stars. But have you heard of Stars on Mars? You know, FOX's new reality tv show that takes celebrities to Mars to compete in missions.
Article continues below advertisement
Just to clarify, no they aren't actually going to the planet Mars, although that would be a very entertaining. Instead, the celebrities are in a simulated Mars-iverse that mimics what life is actually like there. In addition to the celebrities, there's also a dog on Mars! OK, once again not a real dog, but a robot dog.
Naturally people have been wondering where to buy the robot dog from Stars on Mars, so we tracked it down for you. You're welcome in advance. Just how much does a robot dog cost? Keep reading to find out!
Where can you buy the robot dog from 'Stars on Mars'?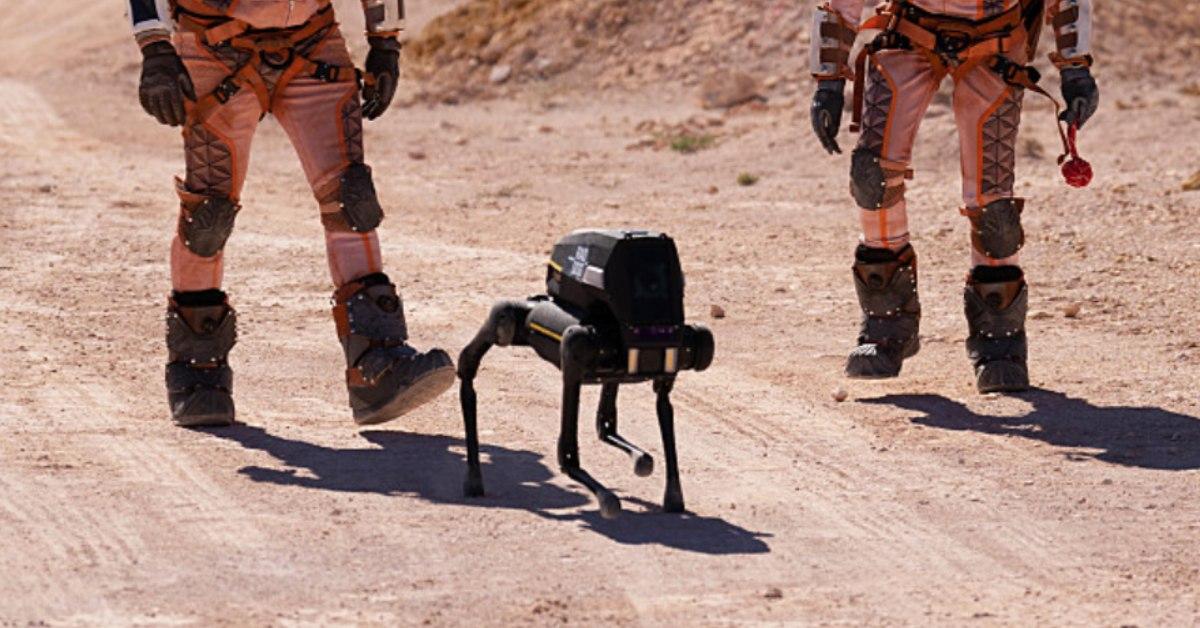 Stars on Mars takes 12 celebrities (Lance Armstrong, Natasha Leggero, Marshawn Lynch, Christopher Mintz-Plasse, Adam Rippon, Ronda Rousey, Tom Schwartz, Richard Sherman, Tinashe, Porsha Williams, Tallulah Willis, and Ariel Winter) and puts them in a simulated Mars where they compete in missions. But they're not out there in the universe alone: they have a dog with them, a robot dog that is.
Article continues below advertisement
Who makes the robot dog and how much does it cost?
The robot dog in question is RADDOG™ 2LE from AITX. The website says that RADDOG is a "purpose-built robot dog for law enforcement" and that you can send it "on missions and operate it remotely to observe perilous scenarios or examine hazardous situations from a distance." RADDOG weights over 60 pounds and is over 25 inches tall.
While the price isn't readily available, AITX CEO Steve Reinharz said, "Its exceptional performance as a 'force multiplier,' advanced communication capabilities, sleek design, and comparable low cost should make it very attractive to law enforcement agencies."
A similar robot dog by Boston Dynamics costs $74,500, although this one doesn't seem to be made specially to help with law enforcement. So, needless to say, although the robot dog is available for purchase, most fans probably won't be able to afford one.
Article continues below advertisement
What can fans expect from 'Stars on Mars'?
Stars on Mars is described as, "An out-of-this-world new unscripted series, in which household names trade in their possessions, status, and glamorous lifestyles on Earth for an insane and hilarious summer on Mars."
In the trailer for the premiere season, William Shatner, who was famously in Star Trek, plays a sudo-host who gives the celebrity contestants their missions from mission control. After each mission, the contestants vote off one of their own, until there is only one contestant left standing. We see figure skater Adam Ribbon hilariously say, "I think I'm critical because I'm one of the hottest people here" when vying for his place in the experiment."
While we clearly won't be purchasing our own robot dog anytime soon, we will keep tuning into Stars on Mars to see what RADDOG can do. He is getting just as much attention as the celebrities.
Make sure to catch new episodes of Stars on Mars every Monday on FOX at 8 pm EST.