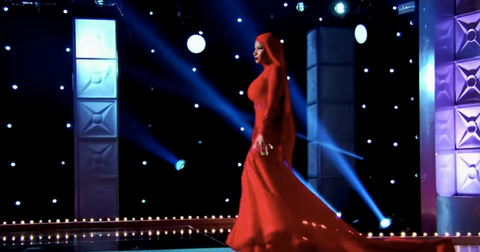 'RuPaul's Drag Race' Season 12 Guest Judges Include a Congresswoman, an Oscar Winner, and a Top Model
By Jacqueline Gualtieri

Updated
There's truly no other show on TV like RuPaul's Drag Race. Part America's Got Talent, part America's Next Top Model, and part Project Runway, this series is truly in a whole other league when it comes to reality TV. Which is probably why so many of the biggest names in Hollywood just can't pass up an opportunity to judge the intense series.
How many other reality shows can say that its list of judges includes Debbie Reynolds, Neil Patrick Harris, Demi Lovato, Ariana Grande, Lizzo, Gigi Hadid, and Shania Twain? Whether you're a singer or a model or an actor, judging for RuPaul's Drag Race is a rather impressive thing to add to your resume. And Season 12 proves that not even a politician could walk away from the chance to judge the iconic series. Here's who you'll be seeing as guest judges in the upcoming season.
Nicki Minaj
Nicki was previously announced as a guest judge when she made her comeback to social media. She let her fans know that she's going to be judging the first episode of Season 12.
Alexandria Ocasio-Cortez
AOC is a little busy being the U.S. Representative for New York's 14th congressional district and also campaigning for Bernie Sanders, but that didn't stop her from answering the call when RuPaul came knocking.
Leslie Jones
The SNL comedienne is sure to have the contestants in stitches when she takes on her patriotic judging duties.
Jonathan Bennett
Yes, that's right. Aaron Samuels himself will be guest judging this season. No word yet on how Jonathan intends to wear his hair because we all know how sexy he looks with his hair pushed back.
Chaka Khan
Chaka Khan isn't a stranger to the Drag Race stage but judging the show will be all new to the "Queen of Funk".
Daniel Franzese
We're thinking there might be a Mean Girls themed episode coming this season. Daniel joins Jonathan as the second Mean Girls alum guest judging.
Jeff Goldblum
Jeff...uh...found a way onto the judging panel for Season 12.
Normani
This songstress is very "motivated" to help RuPaul decided who is going to sashay away in her episode.
Olivia Munn
Olivia may be in the middle of working on her new show The Rook, but that didn't stop her from adding "Drag Race judge" to her already impressive resume.
Rachel Bloom
Figures crossed that we see this season of Drag Race take on some of the iconic moments from Crazy Ex-Girlfriend.
Robyn
This Swedish superstar is as well known for her dance music as she is for her iconic looks so we know she's bound to be a tough judge to please this season.
Thandie Newton
Thandie may have been in the middle of filming Westworld Season 3 but luckily she found time in her busy schedule to join the Ruvolution.
Whoopi Goldberg
We may be able to see Whoopi every day on The View, but we're a lot more excited to be able to see her on screen alongside Ru.
Winnie Harlow
Can anyone serve face like Winnie? This top model has changed the modelling game and we can't wait to see her on screen as a Drag Race judge.