Things Get Steamy Between She-Hulk and Daredevil in 'She-Hulk: Attorney at Law'
Episode 8 of 'She-Hulk: Attorney at Law' sees She-Hulk and Daredevil engage in some romantic behavior. Do they have a fling in the Marvel comics?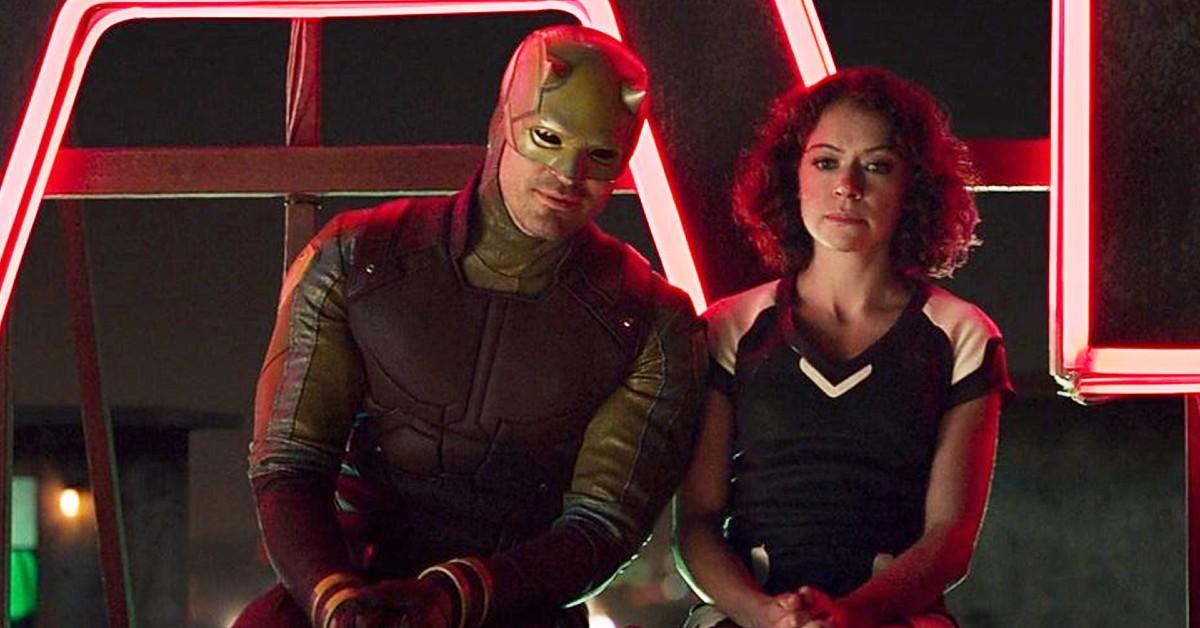 When they're not fighting crime, superheroes can't help but crawl into bed with one another — and we're desperate to know what their bedposts look like. They're only human ... kind of. In Disney Plus's Marvel sitcom series She-Hulk: Attorney at Law — which is based on Stan Lee and John Buscema's 1980s comic books — we see the titular character cozy up to another superhero lawyer in Episode 8, "Ribbit and Rip It." To think that there's more than one skilled attorney with godlike powers.
Article continues below advertisement
After much teasing and buildup (his unmistakable golden helmet made an appearance in Episode 5), beloved Marvel superhero Daredevil (Charlie Cox) made his presence known in She-Hulk Season 1's penultimate episode. With his civilian name being Matt Murdock, vigilante hero Daredevil is a respected and cunning NYC lawyer who was blinded as a child by a radioactive substance. Though he lost his sense of sight, his other senses were heightened to a superhuman degree.
Matt Murdock did appear in 2021's Spider-Man: No Way Home, but he left his Daredevil suit at home. Now, in She-Hulk, Daredevil is back to fighting crime (specifically pertaining to spoiled rich kid Eugene Patilio — aka Leap-Frog), not to mention flirting up a storm. In a turn of events that had everyone at the edge of their seats, Jennifer Walters (Tatiana Maslany) and Matt Murdock get it on. (Cue Marvin Gaye's "Let's Get It On.")
"We're all feeling this, right, it's not just me?" We're certainly all feeling it, Miss Jen. Romance is in the air.
Article continues below advertisement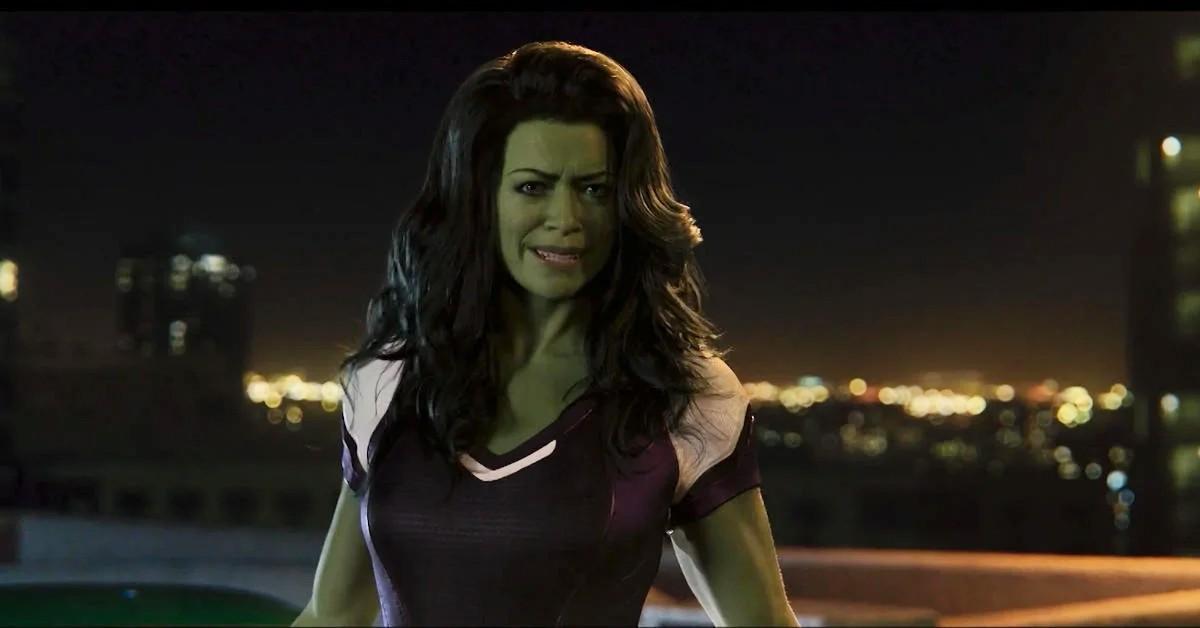 She-Hulk and Daredevil get intimate in 'She-Hulk: Attorney at Law' Episode 8.
It all begins when wannabe hero Leap-Frog (Brandon Stanley) attempts to stop two thieves from stealing televisions, hurting himself in the process like the embarrassment that he is. When his Kelly green frog suit malfunctions, he's left with severe burns on his legs, leaving him with no choice but to run to Jen for legal help.
Article continues below advertisement
See, he attempts to sue his tailor, Luke Jacobson (Griffin Matthews), who also happens to be Jen's trusty tailor (her gargantuan measurements require very specific tailoring). Though it's a messy situation, Jen agrees to defend Eugene in court. Considering his father (Vincent Patilio in the comics) is an important client of the firm, Eugene is, too, an important client by association.
And who's defending Luke? None other than Daredevil himself — who can apparently practice law in both New York and Cali.
Article continues below advertisement
After Eugene fumbles the bag in court by revealing that he used jet fuel in the suit's rocket boosters despite Luke advising him not to (a true face-palm moment), Jen inevitably loses the case to Matt Murdock. She heads to her favorite bar, where she knocks a few back, clearly bummed about the case, only to find that Matt is also at the bar, celebrating with some booze.
After he buys her an appletini, the two discuss work, which soon becomes an undeniably flirty conversation. "See, the way I see it, Jen Walters can use the law to help people when society fails them. And She-Hulk can help people when the law fails them," Matt tells Jen, causing her to perk up.
Though they leave the bar separately, later on in the episode Matt reveals himself to be Daredevil, and the two team up in more ways than one.
Article continues below advertisement
Sure, they unite to stop the dimwitted Leap-Frog after he kidnaps Luke, forcing him to create a new and improved suit, but we're more interested in what happens after that. You know, the good stuff.
"Hey, maybe next time I'm in town, I can take you out to dinner," Matt suggests. Obviously horny for the horned superhero, Jen suggests that they skip all of that. We love a woman who knows what she wants.
Article continues below advertisement
Subsequent to sleeping together, the best part of the episode arrives: A barefooted Daredevil embarks on a fully-suited walk of shame (though he doesn't look too shameful).
Does a Daredevil and She-Hulk romance occur in the comics?
Though Daredevil and She-Hulk's flirtationship has no basis in the comics, we're beyond happy that it was brought to life in She-Hulk: Attorney at Law.
According to Marvel, "the heroes have worked with organizations and groups like S.H.I.E.L.D. and the Avengers but hadn't worked together until fan-favorite series SHE-HULK (2014)."
Article continues below advertisement
"Although they haven't teamed up much as superheroes, Walters and Murdock have opposed (and supported) each other inside the courtroom." In regards to their legal duties, the duo is seen teaming up together in SHE-HULK Issue #4 and Issues #8 through #10.
As mentioned in a highly detailed deep dive by Popverse writer Joshua Lapin-Bertone, "She-Hulk and Daredevil have only been seen directly interacting in nine comics." Aside from the ones mentioned, Daredevil and She-Hulk interact in 2005's House of M Issue #5, 2017's Daredevil Issue #23, 2018's Marvel Knights 20th Issue #1, 2019's Avengers Issue #20, and 2022's Devil's Reign Issue #3.
Perhaps a juicy romantic interaction is yet to come.
The season finale of She-Hulk: Attorney at Law premieres on Thursday, Oct. 13, 2022, on Disney Plus.