Spider-Man's New Suit in 'No Way Home' Honors the Superhero's History
Spider-Man's new suit in 'No Way Home' is a throwback to Peter Parker's comic-book origins. Read more about the superhero's wardrobe in the new film.
Spider-Man's new suit in Spider-Man: No Way Home is a far cry than the red hoodie and blue pants we first saw Peter Parker using when Tom Holland started playing the part in Captain America: Civil War five years ago.
Or should we say, new suits? Peter has a few wardrobe changes in No Way Home, which opened in theaters on Friday, Dec. 17, and already boasts the third-biggest box office opening of all time, with more than $253 million in box office receipts so far, per Deadline.
Article continues below advertisement
By the end of the movie, however, Spidey is rocking a classic look. We're recapping how Peter suits up in the new movie, but beware: Spider-Man: No Way Home spoilers ahead!
Peter Parker wears a variety of Spidey suits in 'No Way Home,' and by the end, he goes back to basics.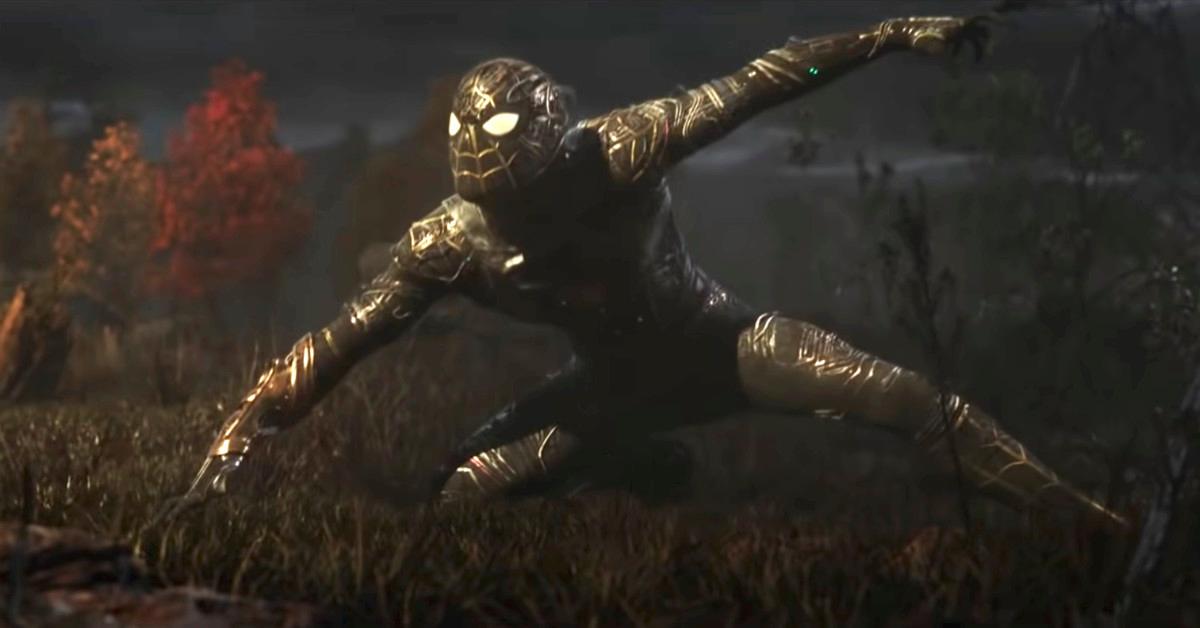 According to Screen Rant, Peter spends much of No Way Home in the red-and-black suit he crafted from Tony Stark's technology in the previous Spidey movie, Spider-Man: Far From Home.
When he encounters baddies Electro and Sandman, however, he's clad in a black-and-gold Spider-Man suit, which is actually the red-and-black suit turned inside out. (Turns out, Aunt May had to clean the outside of the suit after Mysterio devotees stained it green.)
Article continues below advertisement
During other action sequences, Peter wears the Iron Spider Armor we saw in Avengers: Infinity War and Avengers: Endgame, and toward the end of the movie, he wears an "integrated" suit with gold details, a suit upgraded with nanotechnology from the Iron Spider armor.
And at the very end of No Way Home, however, Peter crafts a new suit for himself, a simpler outfit with the familiar red-and-blue color scheme comic book fans know so well.
Spider-Man's suit is what got the character into the Marvel Cinematic Universe in the first place.
In a new interview with The New York Times, Marvel Studios president Kevin Feige and No Way Home producer Amy Pascal — formerly a Sony Pictures executive — reveal how an idea about Spider-Man's suit got them thinking the character could join the Marvel Cinematic Universe.
Article continues below advertisement
"Kevin called me and came over to the house and said, 'I have an idea. What if Tony Stark makes Peter's suit?' And as soon as he said that, I understood the possibilities of what we could do together," Amy said. "To have Iron Man and Spidey in the same world, one rooted more in technological innovation — the new suit — and less in medical experimentation, which is where we were confined before, felt so much more modern."
And though No Way Home marks the end of one Spider-Man trilogy, Amy and Kevin are already thinking about the character's cinematic future. "We're actively beginning to develop where the story heads next," Kevin tells the Times.
Adds Amy, "At the end of the movie we just made, you see Spider-Man make a momentous decision, one that you've never seen him make before. It's a sacrifice. And that gives us a lot to work with for the next film."