Die-hard Tiger King fans everywhere are gearing up for a brand new-episode, which the streaming giant is officially dropping on Sunday, April 12. The follow-up episode will be filmed as an after-show, catching up with each of the stars featured in the original docu-series a few years later, according to PopSugar. Needless to say, we will be tuning in as soon as it drops.
After garnering an inordinate amount of (well-deserved) attention, it goes without saying that Tiger King's after-show, called The Tiger King and I, is going to be seriously wild — stay tuned for everything we know regarding the highly anticipated follow-up to the beloved series.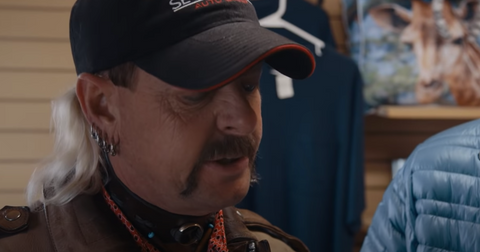 Joel McHale will be hosting a 'Tiger King's after-show.
Joe Exotic is apparently "done" with plotting against Carole Baskin, but still insists he was wrongly accused.
After Netflix's original docu-series gained tremendous fame in March 2020, the streaming service interviewed Exotic by phone, and obviously, it did not disappoint. Though he told the streaming service he's "done with the Carole Baskin saga" to focus on his behavior (and hopefully get let out early), he said he will emerge as eccentric as ever, and is looking forward to the fame he's garnered from the series (of course).
Netflix is answering all of our quarantine prayers by bringing a brand new episode of Tiger King into our lives. Needless to say, Joel McHale is going to be a truly incredible host, and while we aren't entirely sure what to expect, we know it's going to be absolutely epic.
Netflix will drop Tiger King's after-show, The Tiger King and I, on Sunday, April 12. But remember: cool cats and kittens only.