Fans Are Already Dream Casting the 'Tiger King' Miniseries
Netflix's 'Tiger King' is a breakout hit and there are already tons of memes detailing how fans think casting should be for the miniseries.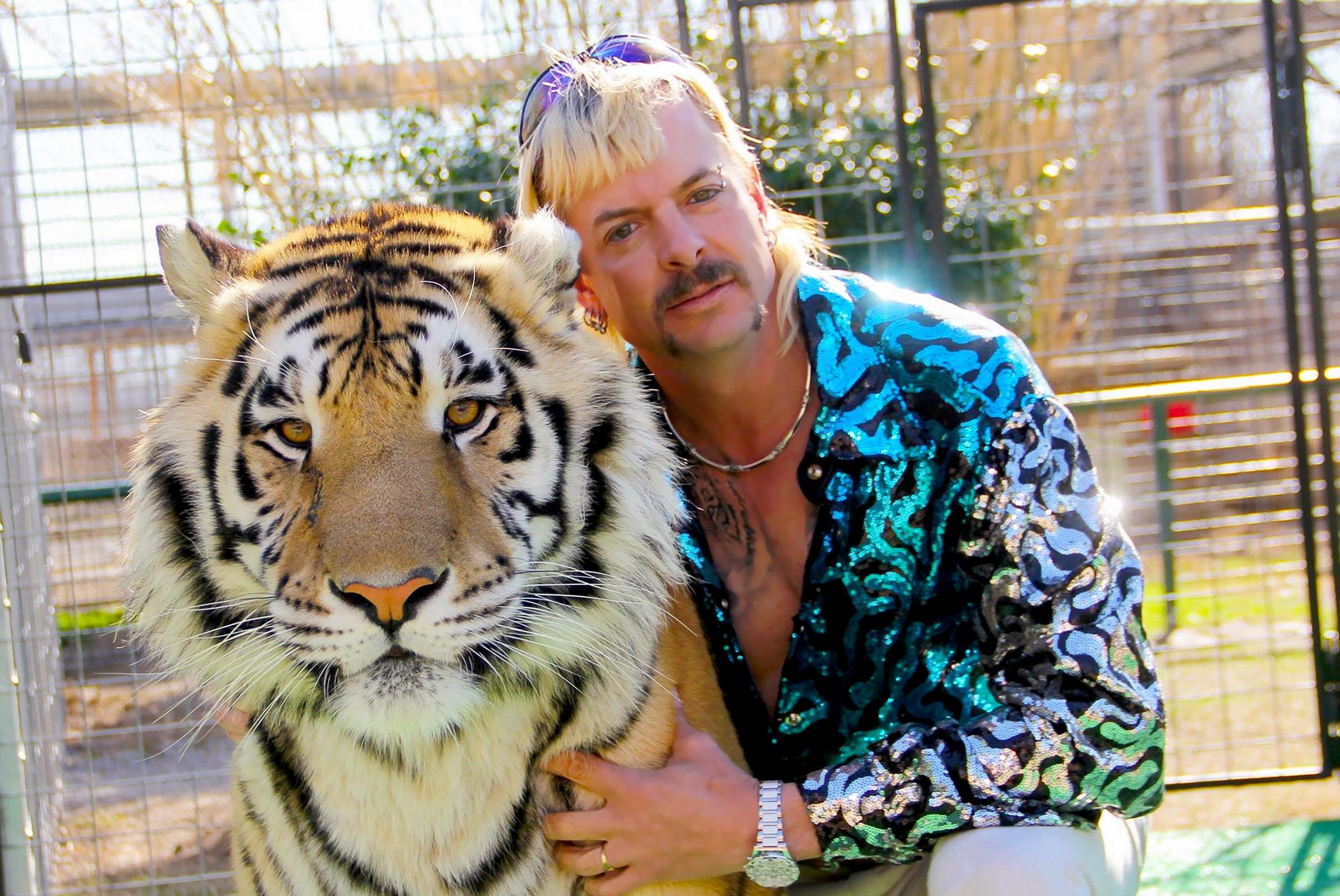 If there's one thing that has brought people together during the COVID-19 crisis, it's the shared love and wonder at the Netflix docuseries Tiger King. It follows the rise and fall of Joe Maldonado-Passage, also known as Joe Exotic, and his alleged crimes and misdeeds along the way. The entire docuseries is one misstep after another, with wild twists and turns that seem almost unreal.
Article continues below advertisement
And now that there is a miniseries in the works, fans have taken to social media to share their visions through memes of who should be cast in this other version of Tiger King. The upcoming series, which is going to be an adaptation of the Wondery podcast Joe Exotic, has so far cast Kate McKinnon as Big Cat Rescue founder and Joe Exotic nemesis Carole Baskin. The other roles, however, are still up for grabs.
Fans' Tiger King miniseries dream cast:
Michael Keaton as Joe Exotic
There are a lot of ideas out there about who could play Joe in the miniseries version of his story. But one that seems to hit the nail on its head is Michael Keaton. He wouldn't even need to undergo much of a transformation. All he needs to do is slap a handlebar moustache on his face and make sure he has a bleached mullet and you're good to go.
Article continues below advertisement
Bill Hader as Erik Cowie
Erik Cowie is one of the few unsung heroes of Tiger King. Unlike so many of the other players, he didn't purposely do anything inherently wrong in relation to the animals and he moved on from the experience, putting Joe and everyone else behind him. Someone like Bill Hader could easily portray his aloofness.
Article continues below advertisement
Will Ferrell as Doc Antle
Will Ferrell is and will always be America's sweetheart. It would almost be a crime not to include him in the cast of what could be a dark comedy when the miniseries is made. It's still unclear how serious the miniseries will be, but Will can handle pretty much any role thrown at him. He also looks strikingly similar to Doc Antle, so he would totally work as the upscale version of the Tiger King.
Article continues below advertisement
Dave Bautista as John Finlay
Dave Bautista would have to curb his workout routine a bit, because John Finlay isn't as bulked up as he is, but they do bear enough of a resemblance to each other for Dave to portray John, Joe's ex-husband. In the miniseries, John's role would likely be pretty important since he was with Joe for years and began dating him at a young age.
Article continues below advertisement
Creed Bratton as Allen Glover
For some, Creed Bratton might not ever be anyone but Creed from The Office. But maybe it's his wild eyes and naturally calm disposition that make him the ideal choice to play Allen Glover in the miniseries. Allen is the man who was accused of accepting money from Joe to kill Carole. He didn't go through with the crime, but he was integral to authorities taking Joe down.
Article continues below advertisement
Tyler Labine as Josh Dial
Josh Dial wasn't as big of a figure in the docuseries as someone like Jeff Lowe. He did, however, play a significant role in Joe's campaign for the governor of Oklahoma. He was also the quiet voice of reason in Tiger King and among all of the wild characters, you need someone with a strong head on his shoulders. Tyler Labine would be able to do that with a comedic flair, if necessary.
Article continues below advertisement
Ed Harris as Rick Kirkham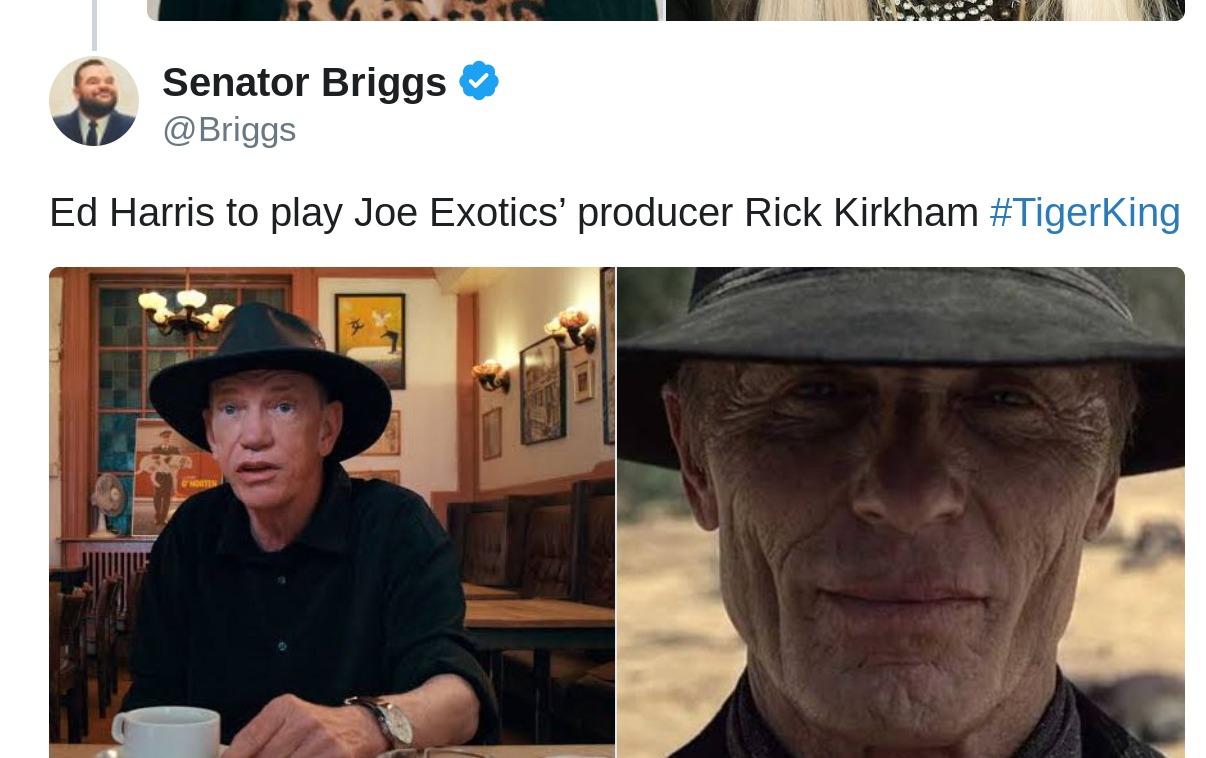 Obviously Ed Harris doesn't own his entire Westworld ensemble as the Man in Black, but the entire getup makes him a shoo-in for Rick Kirkman, Joe's former cameraman. Not only do they resemble each other physically, but the deep register of Ed's voice would match Rick's real life voice too. Casting for reenactments or miniseries based on true events isn't always perfect, but Ed as Rick is pretty spot on.
Article continues below advertisement
Bryan Cranston as John Reinke
John Reinke was another person in Joe's life who tried to do right by the animals. In the end, his life suffered a bit because of his involvement with Joe, but he was able to walk away from him. Bryan Cranston looks enough like him, especially with glasses, to play the part well. The role itself might be a little small for Bryan's caliber, but if the cast is full of stars, all of these roles could be beefed up a bit.
Article continues below advertisement
David Morse as Jeff Lowe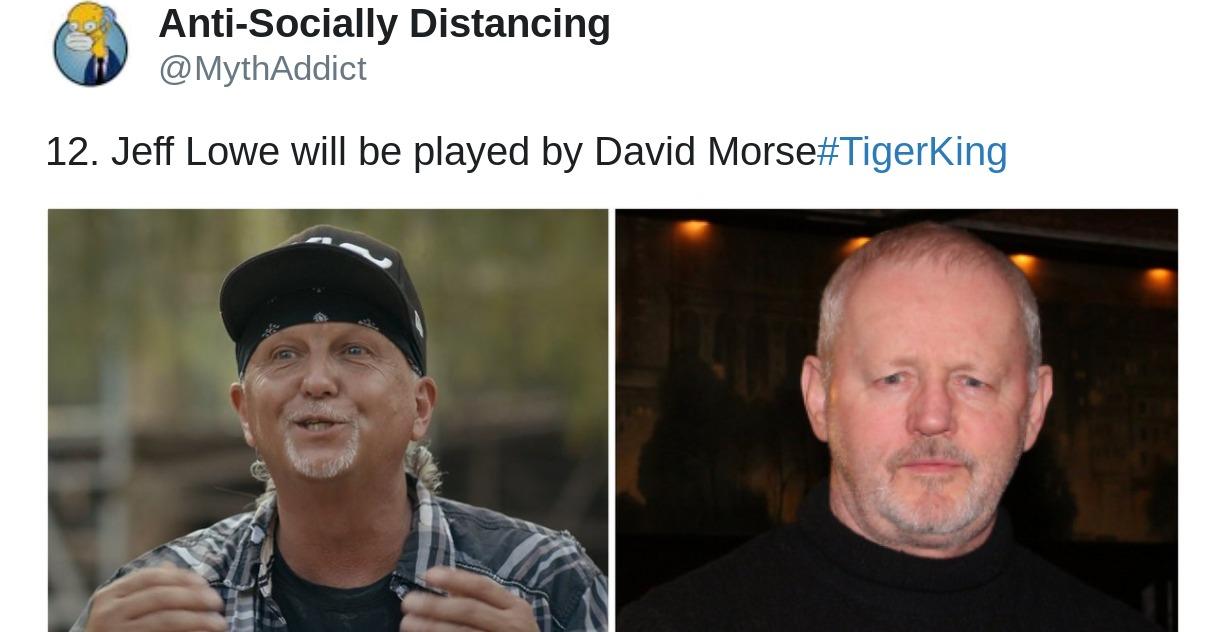 You can't look at Jeff Lowe without seeing David Morse. Both men have white hair and minimal facial hair that almost already matches and they have similar facial structure as well. All you need to do is get David one of Jeff's signature biker jackets, bandanna, and Oakley wide brim hat and he's basically Jeff's long lost twin.
Article continues below advertisement
The official Tiger King miniseries cast has yet to be announced. There are clearly a ton of options to go around to make it as memorable as the Tiger King docuseries was, though. And if fans have anything to say about it, it will definitely have a star-studded cast.
Tiger King is now streaming on Netflix.