This Woman Was Shocked to See an Insult on Her Uber Eats Receipt
When a woman's Uber Eats receipt seemingly insulted her, she decided to call the restaurant she ordered from and get to the bottom of this.
Article continues below advertisement
But never in a million years would you think that your receipt from the restaurant would insult you and call you an inappropriate name. Or so we thought.
Take a gander at the story from this woman, who noticed her Uber Eats receipt had a curse word on it that she initially thought was directed at her.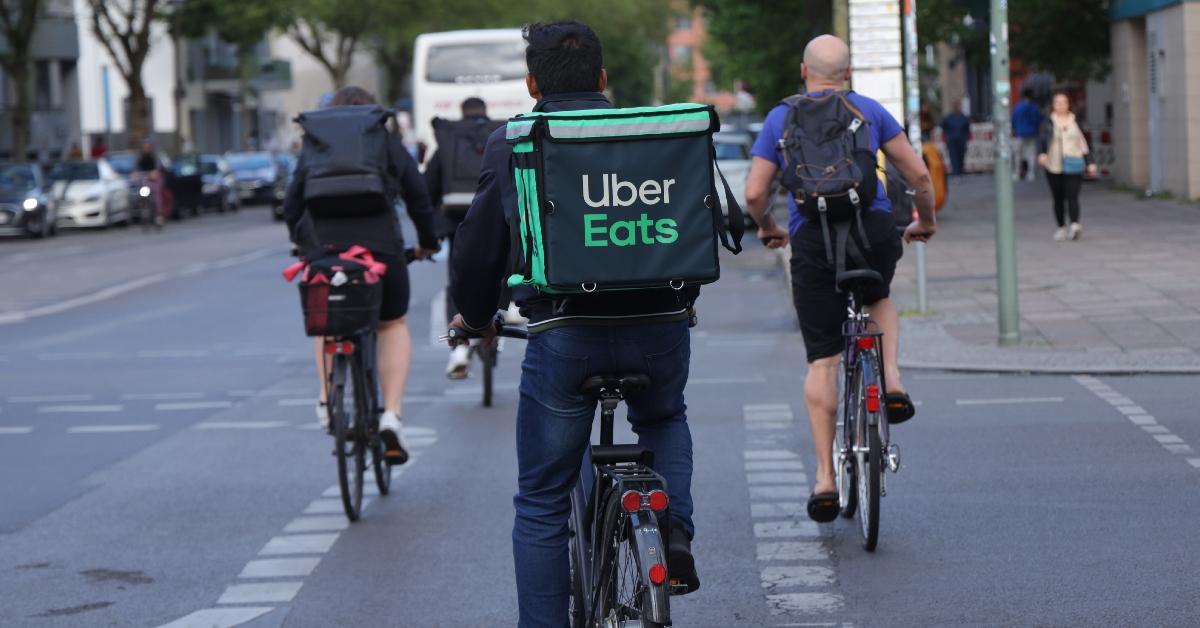 Article continues below advertisement
A woman received an Uber Eats receipt that seemingly called her a bad name.
In a TikTok video, creator @floridaferal shared a funny story about how she thought a takeout receipt she received was overtly insulting her.
"I've never felt so dumb in my life. I ordered a cheeseburger the other night," she explained in her video, adding, "My order arrived and it said "b----."
@floridaferal, understandably, wanted to find out why the place she ordered from seemingly called her a bad name on the receipt.
Noticing that she ordered her meal at 8:42 p.m., she called the restaurant to see what time the kitchen closed, believing that the kitchen staff could have been annoyed that she ordered so close to closing time.
However, the employee on the phone told her that the kitchen closed at midnight.
Article continues below advertisement
After learning that tidbit of information, @floridaferal decided to directly explain to the employee that when her order arrived it said "b----" on the receipt and she had no idea why.
Article continues below advertisement
The employee then started laughing and explained to her that the burger she ordered (a triple bacon cheeseburger) is called The B------' Burger on the restaurant's menu.
However, that name didn't carry over to the menu on Uber Eats where @floridaferal ordered.
The employee reassured @floridaferal that she wasn't the first customer to make that mistake.
Article continues below advertisement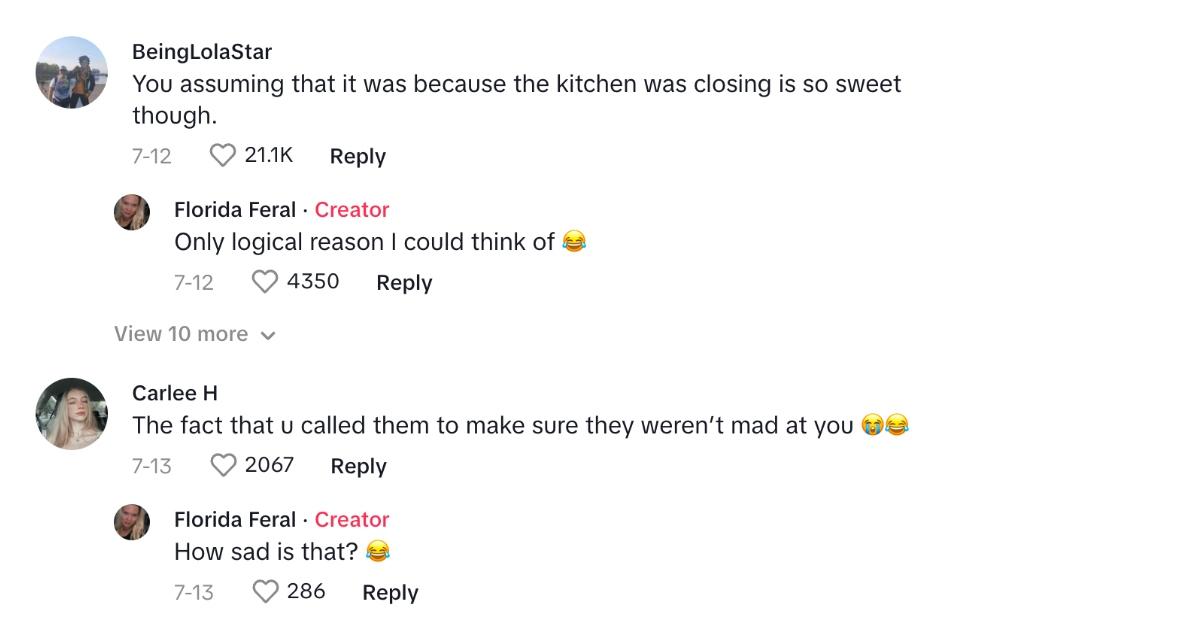 Users in the comments section got a kick out of @floridaferal's mishap. Many of them couldn't get over the fact that she initially thought the restaurant was upset with her.
Article continues below advertisement
Other users backed @floridaferal's decision to call the restaurant and directly address the problem. "Your feelings are valid, girl," read one comment.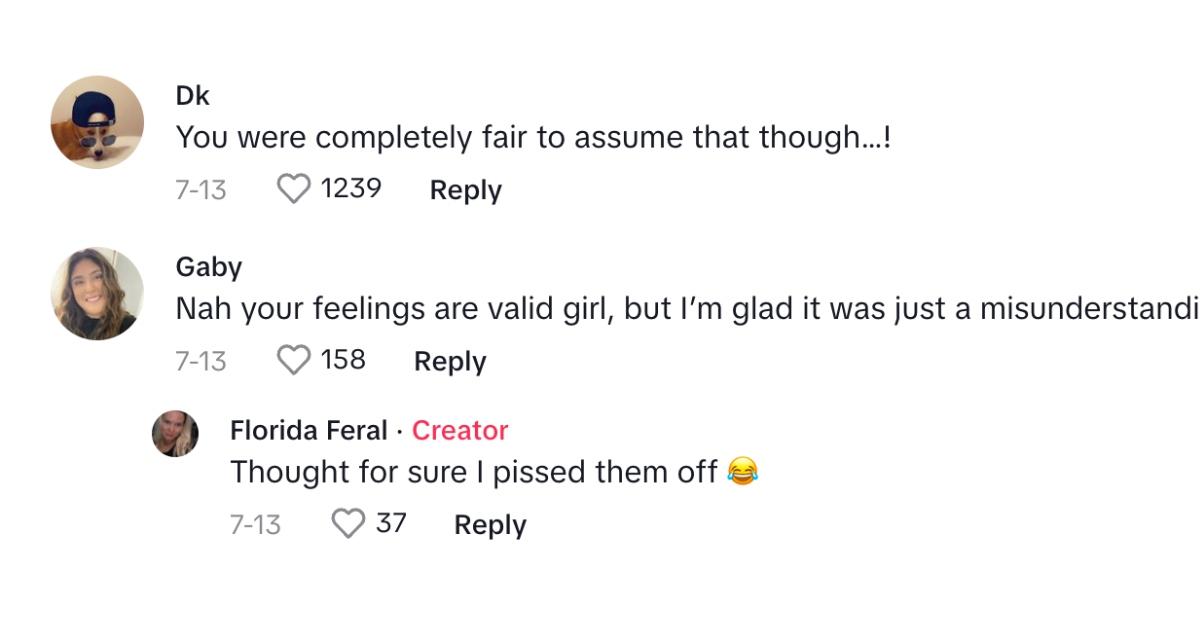 Article continues below advertisement
And one user joked: "I'd be like how dare you call me by my first name. You don't even know me."
"I'd be like, 'you left off 'sensitive'!" another user commented.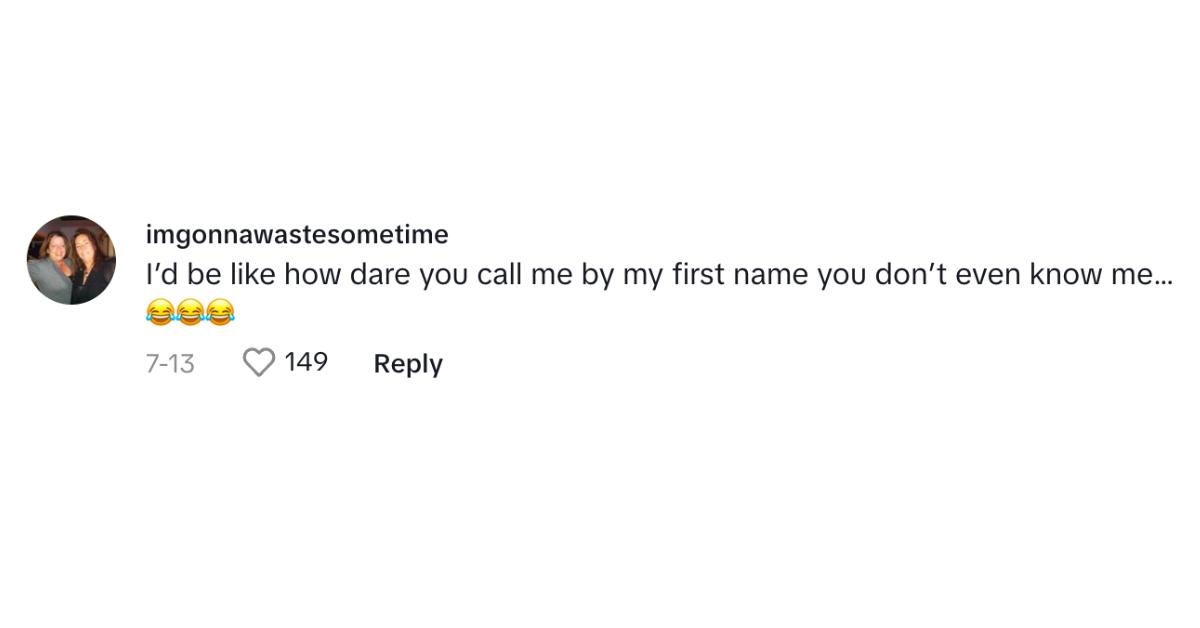 As another person suggested, the restaurant — which is the Nevermind Awesome Bar and The Hop in Cape Coral, Fla. — could remedy this problem by simply editing the Uber Eats description.
However, we have a feeling that the Nevermind Awesome Bar might just enjoy teasing their customers with this burger's cheeky name. A former employee wrote in @floridaferal's comment section that when she worked there, this happened "all the time."