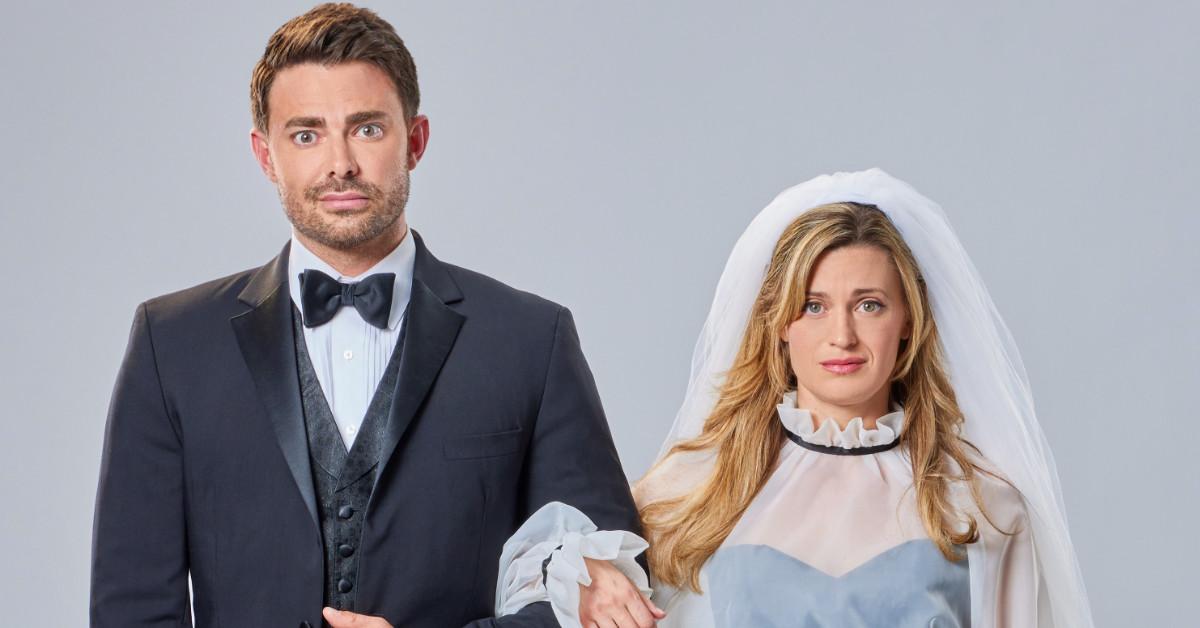 An Estranged Couple Plays Up the Shomance in Hallmark's 'Wedding of a Lifetime'
With good-looking actors and good-looking filming locations, Wedding of a Lifetime has all the hallmarks of, well, a Hallmark TV movie. Except that it has two people, Brooke D'Orsay and Jonathan Bennett, pretending to be two people pretending to be in love.
Article continues below advertisement
Don't worry — we'll explain everything below. For now, just know that you're bound to see romance in the movie, which premieres tonight, Saturday, Sept. 17, at 8 p.m. ET on Hallmark Channel. "This is the kind of fun, feel-good rom-com our viewers have come to expect from us," Crown Media Family Networks SVP Elizabeth Yost explained in a statement this July, per Deadline. "Jonathan Bennett and Brooke D'Orsay are terrific together and will have fans rooting for them every step of the way."
What is 'Wedding of a Lifetime' about?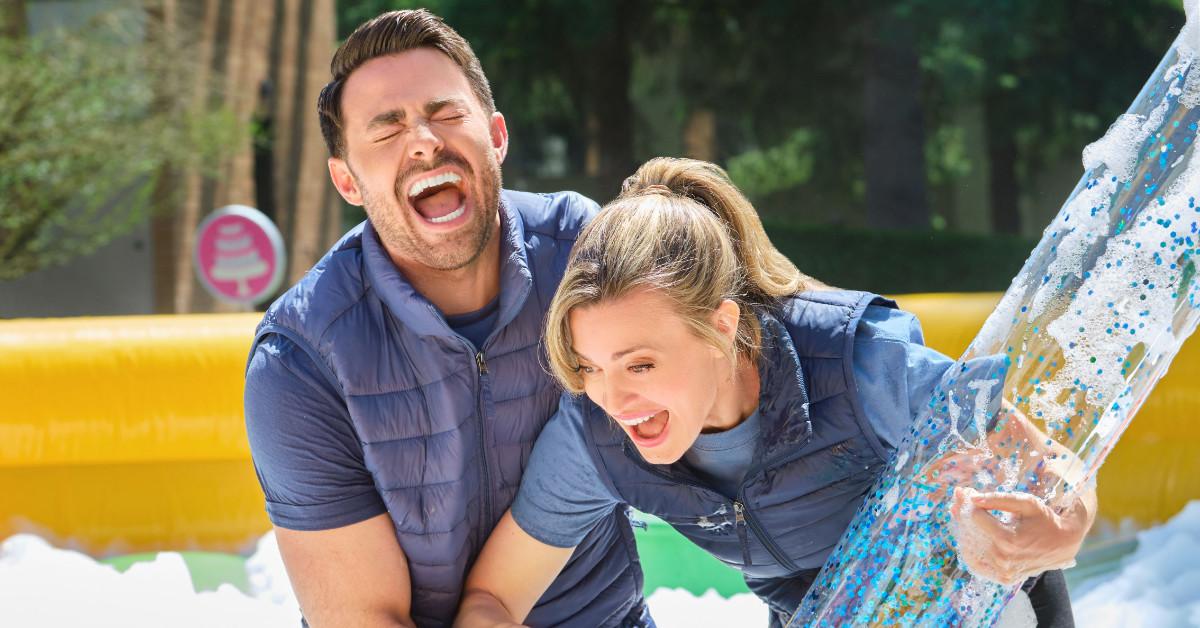 For a TV movie called Wedding of a Lifetime, the premise isn't exactly swoon-worthy. As Hallmark Channel explains in a press release, the movie follows Darby and Jake, old high-school sweetheart whose engagement is the talk of their small mountain town. What their neighbors don't know is that Darby and Jake have fallen out of love and are ready to go their separate ways.
Article continues below advertisement
Darby and Jake's breakup is forestalled, though, when their townsfolk nominate them for a daytime TV show's "Wedding of a Lifetime" competition, the prize of which is a televised, all-expenses paid wedding ceremony.
"Though Darby and Jake are uncomfortable pretending they are still engaged, they decide to continue with the show," Hallmark adds. "Neither of them wants to disappoint their family and friends, and being on the show could potentially give both their careers a boost. Will the charade end with Darby and Jake coming clean and going their separate ways, or will the competition rekindle their romance?"
Article continues below advertisement
Who's in the cast of 'Wedding of a Lifetime' cast?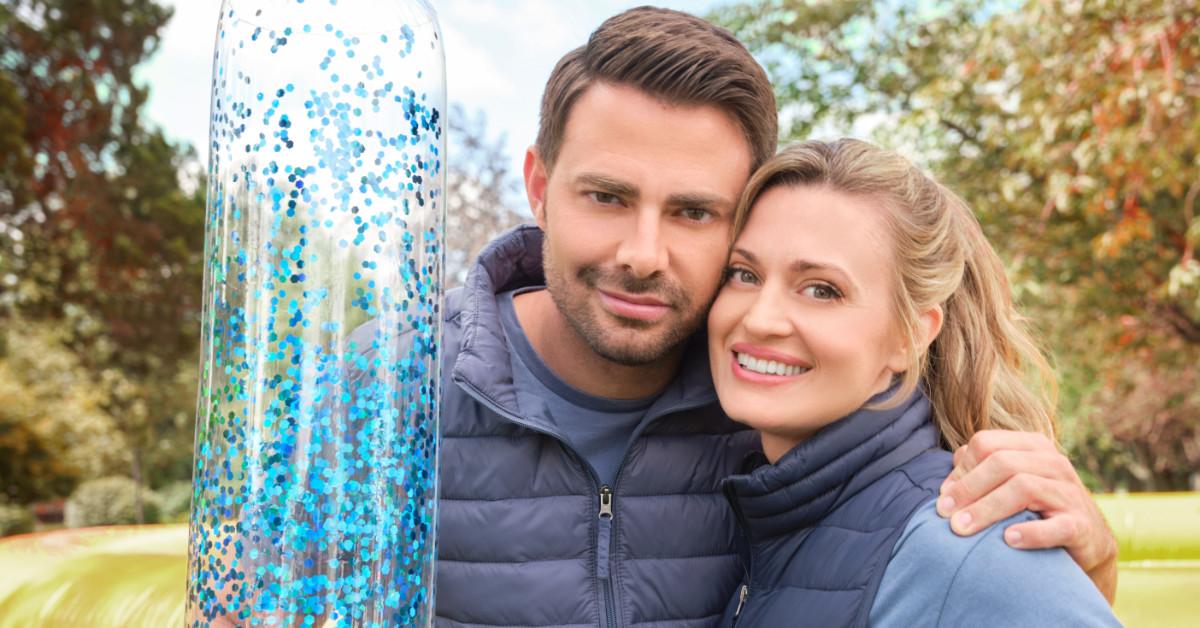 Brooke D'Orsay, best known for her role as Paige Collins in the USA comedy Royal Pains, plays Darby in the movie. And playing Jake is Jonathan Bennett, whom millennials remember for his breakout role as Aaron Samuels in the 2004 teen comedy Mean Girls.
As it turns out, Jonathan also worked behind the scenes of Wedding of a Lifetime. "I love working with Hallmark and am grateful to expand our work together as an executive producer on this project," he said in a statement in July. "While it's always fun to act in these movies, it has been a very different and rewarding experience to work on the filmmaking side and to collaborate with such talented people behind the scenes to bring it to life."
Article continues below advertisement
Where was 'Wedding of a Lifetime' filmed?
Wedding of a Lifetime filmed this summer in Vancouver, British Columbia — the Canadian city often called "Hollywood North" — as the Vancouver Sun reported. Other TV productions in town around the same time included the new ABC crime drama Alaska Daily, the new CBS action drama Fire Country, and the 10th season of Hallmark's family drama When Calls the Heart.
Anne Wheeler directed Wedding of a Lifetime from a script by Greg Baldwin. See how Darby and Jake's ruse plays out when the movie premieres tonight, Saturday, Sept. 17, at 8 p.m. on Hallmark.