What Did Sutton Stracke Say to Crystal Kung Minkhoff on 'RHOBH'? The Comment, Revealed
What did Sutton say to Crystal on 'RHOBH'? After teasing that they had a "dark" discussion in Lake Tahoe, Crystal and Sutton shared what was said.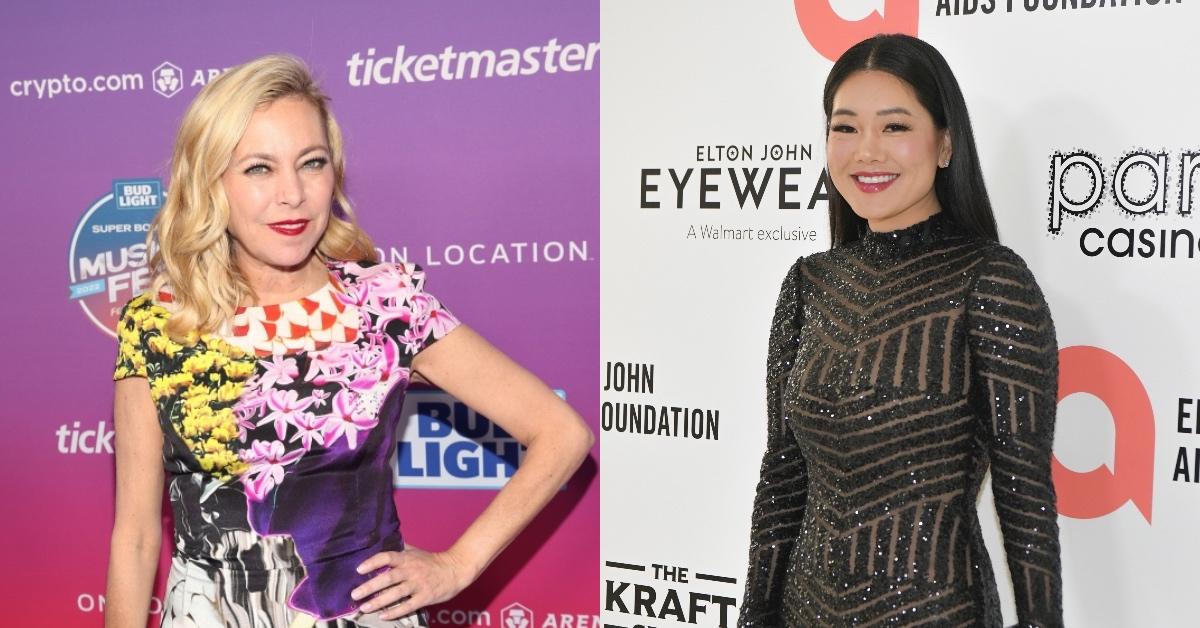 Spoiler alert: This article contains spoilers for Season 12 of The Real Housewives of Beverly Hills (RHOBH).
An explosive fight unfolds in slow motion in Season 12, Episode 4 of RHOBH. The location? Kyle Richards's luxury villa in Palm Springs, Calif. The raison d'être? A previous — but nonetheless concerning — incident involving Sutton Stracke, a coat, and a butt-naked Crystal Kung Minkoff. The outcome? Not great.
Article continues below advertisement
A year after Crystal and Sutton first feuded on the Bravo reality series, and after they reconciled and decided to become friends, the two are back to where they started.
On the June 1 episode of RHOBH, Crystal accused Sutton of saying something "dark" while the group was on a trip to Lake Tahoe a season prior. While Crystal refused to share what Sutton said, the content of the conversation came to light on the June 8 episode. What did Sutton say to Crystal? Read on for the latest recap.
Article continues below advertisement
What did Sutton Stracke say to Crystal Kung Minkoff that was "dark" on 'RHOBH'?
In Season 11 of RHOBH, Sutton walked in on Crystal while she was changing her clothes. Crystal dropped to the ground, trying to cover herself. Sutton did exactly what people with an abysmal understanding of how boundaries work would do — and she invited herself in.
Crystal said, "My boundaries were crossed, and I just felt that [my space] was violated."
In a confessional, Sutton asked, "What's creepy and weird about returning the coat to somebody?"
Sutton and Crystal ultimately made peace — and they even started spending time together. Cut to Season 12, Episode 4, which is when things took a turn for the worse once again.
Article continues below advertisement
During a makeshift interrogation initiated by Garcelle Beauvais, Crystal claimed that the hotel incident wasn't a singular event. In a bid to defend herself and disprove Garcelle's claims holding that she is trying to set Sutton up, Crystal said, "There was a lot more said prior to that that was very dark."
While Crystal wouldn't share what Sutton said, the matter became a topic of discussion on the following episode. A flashback from Season 11 played which showed that Crystal was referring to a one-on-one chat she had with Sutton about the latter star's hot tub.
Article continues below advertisement
During the Lake Tahoe chat, Sutton recalled when her daughter, Porter, had a group of friends over to hang out in the family's jacuzzi.
"Porter asked to have friends over, and they were sitting in the jacuzzi, and there's my white child with a Black girl is in there, a Chinese girl was in the jacuzzi, and, like, probably a redheaded Irish Catholic girl, and I'm like, 'This is what it should be,'" Sutton said in Lake Tahoe.
Fast-forward a season later, when the ladies were on a trip to Punta Mita, Mexico together, Crystal shared her side of the story.
"As you know, I felt uncomfortable with what was being said, but we've gone through it," Crystal said to Sutton. "We've talked about it and you really understand it... It was in our very first conversation, and the tone was very heavy and very uncomfortable."
Article continues below advertisement
After the women probed to find out what the exact comment was, Sutton reiterated what she said to Crystal in Lake Tahoe.
"It's about my family and how I have raised them to have multicultural friends," Sutton told the other ladies. "We have a pool, we have a Jacuzzi, everybody's welcome. That's it."
The other RHOBH stars were surprised that Sutton's comment got such a strong reaction from Crystal.
Garcelle Beauvais previously criticized Crystal for shutting down Sutton during a conversation about race.
Garcelle seems to have adopted a new attitude to the Crystal vs. Sutton drama. In Season 12, Episode 4, she accuses Crystal of strategically trying to pin Sutton down — claiming she didn't cut her sufficient slack in Season 11.
"When you and Sutton had your thing, I felt like no matter what she said — she could've said the sky is blue — you were going to say, 'Are you that girl?' 'Cause I just felt like it was a setup," Garcelle said.
Article continues below advertisement
But back in 2021, Garcelle sided with Crystal. "What Sutton was trying to do is share her experience, and I think what happened wrong is that she stepped on Crystal. She should have waited until Crystal was done and then said how she feels," she told Insider at the time. "Her cutting Crystal off made people feel like she was not taking Crystal's experience to heart."
During the Punta Mita dinner, Garcelle went on to say that she did not think that what Sutton said was "problematic."
Make sure to tune into new episodes of RHOBH Wednesdays at 8 p.m. EST on Bravo to find out what else they are saying — and the things they aren't.