It's Time to Swing Into Action — The 'Blue Beetle' Popcorn Bucket Is Cooler Than Any Other Movie Merch
Where can we get the 'Blue Beetle' popcorn bucket? Customized movie theater merch is a *thing* now, and we want the DC limited edition bucket!
It may not be out yet, but audiences are already anticipating Blue Beetle's killer merch. The newest moviegoer trend for big blockbusters is customized merchandise, such as creative popcorn buckets and soda cups. After a year with a Thor: Love and Thunder popcorn helmet and a Barbie bucket that looks like a Barbie box, DC's Blue Beetle is the most exciting yet.
Article continues below advertisement
Blue Beetle is set to release in theaters worldwide on August 18, 2023, but fans are already clamoring for the merchandise. With different limited versions from Cinemark and AMC, if fans don't act early, they may not get their hands on the coveted popcorn bucket. So where can fans get the Blue Beetle bucket and additional merchandise?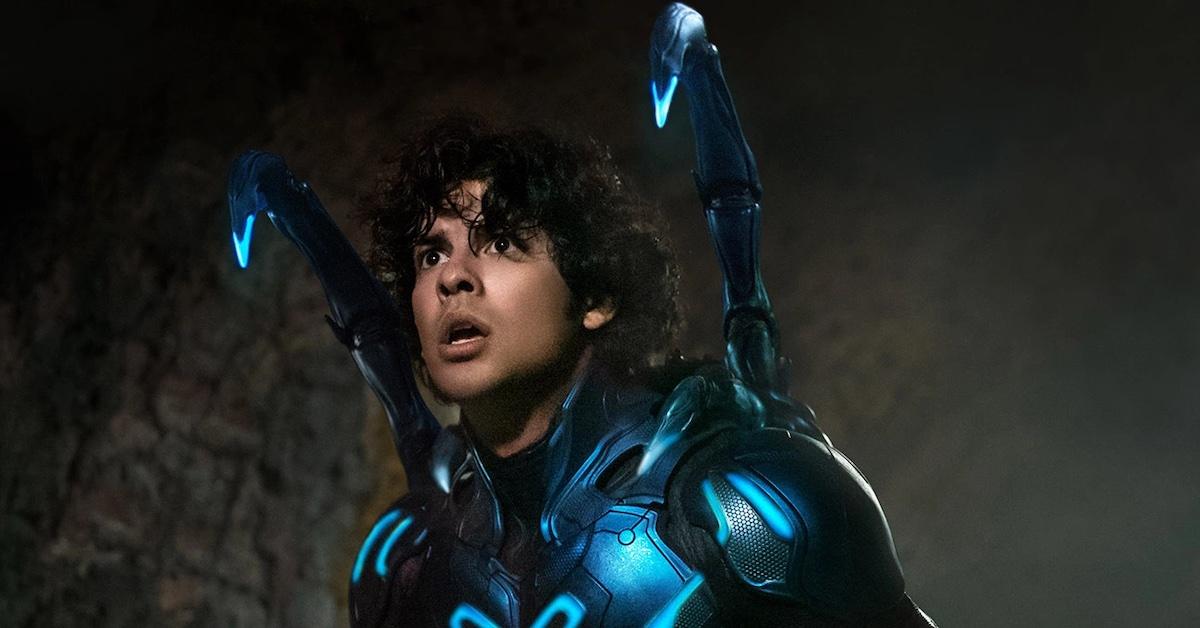 Article continues below advertisement
Where can we get the 'Blue Beetle' popcorn bucket?
Luckily, the Blue Beetle merchandise will be widely available in Cinemark and AMC cinemas, so just make sure to go to one of those theaters to see the film on its opening weekend. However, the merch is limited, so you'll want to go sooner rather than later to secure your Blue Beetle popcorn bucket. In fact, if you want to ensure to get the Cinemark one, you can even order it online!
Cinemark not only has a Blue Beetle Bug Ship Popcorn Container with Lanyard, but it also has several other Blue Beetle movie theater merch items. Of course, the popcorn container is the coolest—it has a lanyard so that you can wear the blue beetle (just like Jaime does in the film!) and it has movable wings that open and close to protect the popcorn.
Article continues below advertisement
But if the $24.99 price tag sounds a little high, not to fret! Cinemark is also carrying some other kickass merch online:
Blue Beetle Set of Three Posters - $19.99
Blue Beetle 44oz Cup and Figure Topper (Set of Two) - $14.99
Blue Beetle 3D Enamel Pin and Keychain Set - $19.99
Various Blue Beetle T-Shirts - $24.99
Article continues below advertisement
And in Cinemark theaters, there are even more options!
Blue Beetle Cup - $7
Blue Beetle Popcorn Tin - $16
Blue Beetle Tin and Cup Combo - $22
Blue Beetle Plush - $12
Blue Beetle Buddy Cup - $15
Naturally, AMC's options are a little different (and slightly more expensive). While AMC hasn't yet promoted any alternative merch, their Blue Beetle popcorn bucket is to die for. Like the Scarab in Blue Beetle, this popcorn bucket can be worn on its owner's back. The "snacking souvenir" can also be worn so that it's in the front, making it a hands-free way to eat popcorn. What could be better?
Article continues below advertisement
Most AMC theaters are participating in the limited edition Blue Beetle merchandise, although it won't be available in Alaska, Hawaii, Maine, Mississippi, Rhode Island, Vermont, or Wyoming. In addition, the backpack popcorn vessel is $34.99 but includes a large popcorn. So for AMC prices, it's a pretty good bang for your buck.
Blue Beetle (and its merchandise) releases in theaters on August 18, 2023.