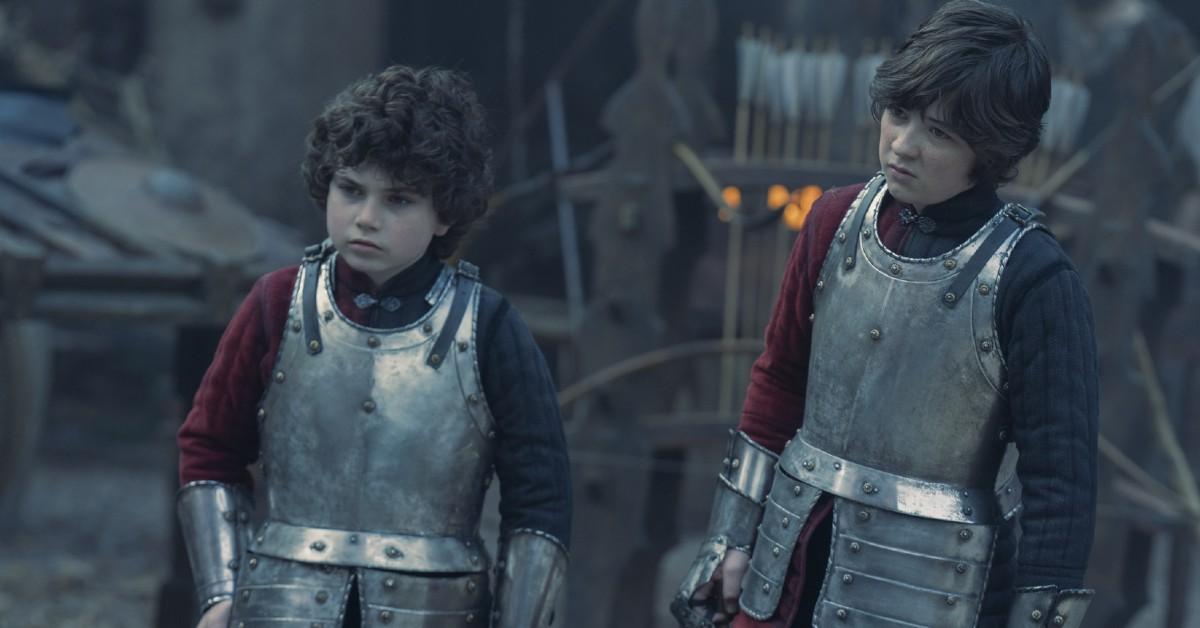 Who's Your Daddy? Even One of Rhaenyra Targaryen's Own Sons Think It's [SPOILER]
Spoiler alert: The following article contains major spoilers for House of the Dragon Episode 6 on HBO.
There was no need to call in a Westerosi Jerry Springer to determine the real father of Rhaenyra Targaryen's (Emma D'Arcy) children — anyone with good eyesight could see it clearly for themselves. It's been ten years since the dramatic wedding in the fifth episode, and now Rhaenyra is a mother of three brown-haired boys.
Article continues below advertisement
After all, Rhaenyra's sons lacked the trademark silver hair of Rhaenyra's actual husband, Laenor Velaryon (John Macmillan). Instead, little Lucerys (Harvey Sadler) and Jacaerys (Leo Hart) are brunette as kingdom come.
A dead giveaway, really.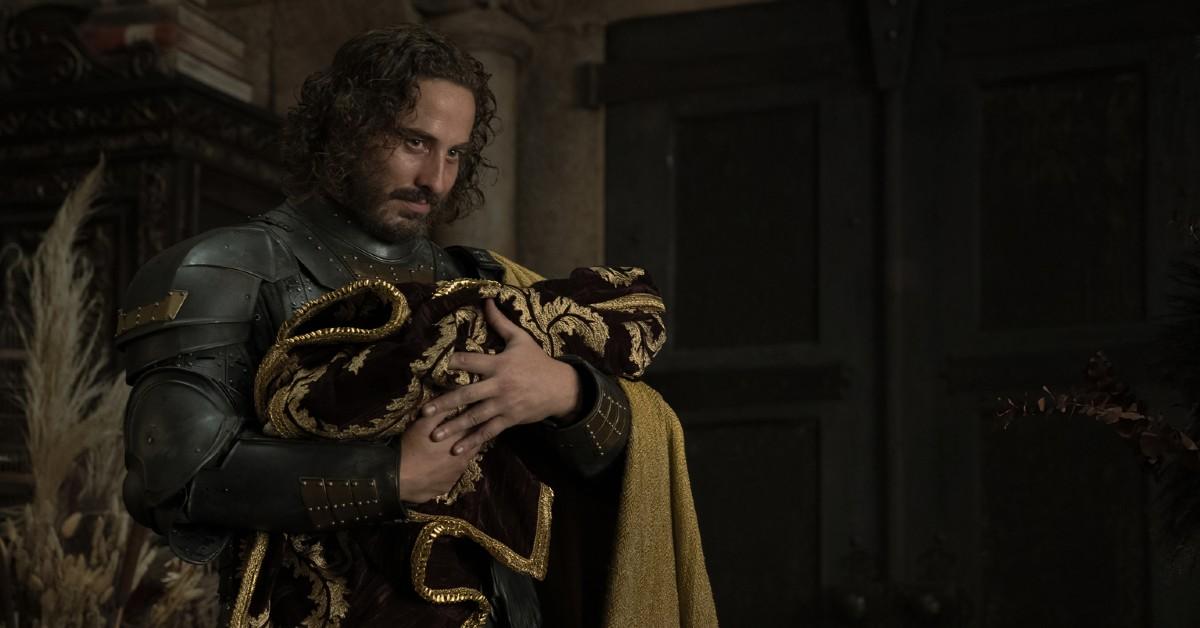 Article continues below advertisement
What happens to Rhaenyra's sons in 'House of the Dragon'? (SPOILERS)
If anyone in the Seven Kingdoms had trouble seeing that Ser Harwin Strong (Ryan Corr) was obviously the father of Rhaenyra's sons, then they might need to look into getting a prescription for glasses.
House of the Dragon fans were spellbound by Ser Harwin living up to his last name — he didn't expect anything from Rhaenyra, unlike a certain other paramour of hers. Ser Harwin simply loved his boys from afar and bashed Ser Criston Cole's (Fabien Frankel) head in when he besmirched his honor.
So what happens to Rhaenyra and Harwin's sons in George R.R. Martin's book, Fire & Blood? Rhaneyra's firstborn Jacaerys perishes in battle. Alicent's second-born son Aemond kills Lucerys and his dragon Arrax mid-air, pursuing them both on his dragon Vhagar.
Joffrey, the son that Rhaenrya birthed in House of the Dragon Episode 6, is killed attempting to fly his mother's dragon, Syrax. Rhaenyra's dragon wasn't familiar with Joffrey, and tossed him off his back, killing Joffrey in the process.
Article continues below advertisement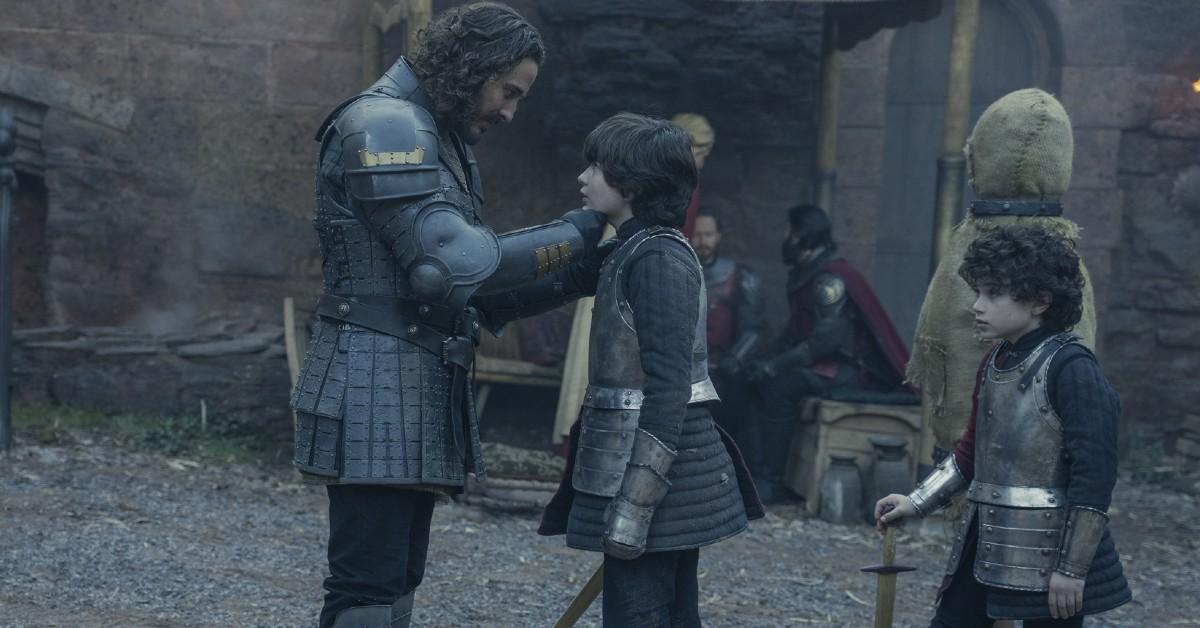 What happens to Ser Harwin and the Strong family?
We're still mourning the loss of Ser Harwin at the hands of his slimy brother, Larys Strong (Matthew Needham), who clearly didn't get the memo about blood being thicker than water.
However, Ser Harwin and Larys's father, Lord Lyonel Strong (Gavin Spokes) realized he needed to get the heck out of dodge when Ser Criston accused Ser Harwin of fathering Rhaenyra's children. Ser Harwin rightfully pummeled Ser Criston to a pulp, but Lord Lyonel realized it wasn't a good look for his family.
Article continues below advertisement
Ironically, Lord Lyonel's decision to leave court with Ser Harwin for his son's safety costs them both their lives. Larys concocts a scheme to utilize three prisoners (he shrewdly has their tongues cut out before he frees them) to burn his father and brother alive.
We don't think that's what Alicent meant when she told Larys she wanted her father Otto (Rhys Ifans) to resume his post as hand of the king!
Article continues below advertisement
It's a rare thing when Twitter actually agrees on one thing, but there was a definite general consensus from House of the Dragon Episode 6?
Ser Harwin Strong and Laena Velaryon (Nanna Blondell) deserved better. Welcome to Westeros, where we can't have good things.
New episodes of House of the Dragon drop every Sunday on HBO and HBO Max.