Beau Biden Really Was Awarded a Bronze Star, Just in Case You Were Wondering
After the presidential debate on September 29, people are wondering why Beau Biden received a Bronze Star. Here's the story behind Beau's time in the military.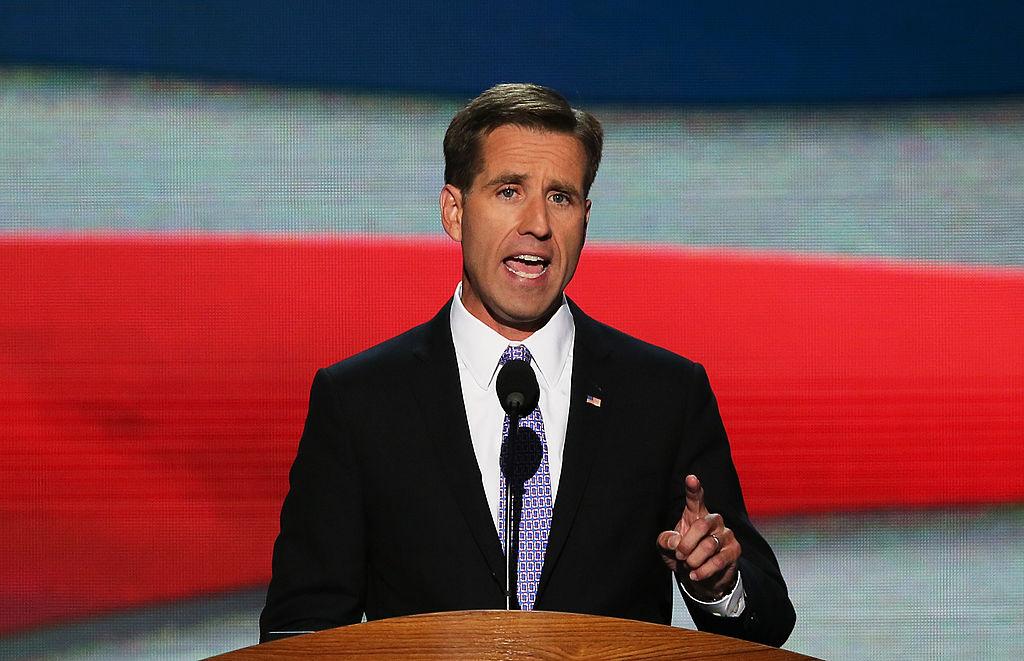 If you watched last night's presidential debate, first of all, we are sorry, and second, you probably have a lot of questions. Toward the end of debate, former Vice President Joe Biden brought up his late son, Beau Biden, who served as an officer in the Iraq War, and tragically died from a brain tumor in 2015. "My son was in Iraq. He spent a year there. He spent a year there. He got the Bronze Star. He got the Conspicuous Service Medal. He was not a loser. He was a patriot and the people left behind there were heroes," Biden said.
Article continues below advertisement
Why did Beau Biden get a Bronze Star?
Beau was deployed to Iraq in 2008 and returned back to the U.S. in 2009 after spending a year overseas. It's true that Beau Biden was awarded with a Bronze Star, which recognizes someone's bravery in the field and / or basically that they've gone above and beyond their role, and it's only awarded to those who are directly in conflict against the enemy of the U.S. The Bronze Star is the fourth highest ranking in terms of awards, and has three categories: valor, merit, and achievement. It's unclear which Bronze Star Beau received.
Article continues below advertisement
Although we don't know exactly why Beau Biden was awarded with a Bronze Star, we do know that, while in Iraq, he must have shown heroism (such as saving the life of a soldier) or acted in a combat zone even if this wasn't his assigned role. (Those are just examples of what might earn a Bronze Star, FYI.)
Article continues below advertisement
Many are upset by Trump's disrespect toward Beau Biden.
After Biden passionately brought up the memory of his son (while also referencing Trump's quote about veterans being "losers" and "suckers," a move Biden made to point out Trump's disregard toward the American military), Trump responded, "Oh really? Are you talking about Hunter?" After Biden clarified he was talking about Beau, Trump simply said, "I don't know Beau. I know Hunter." Many people felt that this was not only a sociopathic response, but a response that shows Trump doesn't care about U.S. soldiers and veterans.
"The lowest bar for decency ANY President should be able to meet is thanking someone for their fallen son's service, which should transcend party loyalty. When trump disrespected Beau Biden, I hope Veterans all over America sat up and took notice. That was unforgivable," one person tweeted.
Article continues below advertisement
"One of the greatest pieces of evidence for Trump's sociopathy was his inability to resist attacking Hunter Biden when Joe Biden was talking about his other (dead) son Beau Biden. He is a truly awful human being. Not just a bad president, or a bad Republican. A bad person," tweeted columnist Mehdi Hasan.
Article continues below advertisement
"Donald Trump bringing up Hunter as Joe Biden discussed Beau Biden's service to this country is about as low as it gets," another person wrote.
Article continues below advertisement
For context, Hunter Biden's name was brought up a handful of times, due to his work in Ukraine, which some considered a conflict of interest. As it stands, it's unclear if Hunter, who had a seat on the Ukrainian gas company Burisma, had any effect on the Obama administration.