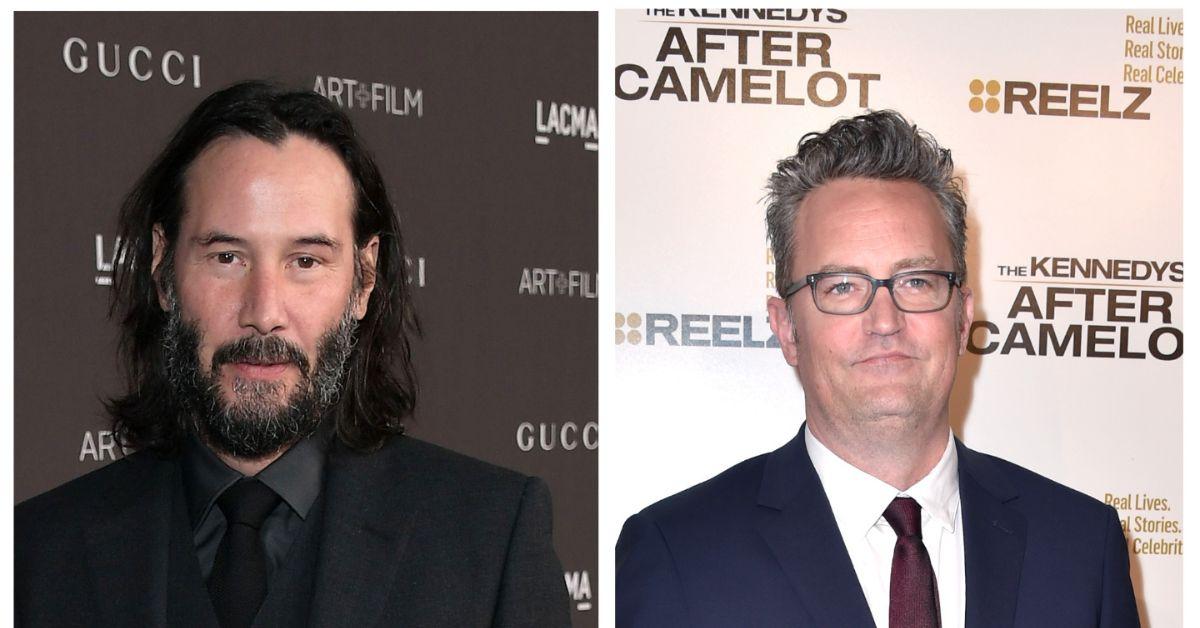 Matthew Perry Apologizes for His Keanu Reeves Comments: "I'm Actually a Big Fan"
Few actors in Hollywood are more universally beloved than Keanu Reeves, who has been a movie star for 30 years but still seems remarkably grounded.
However, in a new memoir called Friends, Lovers, and the Big Terrible Thing, Matthew Perry takes a couple of shots at the Speed actor that led some to wonder whether the Friends alum has something against him.
Article continues below advertisement
In general, the memoir chronicles Matthew's struggle with addiction, which is why those jabs seem so bizarre.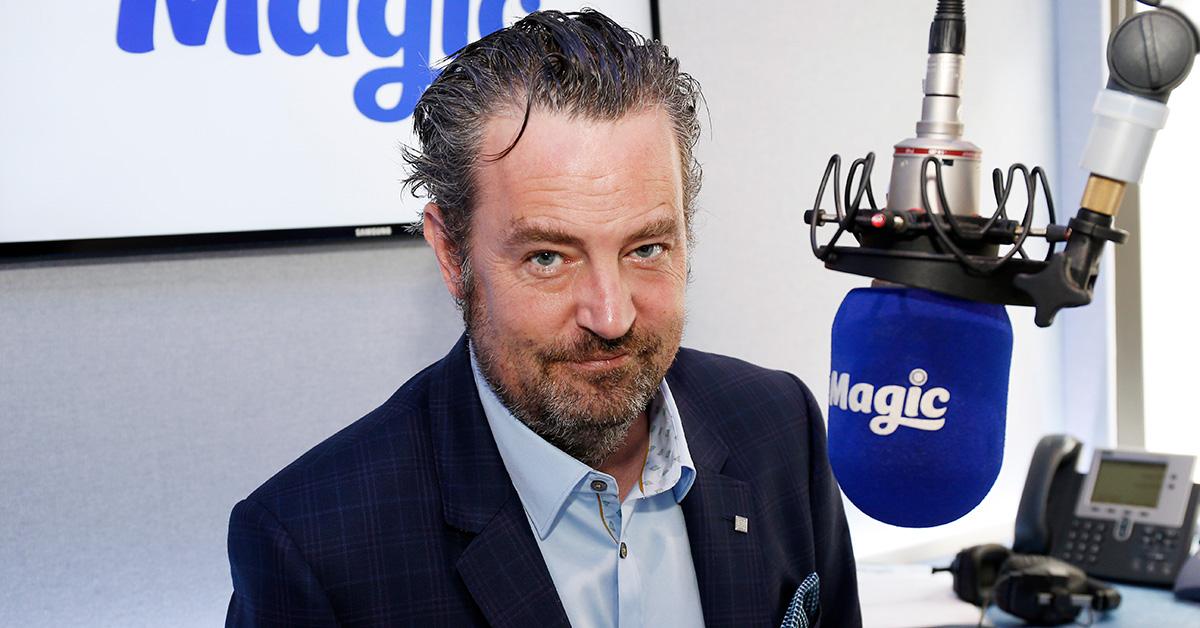 Article continues below advertisement
Why does Matthew Perry hate Keanu Reeves?
Matthew's first reference to Keanu comes when he's discussing the death of River Phoenix. River and Matthew had worked together on the 1988 film A Night in the Life of Jimmy Rearden, and in discussing River's death, Matthew seemed to suggest it should have been Keanu instead.
"Why is it that the original thinkers like River Phoenix and Heath Ledger die, but Keanu Reeves still walks among us?" he writes in the book. "River was a beautiful man inside and out and too beautiful for this world, it turned out. It always seems to be the really talented guys who go down."
Later on in the memoir, Matthew calls back to this moment in describing his reaction to learning the news that Chris Farley had died.
Article continues below advertisement
"I punched a hole through Jennifer Aniston's dressing room wall when I found out," he writes. "Keanu Reeves walks among us."
Matthew and Chris had worked together on the film Almost Heroes, and Matthew writes as if he thinks that Chris and River had some sort of genius that Keanu lacks. They're pretty brutal remarks, but they do seem to be an honest reflection of what Matthew really thinks.
Article continues below advertisement
It's unclear if Matthew and Keanu have ever actually met.
Although Matthew's writing may seem to suggest that he has some sort of personal grudge with Keanu, it's not actually clear if the two have ever met. If there is something personal between them, it has never been publicly reported.
What Matthew seems unaware of, though, is that Keanu's performances are now fairly widely appreciated by the public. He was seen for a time as a blank slate — the kind of actor who doesn't really ever actually act, but is compelling nonetheless. Now, though, the Keanuaissance has been upon us for some time, and really began when he showed that he still had plenty of charisma in 2014's John Wick.
Article continues below advertisement
There may be nothing behind Matthew's repeated references to Keanu, but it seems like Matthew would have been wise to pick on someone else. It's easy to understand his point, but he's already receiving some backlash for the shots at Keanu, who is also wildly popular because of the very zen persona he has adopted in public life.
Article continues below advertisement
"I genuinely cannot fathom why anybody would willingly question why Keanu Reeves is still around when River isn't, especially given that River and Keanu loved each other more than anything," @scmwrites shared on Twitter. "F--k that. What a load of bulls--t. F--k you, Matthew Perry."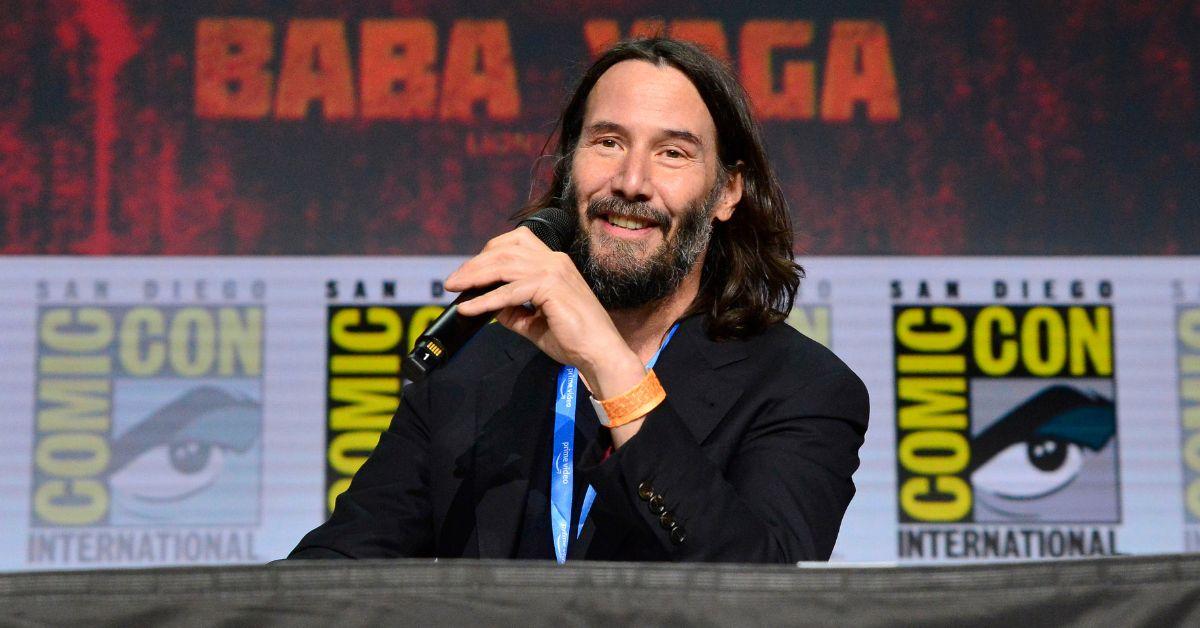 Article continues below advertisement
Matthew Perry apologized to Keanu Reeves after his memoir's excerpts received backlash.
In addition to Keanu's non-famous fans, celebrities like Rachel Zeigler and Lynda Carter jumped to the Point Break actor's defense. On Twitter, Lynda compared Keanu to a "frozen cake," noting that "Nobody doesn't like him!"
Article continues below advertisement
Matthew likely became aware of the backlash he received on October 26, as he released a statement apologizing to Keanu the following day. He expressed his remorse to Keanu and said he didn't intend to bash Keanu's life and career.
"I'm actually a big fan of Keanu," Matthew explained in his statement to People. "I just chose a random name, my mistake. I apologize. I should have used my own name instead."
Keanu hasn't discussed Matthew's excerpts and apology yet, and it's unlikely he will make a fuss about it. The unbothered actor has kept himself booked and busy lately with movie roles like Matrix Resurrections, DC League of Super Pets, ​​ John Wick: Chapter 4, and a Constantine sequel. Keanu also recently removed himself from his first starring TV role in Leonardo DiCaprio's Hulu series, Devil in the White City.