Spider-Man Has Had All Kinds of Different Web Shooters in the Comics and Movies
One of the most iconic tools in Spider-Man's arsenal are his web shooters. But they've taken on different forms in comics and movies.
Spoiler alert: This article contains spoilers for Spider-Man: No Way Home.
It's impossible to explain how excited fans were to see three generations of Spider-Men fight together in Spider-Man: No Way Home. As Tom Holland furthered the legacy of the Peter Parker of the Marvel Cinematic Universe, Tobey Maguire and Andrew Garfield returned to reprise their own Peters in a once-in-a-lifetime crossover event. Throughout their meeting, the three Peters compared Spidey techniques like web shooters.
Article continues below advertisement
In No Way Home, Peter Parker accidentally opens up the multiverse, allowing Spider-Man villains from different movies into the MCU. In order to send them back, Peter enlists the help of his alternate selves to restore their different dimensions. In a franchise first, Spider-Man films from Sony Pictures crossed over with the Marvel Cinematic Universe and paved the way for the multiverse to bring in even more characters.
Though the three Peters are similar, they differ slightly in their tools.
Article continues below advertisement
Why does Spider-Man need web shooters?
Of the many notable weapons and abilities of Spider-Man, perhaps his most iconic are his web shooters. By flexing out his wrists, Spidey is able to shoot a string of tight, sticky web. The web has many uses. One strand is strong enough to support his weight and allow him to swing across Manhattan, but he can also use it as netting to trap criminals or restrict their movements. While most Peter Parkers are equipped with them, they take on very different forms in the films.
In Spider-Man: Homecoming, Tom Holland's Spidey discreetly brews his own web fluid in chemistry class to use out in the field. Similarly, Andrew's Spider-Man repurposes a special substance from Oscorp in The Amazing Spider-Man.
After several failed attempts, he is able to develop his own homemade web fluid, which he puts to immediate use. In a blatant departure, Tobey's Spider-Man develops his web a little differently in the 2002 Spider-Man film.
Article continues below advertisement
While the latter two Spideys had to develop web fluid and web shooters on their own, Tobey's Spider-Man came with them. After being bitten by a scientifically-enhanced spider, Tobey's Peter gained all of the traditional Spider-Man abilities like wall-crawling and enhanced strength and reflexes. But in this version, Peter also gained organic web shooters. His bodily functions were altered so that his wrists developed their own web for him to use.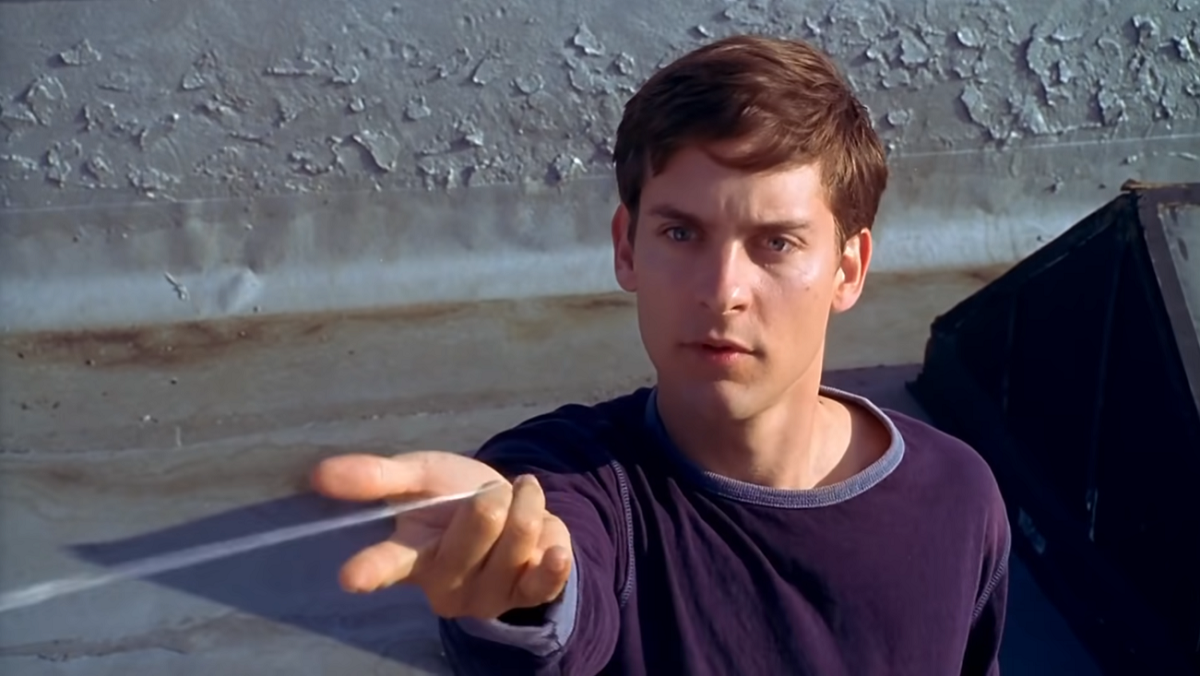 Article continues below advertisement
Reportedly, director Sam Raimi gave Tobey's Spidey organic web shooters to make him seem more realistic as a character. He feared that having Peter invent his own gadgets would make him too smart and unrelatable to audiences.
This interpretation is a far cry from Spider-Man's abilities in the source material. In the comics, Peter develops his own web fluid and web shooters to go with his other spider-themed abilities. Tom's and Andrew's Spider-Men reflect this more accurately in their films.
Article continues below advertisement
But organic web shooters do make an appearance in the comics. In a 2004 Spider-Man comic run called Changes, Peter is transformed into a giant man-spider by a villain named the Queen. While under the Queen's mind control, Man-Spider is eventually revealed to be pregnant.
After perishing from the transformation, Peter inexplicably emerges from the corpse while retaining all of his memories and abilities. It's through this process that he gains organic web shooters on his wrists.
If you were hoping that Tom's Spider-Man would eventually receive his own organic web shooters, let's just hope he doesn't gain them like that.
Spider-Man: No Way Home is currently playing in theaters.