A 'Doctor Strange in the Multiverse of Madness' TV Spot Teases the Return of Peggy Carter
With every conceivable reality at stake in Doctor Strange in the Multiverse of Madness, we can probably expect a fair share of cameos. We already have a taste of the Illuminati making their MCU debut, with Marvel movie veterans like Patrick Stewart appearing as part of the mysterious organization.
Article continues below advertisement
Plenty of fan favorites and surprise appearances are bound to show up from across the multiverse, but does that include Agent Carter as well? A new TV spot technically teases her return.
Article continues below advertisement
Doctor Strange in the Multiverse of Madness follows the titular Stephen Strange (Benedict Cumberbatch). After tampering with reality one too many times, the vast and infinite multiverse is in great peril. With assistance from Sorcerer Supreme Wong (Benedict Wong) and consultation from Wanda Maximoff (Elizabeth Olsen), Stephen must find a way to save his reality, along with all others. With heroes and horrors from different dimensions pouring in, there's almost no telling who we'll see.
Will Agent Carter be in 'Multiverse of Madness'? A TV spot teases a version of her.
What are the chances that we'll see Agent Peggy Carter (Hayley Atwell) show up in the film? She first appeared in 2011's Captain America: The First Avenger. She serves as a key overseer in the super-soldier experiment that grants Steve Rogers (Chris Evans) his strength. She helps Steve in the war efforts against Red Skull (Hugo Weaving) and eventually develops feelings for him. Their relationship is short-lived after Steve is forced to crash land an aircraft, seemingly sacrificing his life.
Article continues below advertisement
While she grieves his supposed death, she goes on to have a decorated career in saving the world. In the MCU TV spinoff Agent Carter, she rises to prominence as a member of the Strategic Scientific Reserve. She eventually becomes a founding member of the infamous SHIELD organization. Decades later in modern-day, she even reunites with an unfrozen Steve in her old age. In Captain America: Civil War, Steve attends her funeral after she passes away in 2016.
In the main reality of the MCU, Agent Carter as we know her has long since passed. But this is the multiverse we're dealing with here, which means that an alternate version of Agent Carter is most certainly in play.
Article continues below advertisement
A recent TV spot for Multiverse of Madness shows a shot of a vibranium shield bearing the British Flag on it being thrown at Steven. While this technically isn't the return of the Agent Carter we know, it does tease the arrival of a live-action Captain Carter to the MCU.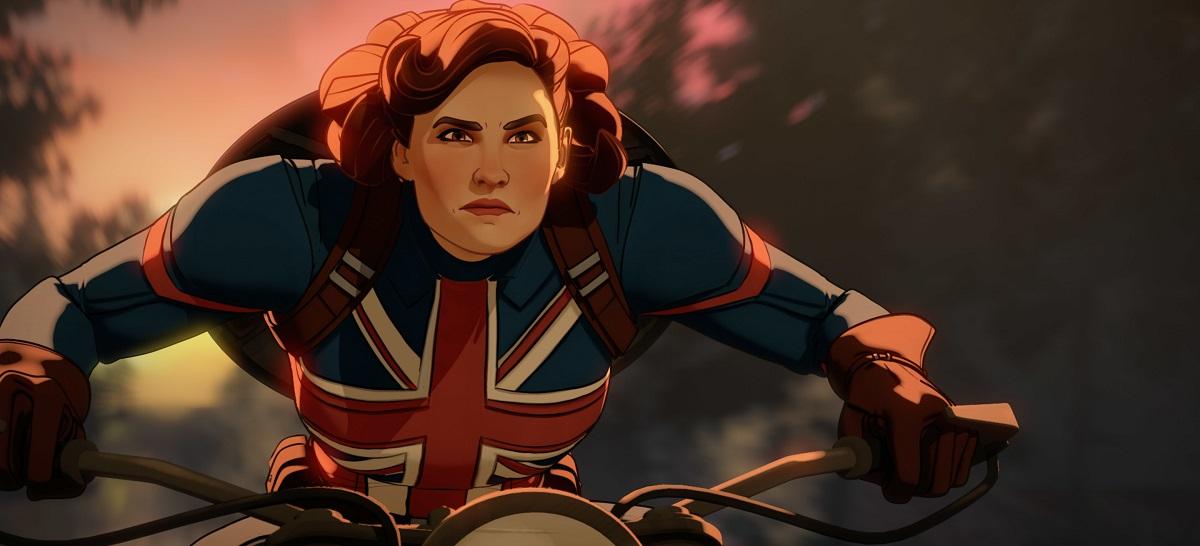 Article continues below advertisement
Captain Carter was introduced in the first episode of What If...?, an animated anthology series that depicts alternate versions of the Marvel Cinematic Universe. In this reality, Peggy Carter is the one who receives the super-soldier serum and becomes a superheroine.
She's no stranger to the multiverse either. Towards the end What If...? Season 1, Captain Carter is recruited alongside other alternate heroes to save the multiverse from an Ultron powered by the Infinity Stones.
Technically, this isn't the return of Agent Carter herself. She is no longer with us in the main universe of the MCU. But we're all too excited to see Captain Carter become a part of a universe much bigger than her.
Doctor Strange in the Multiverse of Madness hits theaters on May 6.