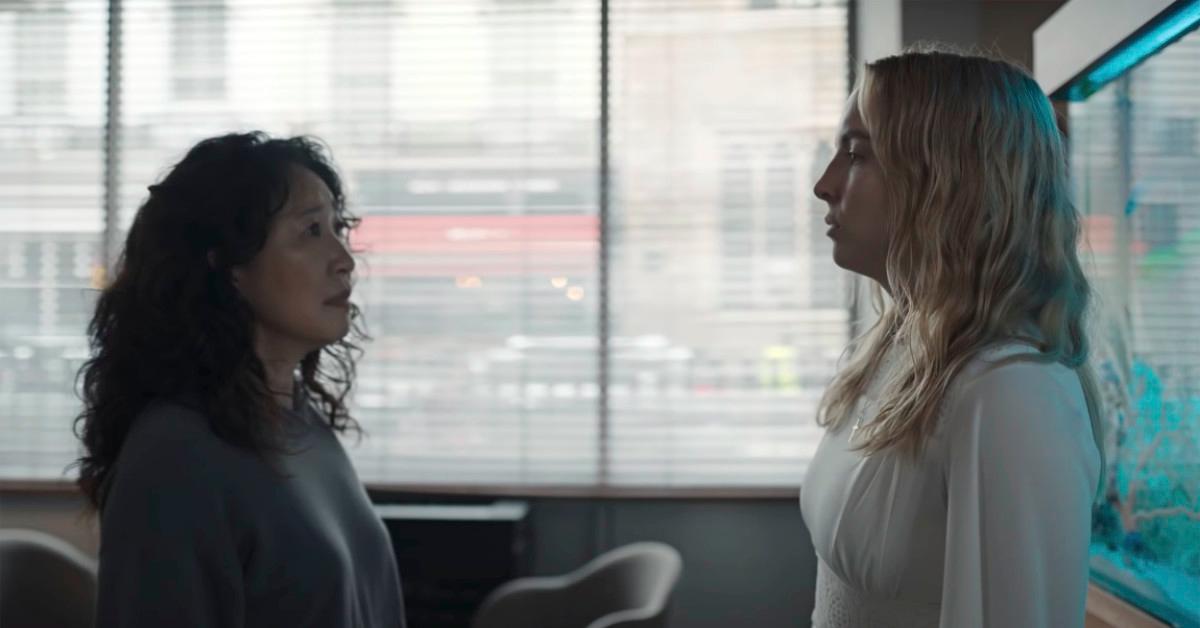 You Can Watch 'Killing Eve' Season 4 Episodes Online — and Even a Week Early!
Sandra Oh and Jodie Comer's spy thriller Killing Eve is back for its fourth and final season, and we've sourced intel on where to watch the BBC America show on linear TV and online! (For starters, Killing Eve Season 4 will likely be on Hulu at some point, if past seasons are any indication, the new episodes haven't hit the streaming service yet.)
And if you haven't already tuned in, you might want to start now, given the action that BBC Americateases in its description of Season 4.
Article continues below advertisement
"Following Eve and Villanelle's exchange on the bridge, Eve is on a revenge mission, while Villanelle has found a brand-new community in an attempt to prove she's not a 'monster,'" the network says. "Having killed Paul, Carolyn goes to extraordinary lengths to continue to chase down The Twelve and the person that ordered Kenny's hit. This season follows our extraordinary women, each driven by passion, revenge and obsession, building towards a messy, nuanced, and totally glorious series finale."
Where to watch 'Killing Eve' Season 4
If you have a cable subscription that incudes BBC America, you can watch Killing Eve Season 4 live on Sundays at 8 p.m. ET on that channel. BBC America is airing new episodes every week in that time slot, with the finale airing on Sunday, April 10.
Article continues below advertisement
Episodes are also airing on Mondays at 9 p.m. ET on AMC, and they're streaming online with the AMC+ service, which is releasing Season 4 episodes a week before their airing, except for the finale and Feb. 27's two-part premiere. (The first hour of that premiere is currently streaming for free on YouTube.)
Article continues below advertisement
To watch Season 4 online, you can use your cable provider to log into BBC America's website and access full episodes. You can also watch BBC America live with Philo (starting at $25/month), Sling TV (starting at $35/month), FuboTV (starting at $65/month), YouTube TV (starting at $65/month), Hulu with Live TV (starting at $70/month), DirecTV Stream (starting at $70/month), according to The Hollywood Reporter. Many of these services offer free trials.
And if you are an Amazon Prime subscriber, you can add the AMC+ channel for an additional fee of $9/month. Amazon Prime also has a monthlong free trial, with a weeklong trial of the AMC+ channel available.
Article continues below advertisement
Where to watch 'Killing Eve' Seasons 1–3
If you haven't started Eve and Villanelle's cat-and-mouse game yet — or you just want to rewatch the story so far — you can find past seasons of Killing Eve on Hulu, BBC iPlayer, and AMC+. Episodes are also available for purchase at Amazon Prime Video and Vudu.
And when you've watched all prior seasons and finished this current fourth season, don't despair. Killing Eve spin-offs are in the realm of possibility, as Dan McDermott, president of original programming for AMC Networks, revealed in a press release a year ago.
Article continues below advertisement
"Killing Eve exploded in popular culture and attracted a dedicated and committed fan base from its very first episode," Dan said. "We could not be more thankful for the extraordinary talents and efforts of everyone involved, particularly Sandra and Jodie, who made Killing Eve much more than a television show. We look forward to what is sure to be an unforgettable final season and to exploring potential extensions of this compelling universe."