Fed-up Pinkberry Employee Takes Rude Customer's Frozen Yogurt, Eats It in Front of Her
A viral TikTok clip shows a woman who allegedly visits a fast food restaurant every night and attempts to get refunds for what she purchased.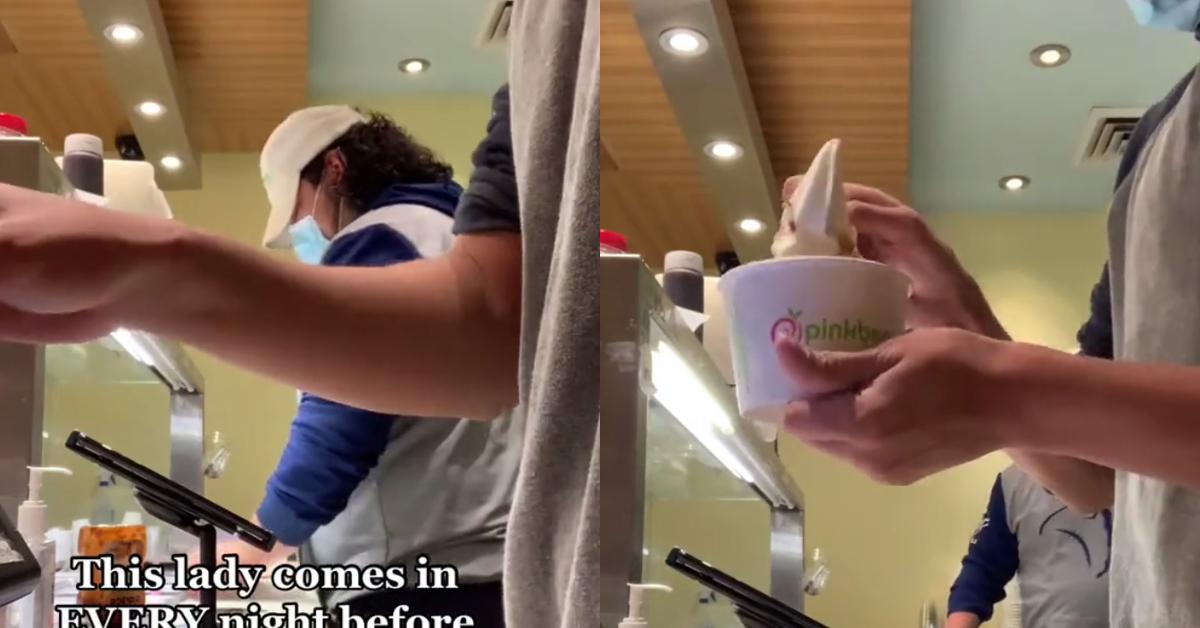 Working in the fast food service industry can be tough. You've got to stand on your feet all day, and you're usually hovering over a fryer so by the end of your shift, not only do your heels ache but you smell like the Hamburglar after a successful heist.
Article continues below advertisement
And then there's the general public that you interact with on a daily basis. While the world is full of some pretty nice and considerate individuals, there are also a ton of folks who can act quite deranged and will flip their lid if they believe they've been slighted in any way.
Article continues below advertisement
And there's one that's making the rounds on the @karen.us2 TikTok account that shows one of these prone-to-tantrum customers engaging in what has become a daily occurrence, according to the video's original poster.
Article continues below advertisement
It seems like the woman isn't happy with the size of the Pinkberry frozen yogurt tub she received. She tells the workers that she has been given a small, to which the worker behind the counter informs her, no, it's large.
"This lady comes in EVERY night before closing and asks for refunds.." a text overlay in the video reads.
The worker can be heard saying, "That is a large, ma'am."
"No, this is a f****** small," she replies.
Article continues below advertisement
"You have f***** glasses on? You should be able to f****** see and I want a large, so make this s*** correctly before I shove it down your d*** throat."

Article continues below advertisement
"I had enough for a week straight," another overlay in the video reads, before the employee tells the customer, "Yeah I got you." She hands over the tub of Pinkberry froyo, and the employee takes it from her and then takes a huge bite out of it.
"What the f*** is wrong with you?"
The worker then throws the container of ice cream in the trash and continually tells her to get out of the store. The woman then asks to speak to the manager, to which he tells her that he is the manager and he needs her to get out.
Article continues below advertisement
Commenters who saw the clip praised the way the man handled the situation, with one person writing: "This was the best response I've seen towards a Karen in a long time"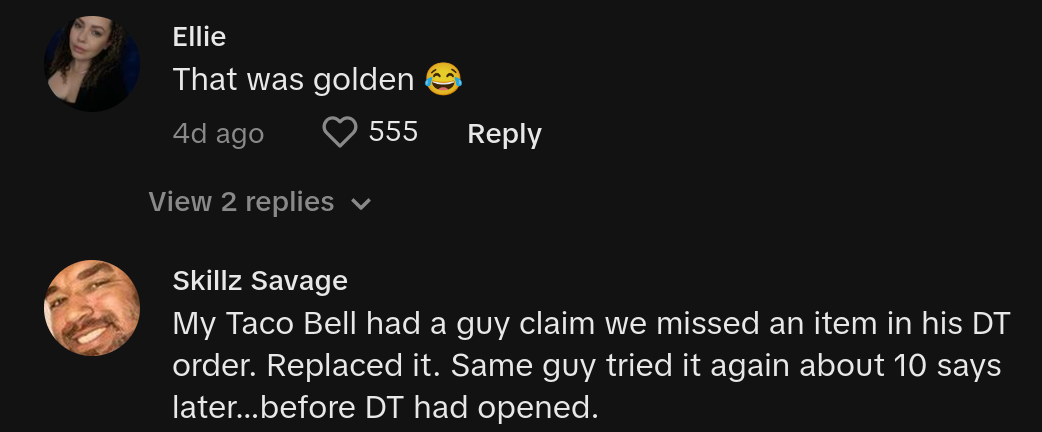 Article continues below advertisement
Another person penned, "I'm so proud of you"
During the video, the Pinkberry employee's coworker appears to ignore everything that's going on. While they do briefly tell the "manager" in question to chill out, for the most part, they seem to keep to themselves and do their work.
This is something that one viewer appreciated: "The way your coworker was shocked but minded his own business"
There was another commenter who said that in instances like this, employees could very well call the police on a customer if they're behaving in an unruly fashion: "If U told her to leave & she refuses, call Police so a criminal trespass warning can be given. if she returns, she can get arrested."
Article continues below advertisement

Article continues below advertisement
However, someone causing a ruckus in your place of business or verbally issuing a physical threat to you, like the woman did to the Pinkberry employee, presumably would fall under a justifiable reason for denying someone service and asking them to leave your place of business.
How do you think the Pinkberry responded? Did they do the right thing because the woman was being disrespectful, especially when you consider the video's claim that she is a repeat offender?