Zoë Sugg and Alfie Deyes: A Look at the YouTubers' Long Relationship Timeline
Zoë Sugg and Alfie Deyes are officially engaged after more than 10 years of dating. Let's take a look at their relationship timeline.
We're missing out on a lot of movie and TV star news with most if not all of our favorite actors currently battling their respective industries in the ongoing WGA and SAG-AFTRA strikes. For those in need of celebrity gossip and long-standing public love stores, there are at least influencers and social media personalities out there these days who folks are as eager to follow as the typical public figure. For instance, we have the decade-long romance between Zoë Sugg and Alfie Deyes.
Article continues below advertisement
Zoë is an online celebrity from England who is best known for her career on YouTube as a fashion vlogger and influencer with 10 million subscribers. She reportedly earns over 3.8 million British pounds (approx. $4 million USD).
Meanwhile, Alfie is another England-based YouTuber whose career in gaming and entrepreneurship has earned him several million subscribers across his multiple channels.
The two of them recently got engaged after a decade of dating. Let's take a look at their relationship timeline.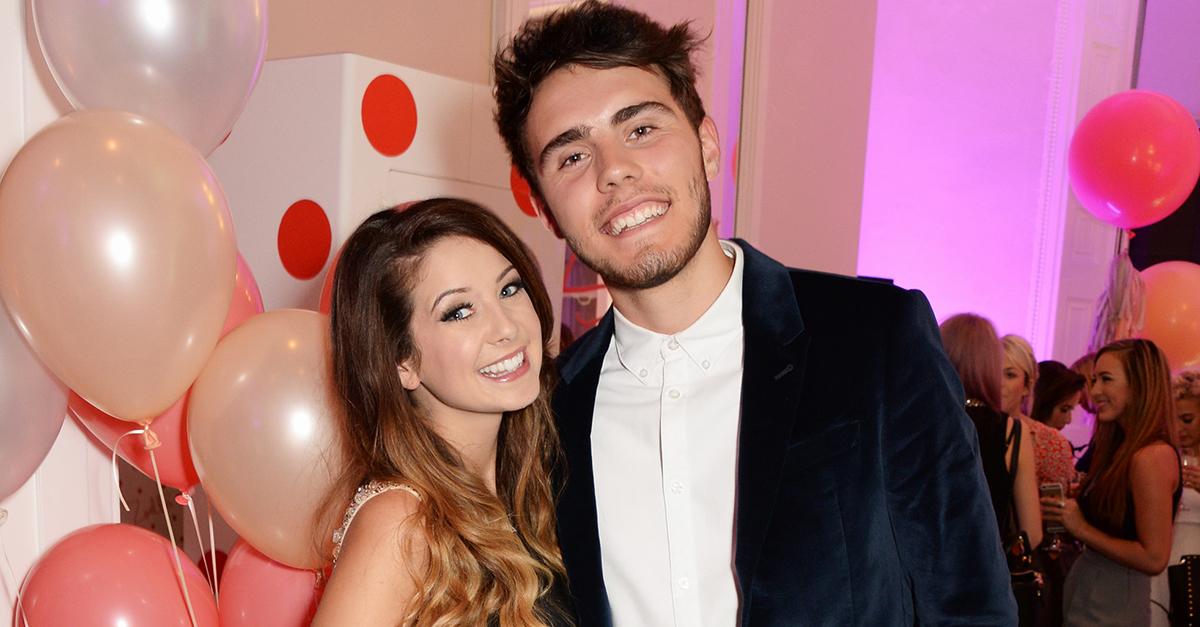 Article continues below advertisement
Let's break down the relationship timeline between Zoë Suggs and Alfie Deyes.
Zoë Suggs and Alfie Deyes began dating each other in 2012, four years after each of them kicked off their respective YouTube careers. Though they'd been dating since then, they didn't make their relationship public until 2013, when Zoë wrote up a blog post to confirm their romance. Essentially, she addressed preexisting rumors that she and Alfie were already "Zalfie."
She also insisted that while they were going public with their relationship, they would not be an "online couple."
She wrote, "We won't be vlogging romantic meals out, or us holding hands, or doing ultra soppy or couple-y videos and Instagrams. It's something we'd just like to keep to ourselves, which we have every right to want to do."
Nevertheless, they'd officially revealed their relationship status to the world and have been together ever since.
Article continues below advertisement
Their relationship progressed rather smoothly from there. A year later in 2014, the two of them revealed that they had moved in together, a big step in any budding relationship. That same year, they adopted a pet pug named Nala together.
Later in 2017, they moved to a new home in Brighton, England.
After several more years of relatively uneventful romance, the two of them hit a major milestone in their relationship.
Article continues below advertisement
In March of 2021, Zoë that she was pregnant with her and Alfie's first child. They would give birth to little baby Ottilie Rue Deyes later that September.
What's more, they revealed Zoë's second pregnancy two years later in July 2023. The new baby is due in December of this year.
Now after all those milestones, they're officially ready to tie the knot. On Sept. 14, 2023, Zoë revealed on Instagram that she and Alfie have officially gotten engaged. Similarly, Alfie shared Zoë's post in his own story.
There's no better way to cap off a decade of romance than with engagement rings. Best of luck to the happy couple!