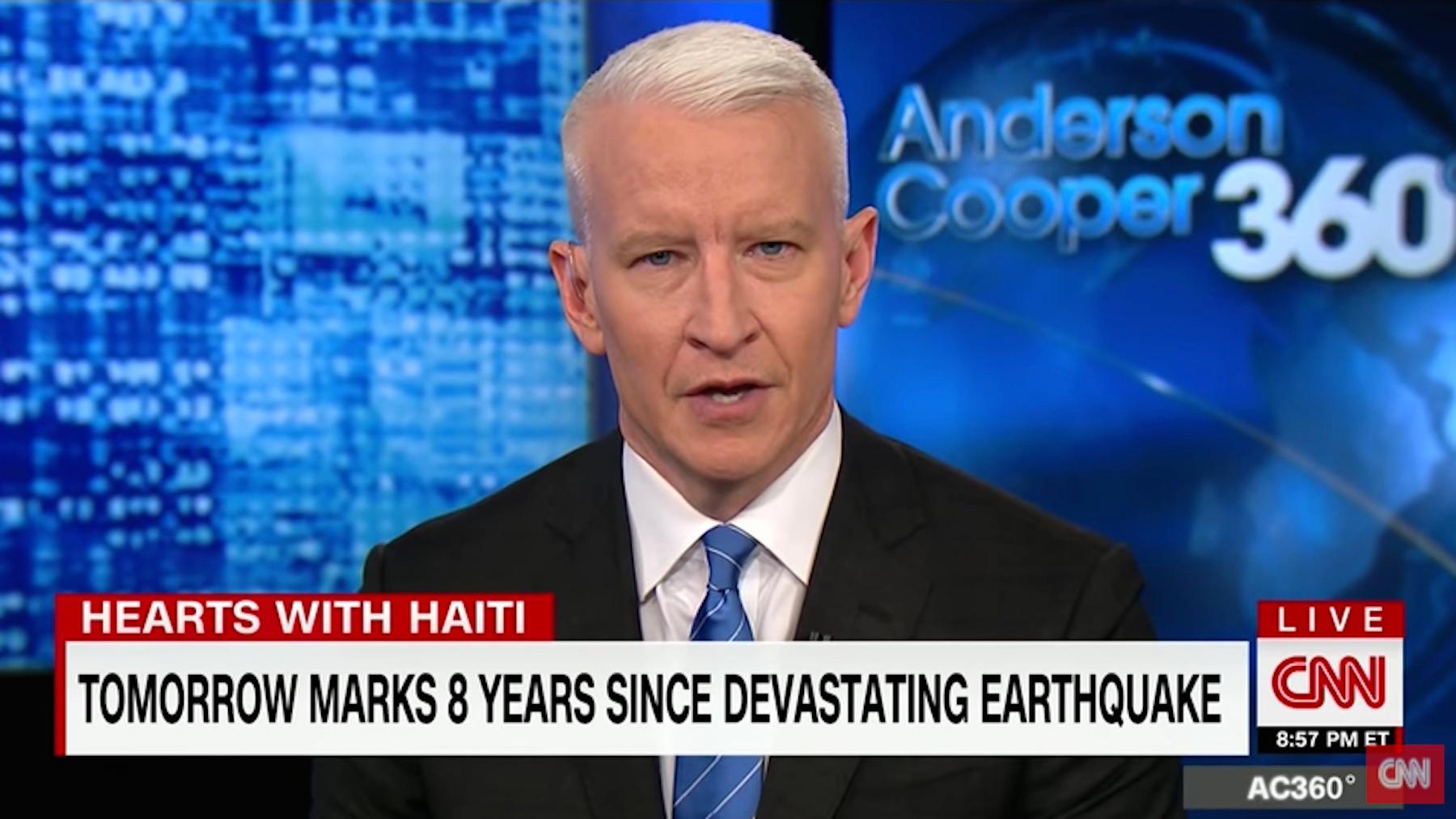 Anderson Cooper Gets Emotional While Condemning Donald Trump's "S---thole Countries" Remark
By Aimee Lutkin
On Thursday, the Washington Post reported that Donald Trump once more lowered the bar for acceptable things a president can say.
Trump met with lawmakers at the White House, who are trying to negotiate with him about immigrants from Haiti, El Salvador, and various African countries. The Trump administration recently announced that they're kicking out 200,000 El Salvadorians who came here following a devastating earthquake twenty years ago, many of whom have established families, including children who have been born and raised here. This will split parents from their children, and people from their homes.
Of course, Trump is seemingly unmoved by such an eventuality, and when confronted by advocates for taking a softer line on deportation, he reportedly said, "Why are we having all these people from s-hole countries come here?"
He then added, "Why do we need more Haitians? Take them out."
If that wasn't clear enough, he also reportedly suggested we bring in more people from Norway. It's just as likely that immigrants from the made up country in Frozen would come to the U.S. as people from Norway. They're doing much better than us economically and they have healthcare.
This is all sickening, but at least we have people torching Trump on Twitter:
On his CNN program Thursday night, Anderson Cooper dedicated time to especially address the president's comments about the people of Haiti. Cooper has spent considerable time reporting there. He became emotional discussing how Haitian citizens supported each other after the deadly earthquake eight years ago, the anniversary of which is Friday.
Cooper became emotional recounting how he saw children being rescued by their fellows citizens after the government failed to come through with rescue efforts, some of them trapped under rubble for an entire week. He wanted to share how strong the people of Haiti are in order to survive both disaster and government negligence, and that he has nothing but respect and admiration for their resilience.
Cooper also made a point to explicitly say what he thinks Trump's comments really mean.
"Perhaps the White House feels the president's remarks will be well-received in some parts of this country, among some parts of the president's base, and perhaps that is true but it doesn't make what he said any less ignorant or any less racist. Not racial. Not racially charged, racist. Let's not kid ourselves. Let's not pretend or dance around it. The sentiment the president expressed today is a racist sentiment," Cooper said.
Unfortunately, Cooper is correct to assume that the president's base likely agrees with his sentiments, and his staff is reportedly unconcerned with his remarks, according to CNN White House reporter Kaitlan Collins:
Though he did deny making them on Friday in a series of tweets calling his language "tough" but not admitting to anything specifically:
Yeah, maybe he should record future meetings. I'm sure we would all enjoy hearing what he says when he forgets the tape is rolling.