A Bizarre Feud Between 50 Cent and Floyd Mayweather Is Finally Over — What Went Wrong?
A decade ago, rapper 50 Cent and boxer Floyd Mayweather were friends until they fell out. They have finally ended the feud. Here's what went down between them.
A decade old feud between 50 Cent and Floyd Mayweather has finally reached its strange conclusion and honestly, it's kind of hard to keep track of what went wrong. As the old saying goes, "If you want to keep a friend, never borrow, never lend" — and that's kind of what happened with 50 Cent and Floyd Mayweather. A financial issue entered the chat and a friendship quickly exited. To the best of our knowledge, here's the breakdown of the beef between 50 Cent and Floyd Mayweather.
Article continues below advertisement
What happened between 50 Cent and Floyd Mayweather? Their beef explained.
Do men know that if they just speak honestly about their feelings that an argument doesn't have to last 10 full years? According to ESPN, in August 2012 Floyd Mayweather served "two months of a three-month sentence in a misdemeanor domestic battery case," during which time 50 Cent was tasked with establishing Mayweather's promotions company: The Money Team, per The Mirror.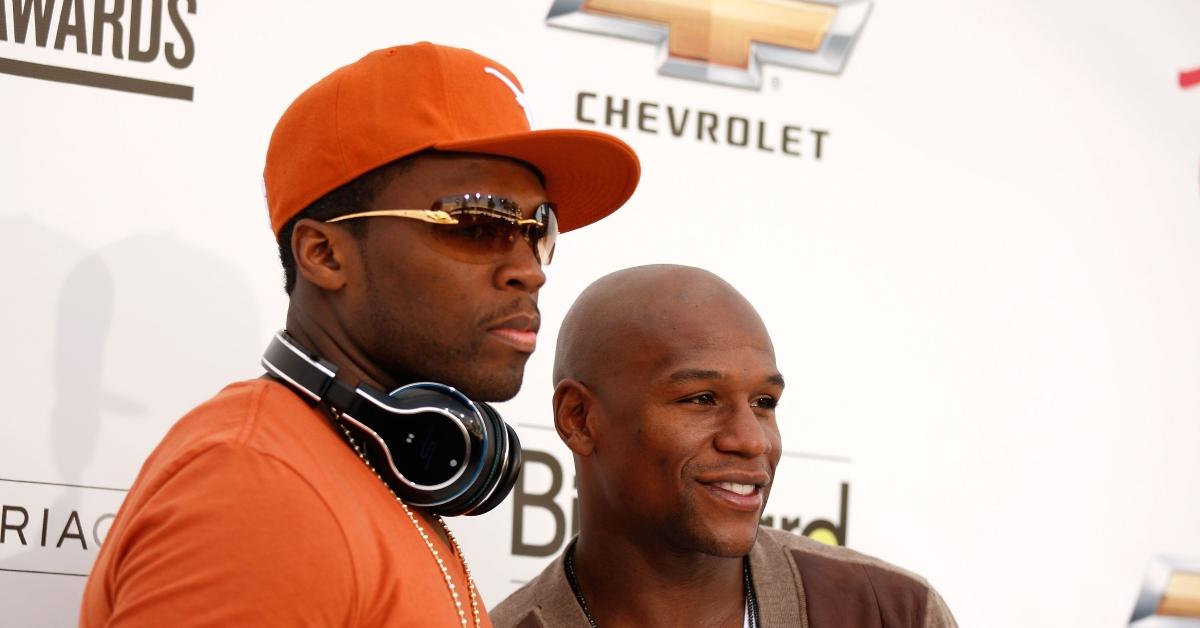 Article continues below advertisement
While Mayweather was locked up, Fiddy went to work signing several boxers to the company. Once Mayweather was released, 50 Cent naturally assumed he would receive a cut of the company's profits. After requesting his portion of the financial gains, roughly $2 million, Fiddy did not get a response from Mayweather.
XXL reported that Fiddy setting up The Money Team by procuring boxing licenses in New York and Las Vegas was never actually the plan, hence why Mayweather didn't pay up. This conversation must have happened after Mayweather was released, because Fiddy was there to pick him up from jail.
Article continues below advertisement
Article continues below advertisement
We hate to do this but just kidding, Mayweather did owe Fiddy some money. On November 29, 2012, Fif went on Los Angeles's Power 106 to once again discuss the embittered battle. The money Fif wants back is what he put up front to start Mayweather's business, which included but was not limited to "signing boxers, negotiating contracts, and dropping tons of bank," reported MTV. So, in February 2013, 50 Cent decided to pivot over to Mayweather's rival Manny Pacquiao, by trying to set up a fight between them. It never happened.
Would you believe more social media skirmishes are about to be fought? In April 2014, Mayweather alleged his ex-fiancee had an abortion, so Fif took to Twitter to inexplicably tease Mayweather. A month later, Mayweather nearly got into a fight with T.I., which prompted an Instagram post from 50 Cent warning Mayweather to stay away from T.I.'s wife. Help, which soap opera is this?
Article continues below advertisement
And finally, in August 2014, Mayweather called both 50 Cent and T.I. "irrelevant," which was pretty unacceptable to Fiddy who then posted an Instagram video challenging Mayweather to read a single page from a Harry Potter book. If he could do it, 50 Cent would "donate $750,000 to a charity of your choice." Mayweather declined.
Whew, we're exhausted. Let's get to the healing part!
Article continues below advertisement
The beef between 50 Cent and Floyd Mayweather has officially been squashed.
Huzzah, the boys are back in town. While guesting on The Breakfast Club on August 15, 2022, 50 Cent assured us that at long last, his Hundred Years War with Floyd Mayweather was over. Apparently, the journey back to friendship began when Fiddy saw Mo'Nique perform during Super Bowl weekend. Her set included a 10-minute bit about the childish quarreling between Fiddy and Mayweather.
This was all 50 Cent needed to call up his old pal so they could work things out. "Yo, why it take so long for you to pull up on me fam," Mayweather asked Fiddy when they were finally able to meet up. And just like that, friends 'till the end.