Woman Says Airbnb Guests Turned Rental Into a Nightclub, Sparks Debate for Shutting It Down
An Airbnb host was met with criticism online after posting a TikTok where they broke up a "club" party thrown by guests.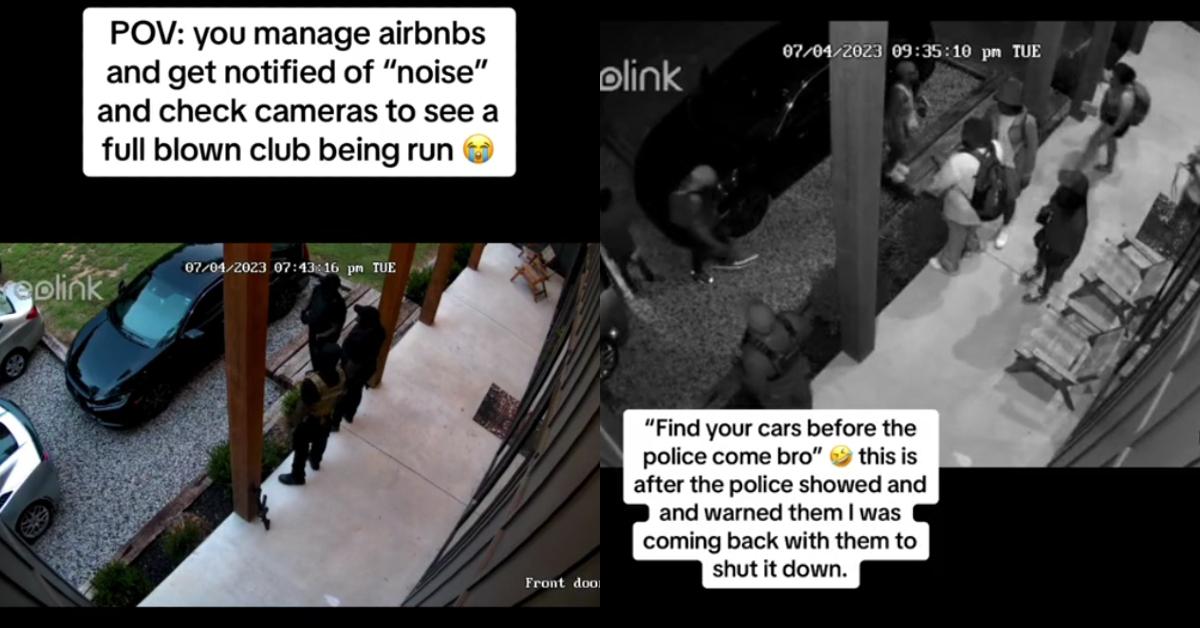 Article continues below advertisement
Whether it's hosts that decorate their rental units with tons of posted rules, those who charge for cleaning fees despite requiring customers to do the bulk of the chores themselves, or outfitting their property with hidden cameras so they can go ahead and do god knows what with the footage, there's enough fodder out there that would make many folks think twice before booking a stay through the application.
In a lot of these horror stories featured on the web, Airbnb hosts are usually the ones depicted as the "bad guys" in the situation. However, a recent TikTok posted by user Jessica White (@cleaningwithjess101) sparked a conversation on Airbnb hosts having to deal with "guests from hell."
Article continues below advertisement
In a viral clip Jess uploaded to the popular social media platform that's accrued over 841,000 likes, Jess provides security camera footage of several men standing outside of a building.
Article continues below advertisement
There are multiple cars parked outside of the structure and a text overlay in the video gives more insight as to what's going on in the video: "POV: you manage airbnbs and get notified of 'noise' and check cameras to see a full blown club being run"
Jess detailed how she handled the situation in a caption for the clip, writing: "I had to get out in my pjs to kick them out…. Yall this is how NOT to rent an airbnb….."
Article continues below advertisement
There were some folks who saw her video who seemed to think that there wasn't an issue with the fact that someone booked her place in order to run a club.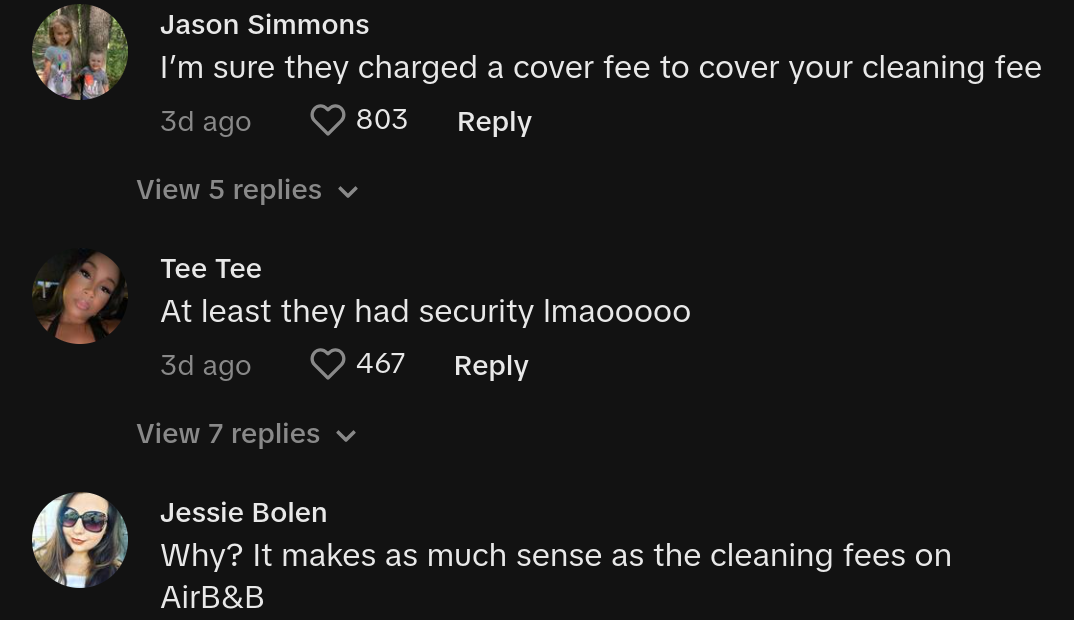 Article continues below advertisement
Commenters said that that's what the "cleaning fee" is for, and there were others who mentioned that it looked like whoever was running the operation was at least doing so in a responsible manner as it looked they had security for the event watching the door outside.
Others said that they couldn't understand why Airbnb property owners were so hell bent on ensuring folks don't party in the rental units as the main reason why people book stays away from their home is to get down and have a good time.
Article continues below advertisement
Someone else said that they don't mind letting people party in their Airbnbs as they ultimately earn more money as a result, which was a sentiment another echoed, stating that a great business model would be to create an Airbnb venue that's rented out specifically for parties.

Article continues below advertisement
However, there was also another viewer who defended Jess' frustration with the situation, stating that a guest cap is explicitly stated in her Airbnb agreement that the guests renting the unit were clearly in violation of it by running a club.
Jess provided further context on the situation in a follow-up video where she explained why she didn't want to have folks renting our her Airbnb unit so that they could host large gatherings.
Article continues below advertisement
"dont come at me with the 'thats what the cleaning fee is for' no its not. The cleanjng fee is for a normal clean after guests stay. NOT damaged property, loads of trash, drinks spilled everywhere, odor removal, pressure washing the back deck, removing stains from everything, rearranging furniture, and removing broken items and replacing them."
Article continues below advertisement
The additional clip she posted features more security camera footage, which shows partygoers looking for their cars "before the police come."
Jess further defended her decision to remove the guests from the property, writing: "Also, for the people saying 'well, you kicked them out so they didn't have a chance to clean' you're dang right i kicked them out. The guest agreement clearly states no large gatherings for this reason. We wanted them out so no more dmaage was done. My cleaning rates are based off of normal guest quantity. NOT 80+ people- so my fee doesnt cover the mess they left."

Article continues below advertisement
She also added that guests knew of the security cameras, along with the guest cap limit and all other stipulations to using the property prior to booking: "This is a high end rental with high end guests that stay. They are required to take out all trash& clean all dishes, and to take care of things. So it is a big deal for all this to be left. ALSO, yes we have cameras for this reason right here- For guests that destroy property or dont follow rules. The cameras arent inside and they are told where each camera is when booking."

What do you think? Was Jess being a buzzkill and should she have just let the guests use the rental as they saw fit? Or would you have been miffed if you listed something that was meant to be a spot for a limited number of guests, only for you to see it be used as a pop-up club of sorts?