Is There Any Hope of Shayne and Natalie Reconciling After 'Love Is Blind' Season 2?
Shayne and Natalie shocked viewers when they decided not to go through with their wedding on 'Love Is Blind' Season 2. Are they dating now, after the show?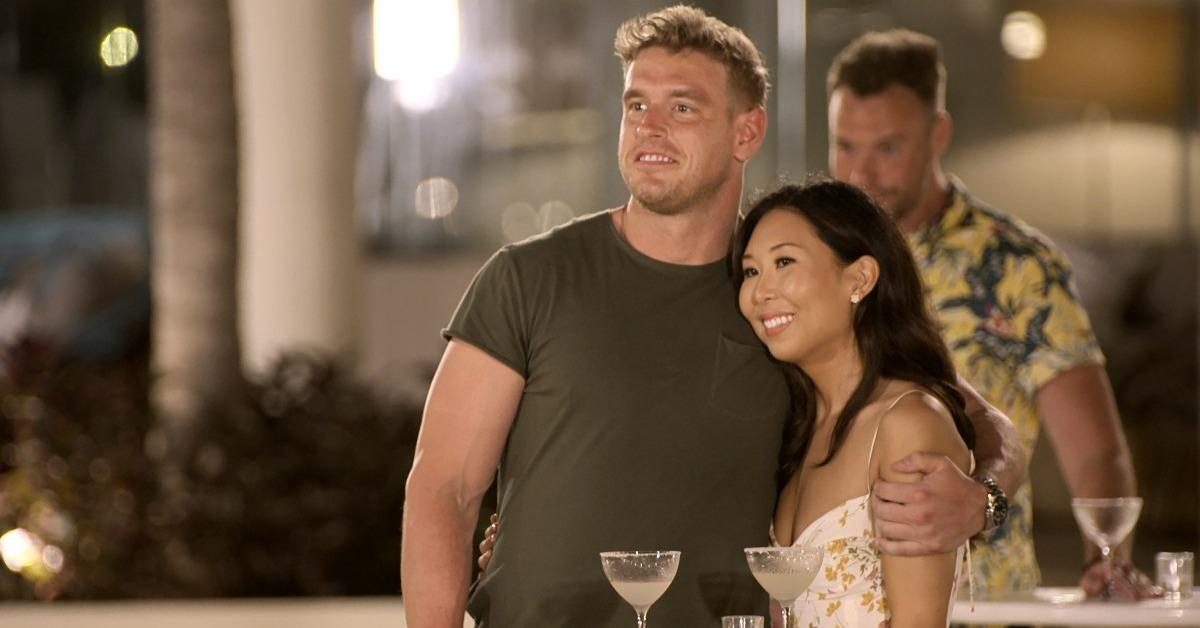 Some of the biggest surprises from the Season 2 finale of Love Is Blind weren't the outcomes of the weddings, but how they ended the way they did. Abhishek "Shake" Chatterjee and Deepti Vempati's wedding ended with Deepti walking away rather than Shake, even though fans expected him to be the one to end things. We also had a surprise in the way Natalie Lee and Shayne Jansen's wedding ended.
Article continues below advertisement
During the episode, we learned they had a huge fight the night before their wedding; Shayne said he hated Natalie and told her she was the worst thing for him. On the day of their wedding, Natalie said she couldn't marry him. Fans were surprised, since many had expected them to make it — up until the news of their verbal blowout.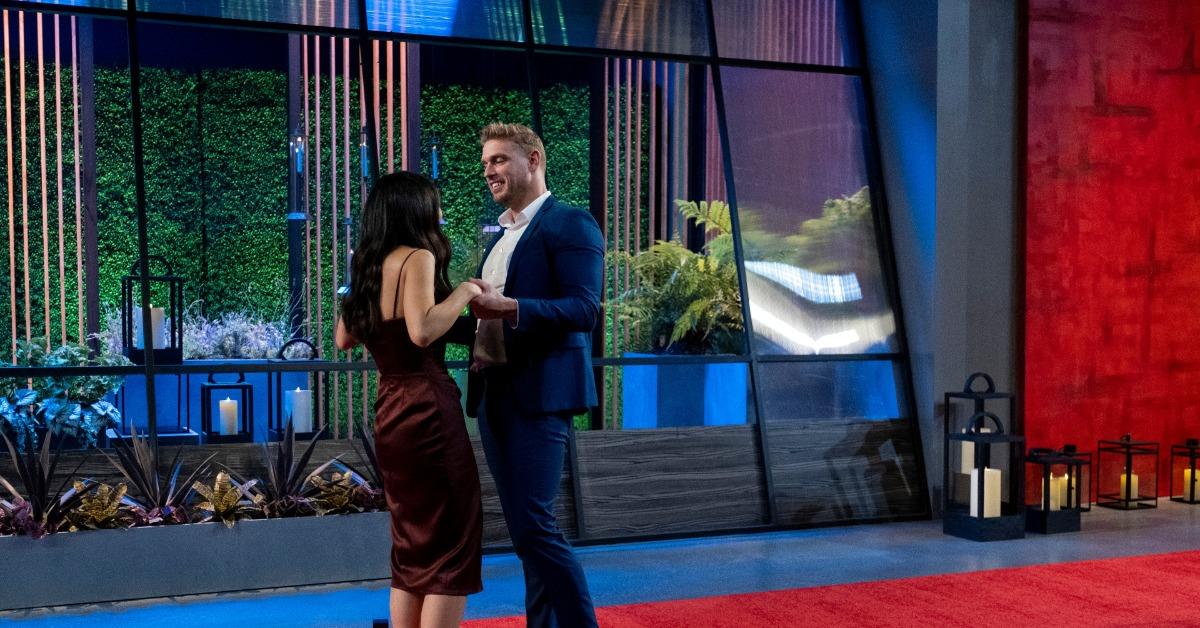 Article continues below advertisement
But are Natalie and Shayne dating now? Even though they didn't get married on Love Is Blind, that doesn't mean they couldn't reconnect in real life. Natalie even said that she wanted to continue to work on their relationship. During the season finale, Shayne said that he wasn't ready for that. It seems things were up in the air for them — or are they?
The ex-fiancés appeared on the reunion together (which debuted on Netflix on March 4), and they shared whether they ever gave their romance another go, and if they are together now.
Are Shayne and Natalie dating after 'Love Is Blind'?
Ahead of the Love Is Blind Season 2 reunion, Shayne got fans talking when he posted an Instagram which seemingly hinted at a potential future reconciliation with Natalie.
He wrote: "You are the most beautiful soul and you really brought out the best in me as a man. As a man watching our story over again, I'm remorseful for my actions, and all I can do is learn from them to be a better man. I'm proud of being vulnerable and being as genuine as possible. I don't know what's next for us but I do know that I will never stop loving you."
Article continues below advertisement
The two continued to interact with one another via Instagram comments and they shared similar stories on their feed to indicate they were at the same place — which further fueled the fan speculation.
However, during the reunion, Natalie and Shayne shared that they were not together. They did give their relationship a second try shortly after the show, but their emotions were too raw from their pre-wedding fight for things to work out.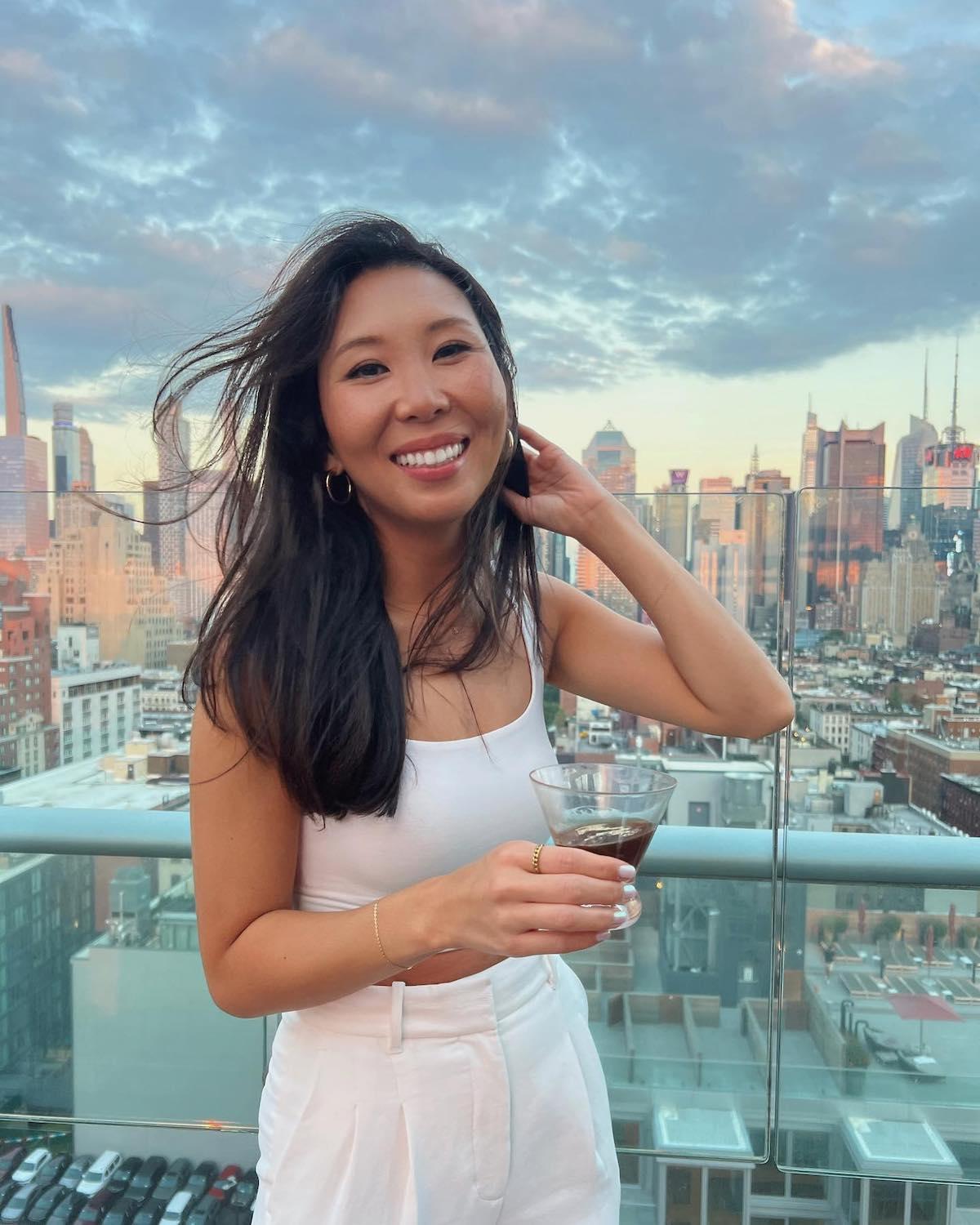 Article continues below advertisement
"We gave it another shot after our wedding day. We dated again, without the pressures," Natalie said about their post-show connection. "We just wanted to see if, you know, how we would work out."
"It was too fresh," Shayne added. "It was too fresh at the time."
Natalie noted that she continued to hold on to the fight for a long time, and that she held it against Shayne too. "I couldn't get myself to move on from it, if that makes sense," she shared.
Though Natalie and Shayne aren't together now, it doesn't mean that the latter star reunited with his other pod love interest, Shaina.
"We were always just friends," Shaina said. "There was nothing ever romantic afterwards."
Article continues below advertisement
Shayne made comments about Natalie on a podcast.
In March 2022, Shayne went on Nick Viall's Viall Files podcast to further discuss his relationship with Natalie. He explained there were "some things that happened the last couple days where it's just like, I'm just fed up with it now." He alleged that Natalie called him a "disgusting human being" and disliked his recent reconciliation with Shaina Hurley.
Article continues below advertisement
After Natalie caught wind of Shayne's comments, she went on Instagram to give her side of the story. "Yes, I know about the podcast and am very shocked by what was said," Natalie wrote. "A few things (of many) I want to clear up. Regarding the comment about me 'scripting' our conversations, I never told Shayne what to say, nor did we ever discuss or plan what to say in certain scenes."
Article continues below advertisement
She added, "I did, however, set boundaries with filming — specifically, I asked him to not drink alcohol before 'serious' scenes and to not share in-depth details of our intimacy out of respect for my family. I know he found this frustrating; the latter is what led to our fight in Mexico."
Natalie also defended herself in calling Shayne "disgusting" and gave fans some context: Shayne reportedly said he was going to "bury" and "drag [her] down with him" on the podcast.
Natalie also hinted that the only thing she hasn't "been able to get over" is "flirtatious messages between him and other women" that she's found. "This is something we have discussed numerous times via text these last several months," Natalie said. "His hangout with Shaina during the premiere of the show is NOT the reason."
Article continues below advertisement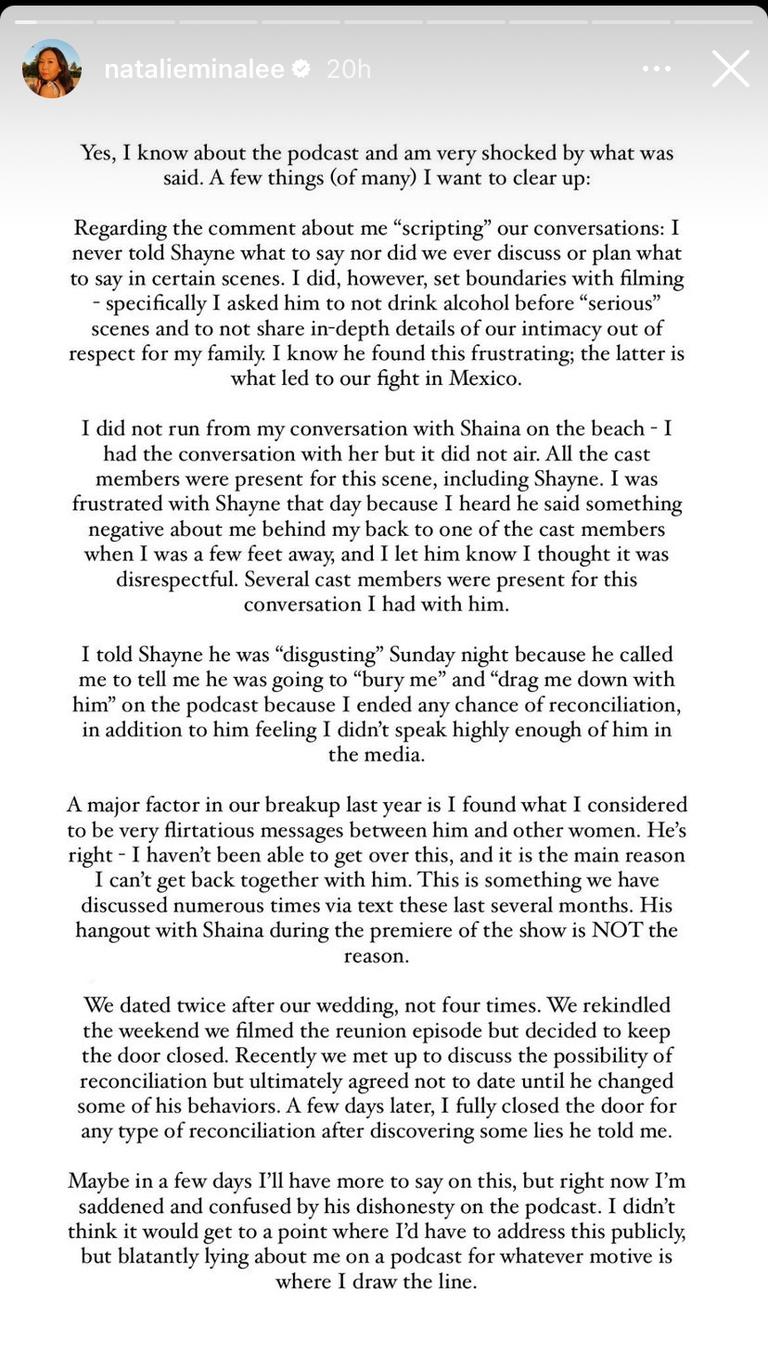 She closed her Instagram letter by writing, "I didn't think it would get to a point where I'd have to address this publicly, but blatantly lying about me on a podcast for whatever motive is where I draw the line."
Article continues below advertisement
Natalie called off the wedding on 'Love Is Blind.'
Natalie and Shayne's fight was at the forefront of their discussion on the reunion, so viewers may be looking for a refresher on what happened.
The night before Natalie and Shayne's wedding, they had a fight that viewers didn't get to see on camera. The morning of their wedding, Natalie explained that they fought about Shayne's drinking and that he said some hurtful things to her. Because of that argument, she didn't go through with the wedding.
Unfortunately, the fight continued to play a part in their relationship issues. Will Shayne and Natalie reconcile down the road? The door seems to be closed, but who knows? Perhaps fans will be surprised during the "After the Altar" special?
Love Is Blind Season 2 is now streaming on Netflix. Catch Love Is Blind: After the Altar Season 2 on Sept. 16, 2022, on Netflix.