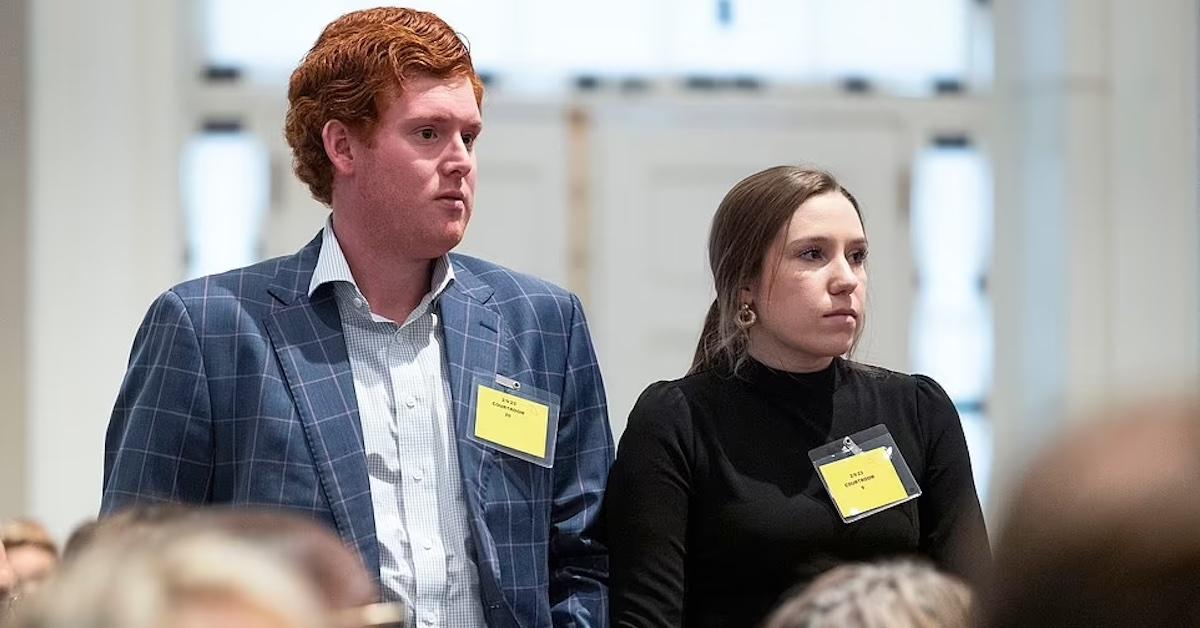 Buster Murdaugh's Girlfriend Could Be the Key to Understanding the Murdaugh Family
Coinciding with the historic Murdaugh murder trials, Netflix's newest true crime docuseries, Murdaugh Murders: A Southern Scandal, dives into what really happened with the Murdaugh family. American lawyer royalty, Alex Murdaugh, has been indicted and charged with over 100 crimes, including drug and money laundering, and fraud. He's on trial for murdering his wife and youngest son.
Article continues below advertisement
Now, Murdaugh potentially faces multiple life sentences behind bars, but his son, Buster Murdaugh, could walk away scot-free. As the trial unfolds, we've noticed a woman supporting Buster who's reported to be his girlfriend. So, who is Buster Murdaugh's girlfriend?
Article continues below advertisement
Buster Murdaugh's girlfriend, Brooklynn White, has stood by his side throughout the Murdaugh trials.
We may not see much of her in Murdaugh Murders, but Brooklynn White is a girlfriend as steadfast and true as they come. She has been by Buster's side throughout the trial and continues to support him during this difficult time. He has seen loss like no one else — his mother and brother were murdered, potentially by his father. Not only that, but he lost his friend Stephen Smith in 2015 to a supposed "hit and run."
So who is Brooklynn White? According to some reports, she owns a condo in Hilton Head, S.C., which would make sense. Like the Murdaugh family, she was also interested in law and order. A Juris Doctor Candidate at the South Carolina School of Law, White attended the University of Alabama, where she graduated with a B.A. in political science in 2018.
Article continues below advertisement
The 26-year-old likely met the Murdaughs through her studies in law and time working in different law firms throughout the county. And for any member of the Delta Zeta sorority, White is your sister. She's also volunteered with the Special Olympics and the Miracle League of Tuscaloosa.
Several years ago, there were rumors surrounding Buster Murdaugh's sexuality.
Long before any of the Murdaugh family's criminal activities came to light, a good friend of Buster's, Stephen Smith, passed away. In 2015, Smith was mysteriously found dead in the middle of the road, and his death was ruled a hit-and-run, even though other evidence shows that he could have died by gunshot or some other attack.
Article continues below advertisement
Like several other mysterious deaths, including that of the Murdaugh's housekeeper, Gloria Satterfield, it has been hinted in investigative documents that Smith's death was a cover-up of sorts.
Article continues below advertisement
In fact, in Murdaugh Murders, it's suggested that Buster and Smith had an intimate relationship, as Smith was openly gay, and the two were very close. Could the Murdaugh family have had Smith murdered to cover up Buster's sexuality?
The more we learn about the Murdaugh family, the more questions arise. Even still, hopefully, Murdaugh Murders answers some of those questions, and the trial answers the rest of them.
Murdaugh Murders: A Southern Scandal is available to stream on Feb. 22 on Netflix.