People on Twitter Are Comparing Casey Anthony to Amber Heard
In light of Johnny Depp and Amber Heard defamation suit, people are comparing Amber Heard and Casey Anthony's trial behaviors and emotions.
Let's be real: If you've been keeping up with the Johnny Depp and Amber Heard defamation case, you probably have an opinion on who did what and how they should be punished.
But as we wait on the verdict, the Twitterverse has been reflecting on some other high-profile cases. Who remembers Casey Anthony's case?
Article continues below advertisement
In 2008, the Orlando, Fla. mom was charged with the murder of her two-year-old daughter, Caylee, after the toddler's skeletal remains were found in a bag near the family's home.
Following her highly-publicized trial, Casey was indicted on charges of a litany of crimes, including first-degree murder, aggravated manslaughter of a child, and aggravated child abuse.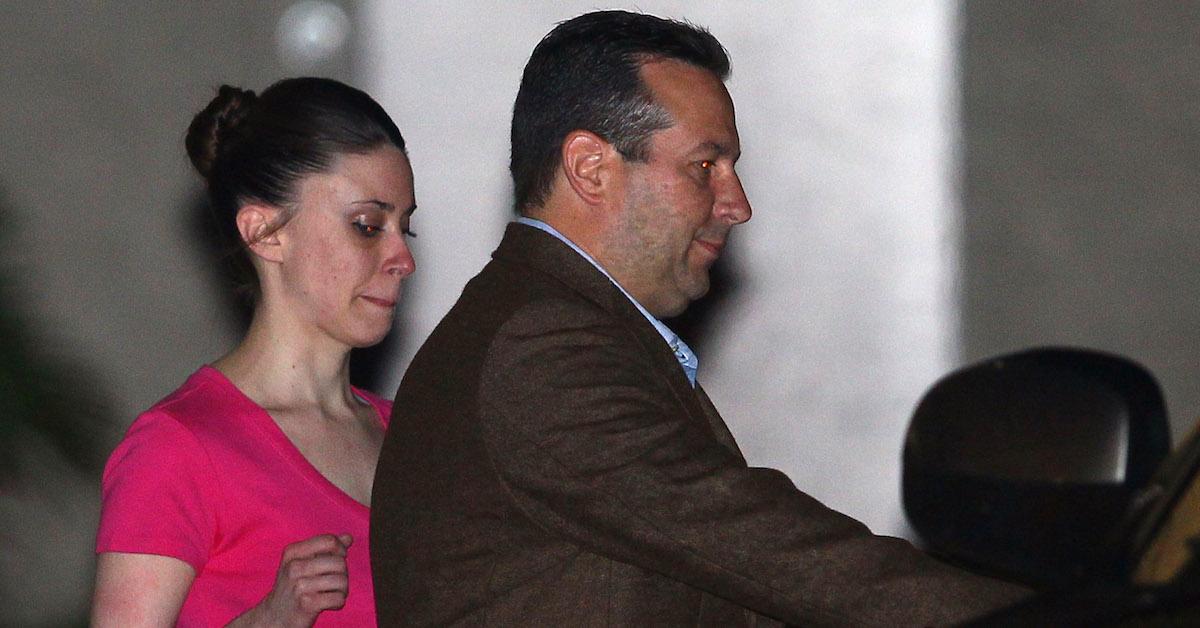 Article continues below advertisement
The verdict was extremely controversial. Despite being found not guilty, the public developed a negative opinion of Casey. In fact, a Reuters poll named her "the most hated woman in America."
Now, with Casey back on the Internet's radar, folks are turning to Google to answer any unknown questions like did Casey take part in a "hot body contest" following her daughter Caylee's disappearance? They're also comparing her to Amber Heard.
Article continues below advertisement
Casey Anthony took part in a "hot body contest" days after daughter Caylee went missing.
In 2018, Reels presented the series Casey Anthony: Her Friends Speak. In one episode, Casey's roommate, Clint Roy discussed how Casey behaved in the first few days of Caylee's disappearance.
"The thing that has driven me crazy was the fact that she was completely the same person during that time Caylee was missing," he said. In fact, he added that she even took part in a "hot body contest" during her daughter's disappearance.
Article continues below advertisement
While he doesn't go into detail about what the contest entailed, it seems to have been some type of competition based on looks. In other words, not typically something someone would participate in when their child is missing.
Clint confirmed that at the time neither he nor any of Casey's other friends knew that something was up.
"We couldn't be surprised. We weren't surprised until after the fact, until police were talking about it, asking questions. Until the media got ahold of it and things exploded. We were shocked and surprised that she could be out here doing what she had been doing that night, and meanwhile, her child is missing," he said.
Article continues below advertisement
Are Casey Anthony and Amber Heard similar in any way? Twitter has some thoughts.
During Casey's trial, the public became fixated on her behavior. At times, viewers believed she seemed apathetic and emotionless in court. However, there were also times when she appeared overly emotional.
Amber's behavior in court has also garnered a lot of attention. At one point, people even questioned whether or not she had posed for a photo while crying. Not to mention, we spoke with a body language expert who pointed out some irregularities in her actions.
Article continues below advertisement
However, other users have pointed out that the comparison is absurd, considering Casey was charged with murder and Amber is being charged with defamation.
User @pablotdon tweeted, "Not y'all saying Amber Heard is Casey Anthony…how y'all calling that woman a murderer? Whether you believe her story or not…a murderer?," he wrote, implying that the charges against the two women are on different levels.