For Giorgi Mptias, a childhood obsession with makeup turned into internet stardom almost overnight. After being featured in one of beauty guru Jaclyn Hill's YouTube videos in 2018, her social media following doubled, tripled, and quadrupled until she had become a beauty sensation in her own right, taking TikTok by storm. Since then, her love of art has translated into professional tattooing, although her hundreds of thousands of fans still love to tune and watch her do makeup, share her experience living with trichotillomania, chronicle her jury duty adventures, and pretty much everything else.
Distractify chatted with Giorgi to learn more about her celebrity crush, her go-to fast food order, and more.
Article continues below advertisement
If you had to get a tattoo right now, what would it be?
GM: If I were to get a tattoo right now, it would definitely have to be a traditional snake on my palm. I don't know how the pain is going to be, but just imagine waving to someone and you have sick tattoos on both sides of your hands. I'm running out of room at this point, LOL!
What's your most-used emoji?
GM: My most frequently used emoji is currently the crying face. I heard the laugh-cry emoji is retired so now it's just 😭 from me.
Article continues below advertisement
What was the moment you felt you had made it as a content creator?
GM: I've been on social media for so long, originally for makeup. My videos got some traction, but it wasn't until I posted my everyday eyeliner routine that people stuck around for more, which is awesome considering I go through a whole tube of eyeliner in a week, LOL.
What's your favorite TV show?
GM: I have so many favorite shows, especially for the illustrations and visuals. I love seeing the different styles of art, whether it's anime or a cartoon. My top comfort shows have to be Bojack Horseman, Attack on Titan, Junji Ito, and Breaking Bad. All very different but AMAZING!
Article continues below advertisement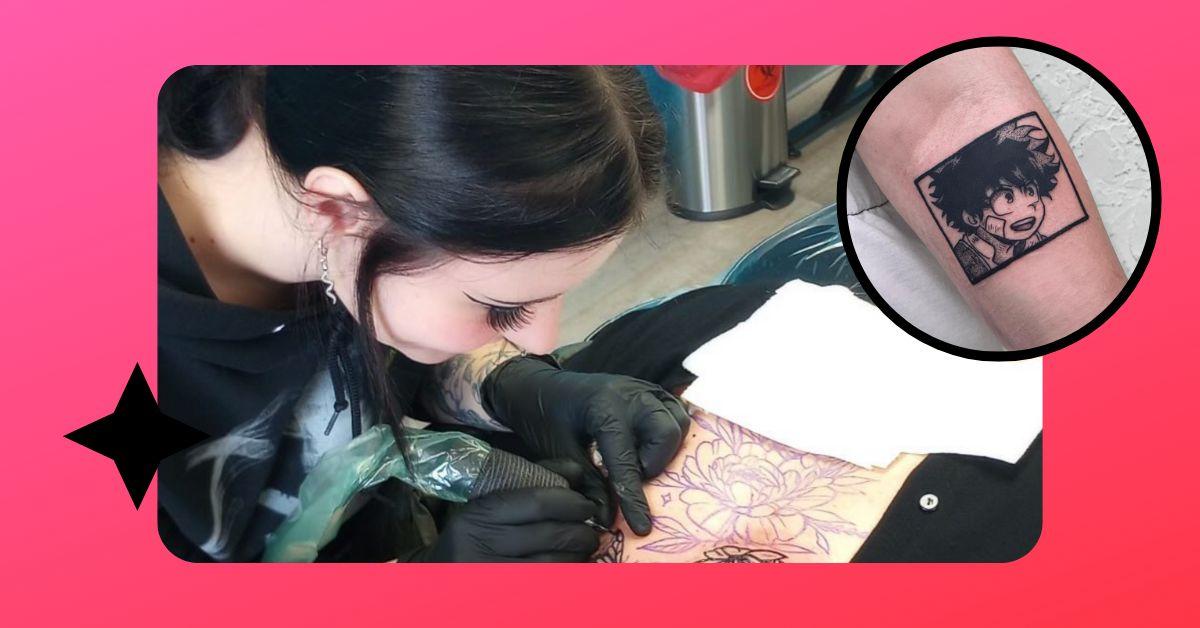 Tell us about the first concert you ever attended.
GM: Oh man, the first concert I ever attended was the Jo Bros back in 2009. I honestly don't remember much because I'm a 2002 baby, but I definitely remember having "Joe" written in lipstick on my face, LOL.
Article continues below advertisement
What's your favorite color?
GM: My favorite color is probably baby pink, although my closet is completely black; being a tattoo artist, that's just how it goes or else I'd have ink everywhere.
What's the best meal you've ever had?
GM: Choosing my favorite meal in the whole world is easy — just take me to a Taco Bell. Being a vegetarian is hard because there are limited options, but I discovered the cheesy bean and rice burrito with black beans, fiesta potatoes, and a large frozen Baja Blast, and I can't stop. My car automatically just takes me to the drive-thru every day. Help.
Article continues below advertisement
Who's your celebrity crush?
GM: I'm obsessed with Lana Del Rey; no matter how many years go by of me listening to the same songs from her earlier albums, I will never get over it. She just deleted her @honeymoon Instagram and I feel like I'm going through a crisis. When she said, "Pass me my vape / I'm feeling sick, I need to take a puff," I felt that. She will forever be my favorite artist and person. I literally have her face tattooed on my arm.
Shout out one of your favorite fellow creators!
GM: I love the content Lonni Pike, aka @grayhairandtattoos, makes on TikTok! She's such a great person to have a platform because she always does what she wants and doesn't care what anyone has to say. She's covered in tatts and I love her message. I want to be her when I grow up.
Article continues below advertisement
Tell us about your dream collaboration.
GM: Once again I have to mention the queen, Lana Del Rey. I would love to tattoo her. Imagine Lana getting tatted up — so iconic.
Article continues below advertisement
If you couldn't be a tattoo artist, what would your dream job be?
GM: I feel like everyone says, "If I couldn't be a ___, I wouldn't know what I would do." Personally, I wish I had nine lives. I was a makeup artist for a few years and loved it; I still do makeup but only on myself now. I always wondered if I'd enjoy being a mortuary cosmetologist. I feel like that would be interesting. I love cartoons and also think I would want to pursue voice acting. Two very different things, but I would give them both a try if I didn't spend all my time pursuing art and tattooing.
Share your top three desert-island necessities.
GM: If I'm stranded on an island, I'm definitely bringing my plant medicine, a lighter, and some snacks. I'm not going out sad, and I'm scared to death of frogs so I wouldn't last anyways. Just face my doom in peace.
What's your No. 1 distraction?
GM: My biggest distraction has to be TikTok. I can scroll endlessly all day and night and see the most unhinged content in the world. It's the best thing ever, but also I can't stop. I just scroll the never-ending FYP.