Are Carrie and Aidan End Game in 'And Just Like That'?
Aidan Shaw was featured in Season 2 of 'And Just Like That.' Do Aidan and Carrie end up together? Let's take a walk down memory lane.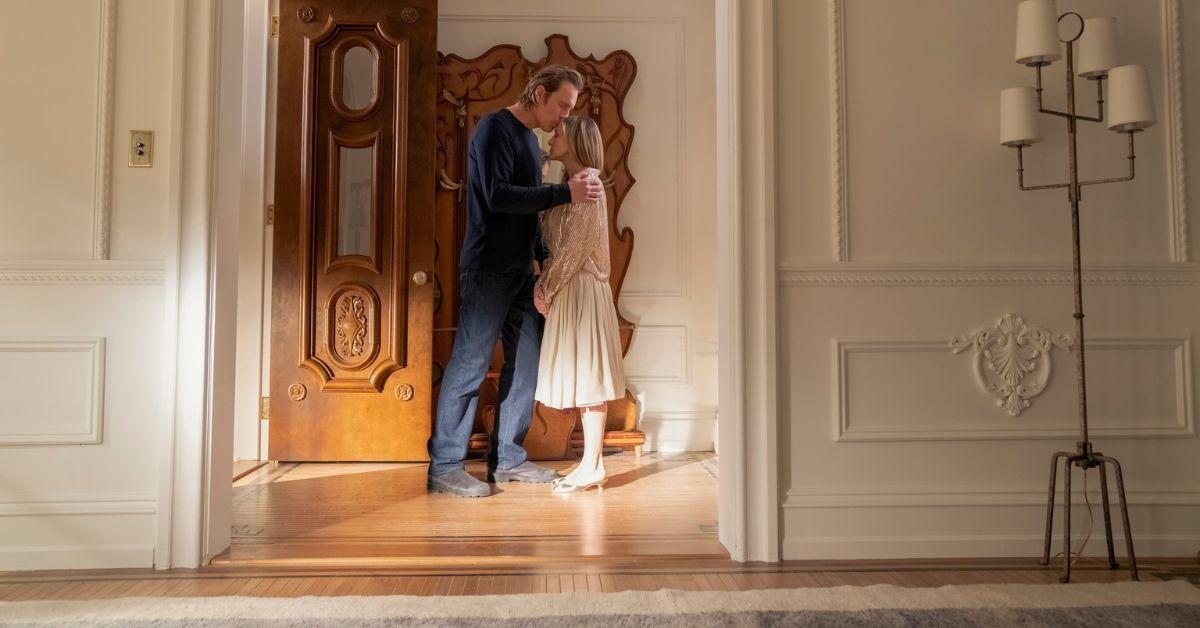 And just like that (see what we did there?), another season of our favorite foursome ... we mean threesome, as the ladies from Sex and the City are back with Season 2 of the popular sequel, And Just Like That, has ended. The second season came with a cameo from the iconic Samantha Jones, played by Kim Cattrall, and even more familiar faces. Insert one Aidan Shaw.
Article continues below advertisement
That's right, folks, somehow, after everything Carrie has put him through, Aidan, played by the ever-charming John Corbett, returned for Season 2 of And Just Like That. Aidan and Carrie's reunion felt like no time had passed, especially with Big finally out of the picture. Unfortunately, though, several circumstances made fans wonder, do Carrie and Aidan end up together?
Here's where two of our favorite exes decided in the Season 2 AJLT finale.
Do Carrie and Aidan end up together in 'And Just Like That'?
Carrie and Aidan first met during Season 3 of Sex and the City. Aidan's dog literally humped Carrie's leg creating somewhat of a meet-cute between the two. On an impulse, Carrie bought one of Aidan's chairs and their romance began.
Article continues below advertisement
Everything was going well except they had one big problem in the form of Big. Although Big was married, his presence definitely was a constant obstacle in their relationship, eventually even leading to an affair and consequently Carrie and Aidan's first breakup during the same season.
During Season 4, Carrie and Aidan gave things another go and were even more serious. The pair moved in together and even got engaged. However, there was still the Big problem (pun intended). Carrie realized that Aidan was pushing to marry her because he still didn't fully trust her. Carrie, in turn, felt that she wasn't ready to get married and the pair broke up again.
Article continues below advertisement
Carrie and Aidan reconnect again during the second Sex and the City movie. The pair shared a kiss although they were both married at the time.
During the series premiere of And Just Like That, Big dies, making him not so much of a problem anymore. Big's death left the door wide open for Carrie to have a new love interest in Season 2: enter Aidan.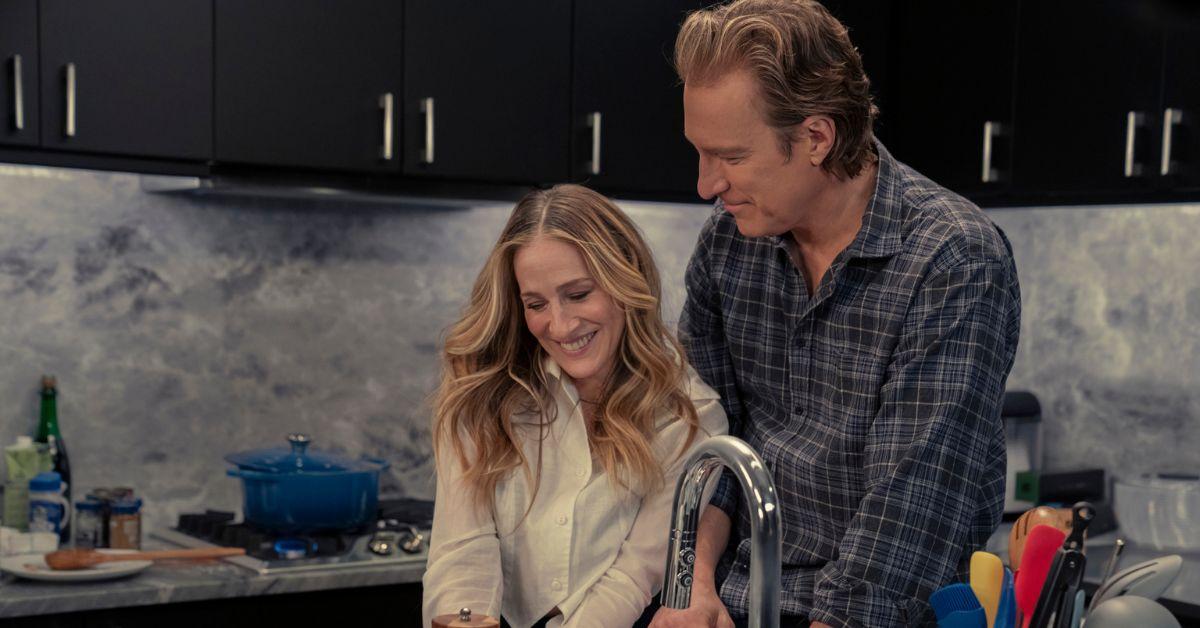 Article continues below advertisement
Carrie and Aidan broke up on 'And Just Like That'... again.
In Season 2 of And Just Like That, Aidan returns to Carrie's life after a decade. They reconnect for a Valentine's Day dinner, but their past mistakes haunt them. Aidan refuses to visit Carrie's old apartment, and they agree to book Airbnbs and hotels for his visits. Carrie eventually gets approval from Aidan's ex-wife, Kathy (Rosemarie Dewitt).
By the end of AJLT Season 2, Carrie is ready to spend the rest of her life with Aidan. She decides to sell her apartment to her neighbor, Lisette (Katerina Tannenbaum), and move into a bigger, spacier spot with Aidan and his sons Wyatt, Tate, and Homer. Unfortunately, the couple's plans for a fresh start are soon halted by Aidan's youngest son, Wyatt.
Article continues below advertisement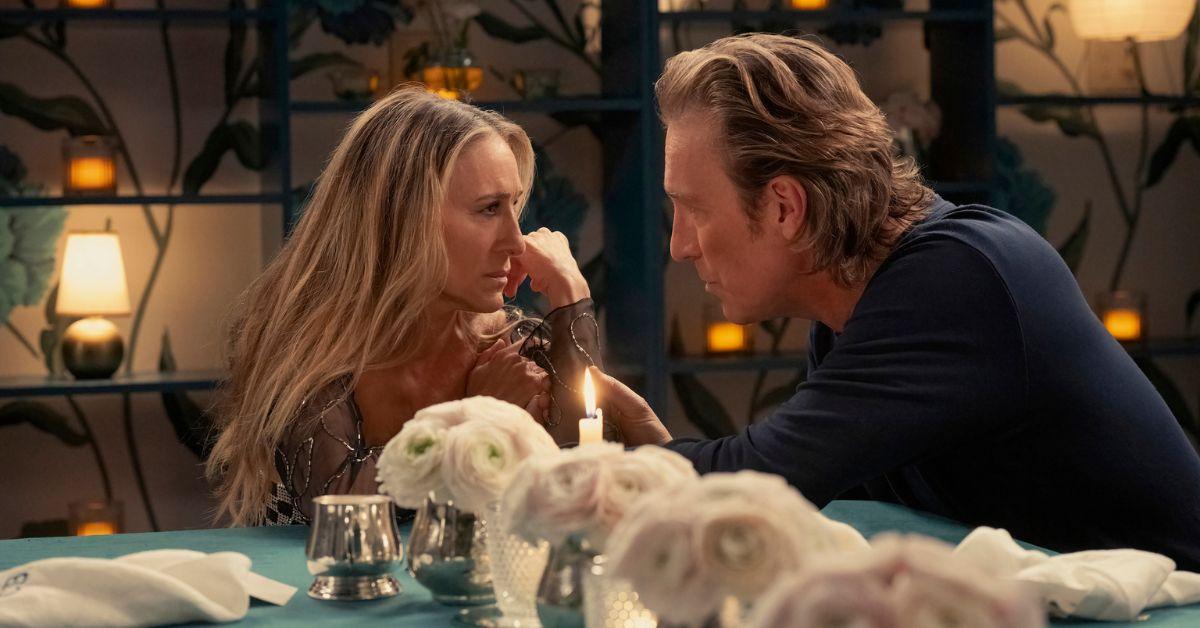 In the penultimate episode of the season, Aidan rushed back to Virginia after his ex called and told him Wyatt had been in an accident. When he went home to see him, he told Carrie Wyatt had broken his collarbone and had several other injuries after driving his car into a tree. While explaining what happened, Aidan cries and says he's guilty because he wasn't home when his son needed him.
Article continues below advertisement
At the end of the episode, Carrie says in a voiceover, "And just like that… I was worried." In the Season 2 finale, "The Last Supper Part Two: Entree," Aidan arrives back in New York from Virginia, and Carrie's suspicions may have been valid.
For the first time in the season, Aidan walks up to Carrie's apartment after throwing a rock at her window, a callback to their SATC days. After making his way up, Aidan tells Carrie he needs to be the "constant" parent in Wyatt's life and knows his accident wouldn't have happened if he was in Virginia.
When Carrie asks if they can still see each other in their cities, he says he can't visit New York every other week anymore and doesn't want to be "distracted" by Carrie's presence in Virginia. So, he begged Carrie to wait for him until Wyatt was no longer a teenager — which would happen in about five years. Yes, five!
Article continues below advertisement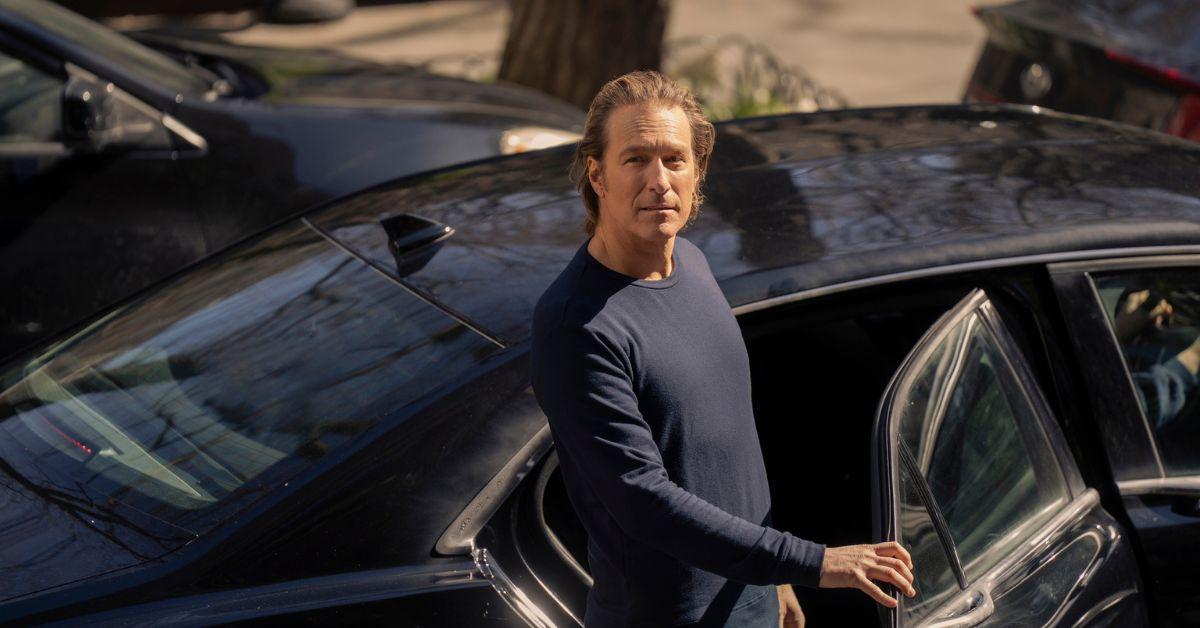 Carrie begrudgingly agrees to wait for Aidan for five years, and he tries to convince her the time will pass in no time. However, the separation felt like a letdown for those who have watched them make up for over two decades.
Article continues below advertisement
But Carrie does give some hope when she and Seema (Sarita Choudry) end the season on the beach in Greece. When Seema asks Carrie about the five-year break, Carrie says she may get time off for "good behavior," meaning we may see Aidan sooner rather than later!
Fans must tune in to find out whether Carrie and Aidan stay together when And Just Like That returns for Season 3.
Catch the second season of And Just Like That streaming now on Max.