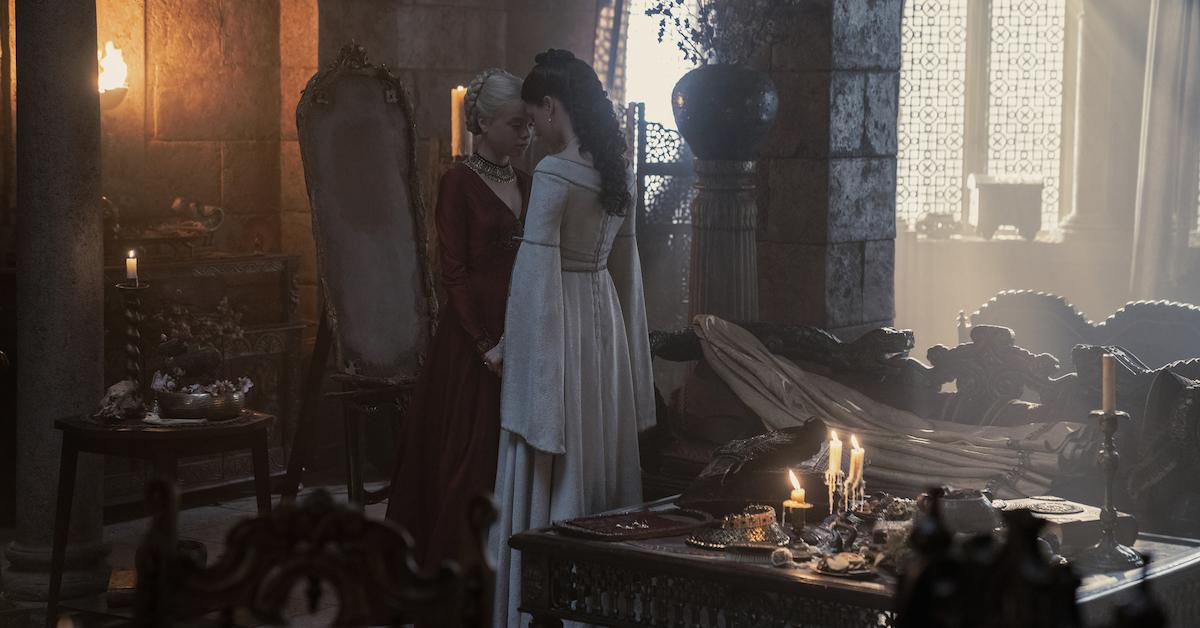 The Sexualities of Some 'House of the Dragon' Characters May Subvert Expectations
Spoiler alert: This article contains potential spoilers for the future of House of the Dragon.
In the world of House of the Dragon and Game of Thrones, marriage and money are all tied to power. Everyone wants their House name on the Iron Throne, or at least very close to it. Game of Thrones followed the Lannisters' and Daenerys's (Emilia Clarke) efforts at a grab for the throne, while House of the Dragon gives us a glimpse into the cracks in the Targaryen reign.
Article continues below advertisement
But one thing that can spoil those plans of marriage and heirs is the different characters' sexual orientations. While we love seeing LGBTQ representation on screen, these characters end up foiling the plans of many families vying for power, further proving why arranged and political marriages are useless. At the same time, the society does seem relatively accepting of LGBTQ characters, as long as they can spurn heirs. So who are the LGBTQ characters in House of the Dragon?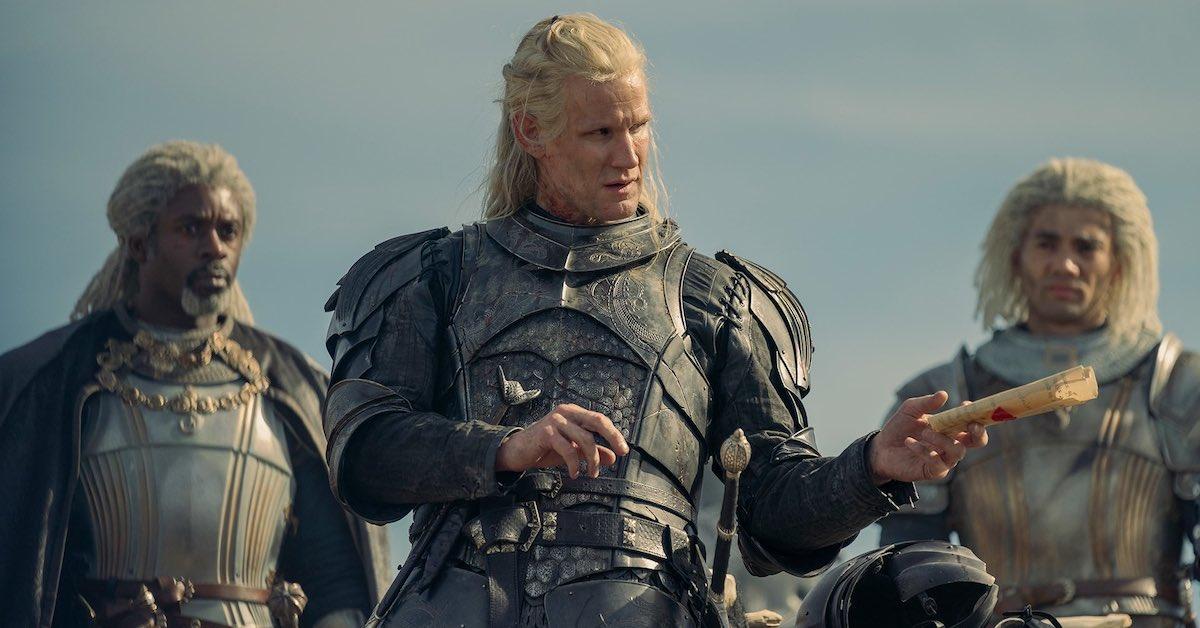 Article continues below advertisement
Laenor Velaryon is the only confirmed LGBTQ character in 'House of the Dragon.'
Article continues below advertisement
However, his sexuality plays a major role in the extinction of the Velaryon bloodline. Basically, in the books, Laenor and Rhaenyra Targaryen (Milly Alcock), are forced to marry for political reasons. This is to strengthen the alliance between the Targaryen and Velaryon houses, as well as to keep the bloodline on the Iron Throne as pure as possible, as the two of them are cousins.
It's relatively well-known by Laenor's parents, as well as his relatives, such as Rhaenyra, that his sights are not typically set on women. But because Rhaenyra has romantic interests of her own, they forge a deal to marry but do their own thing when it comes to the bedroom. In the books, Laenor has relations with Ser Joffrey Lonmouth and Ser Qarl Correy, who we may meet in House of the Dragon.
Article continues below advertisement
However, because of this arrangement, there is later dispute over who has the right to the Iron Throne. It is widely believed that Rhaenyra's future children are bastards, born to Ser Harwin Strong in infidelity, and not to Laenor.
We may meet a few more LGBTQ character in 'House of the Dragon,' as well.
While Laenor is a confirmed gay character from Ice and Fire canon, sexuality is pretty fluid in the world. One thing that's fun about author George R.R. Martin's world-building is that he makes it seem real by basing the story in rumors. By creating potential gossip amongst the characters and using those characters to convey what's happening in the world, it really feels like these events actually happened.
Article continues below advertisement
Not only does this mean that there could be LGBTQ characters hiding in the woodwork, but it also gives the creators more freedom to play with the characters' sexualities. So for those fans who are wondering if Rhaenyra and Alicent Hightower (Emily Carey) have some romantic energy, they're not necessarily wrong.
Article continues below advertisement
In an interview with Insider, Milly and Emily confirmed that there is subtext beneath the girls' close friendship exhibited in the first episode. Emily explained that Rhaenyra and Alicent are "in love a little bit," although Milly joked, "I'm just actually in love with Emily and so I think that's it."
Emma D'Arcy, who plays the older version of Rhaenyra, explained, "I think there's erotic energy in most intense teenage relationships, because it's a period of trying to work out what one is and what one wants."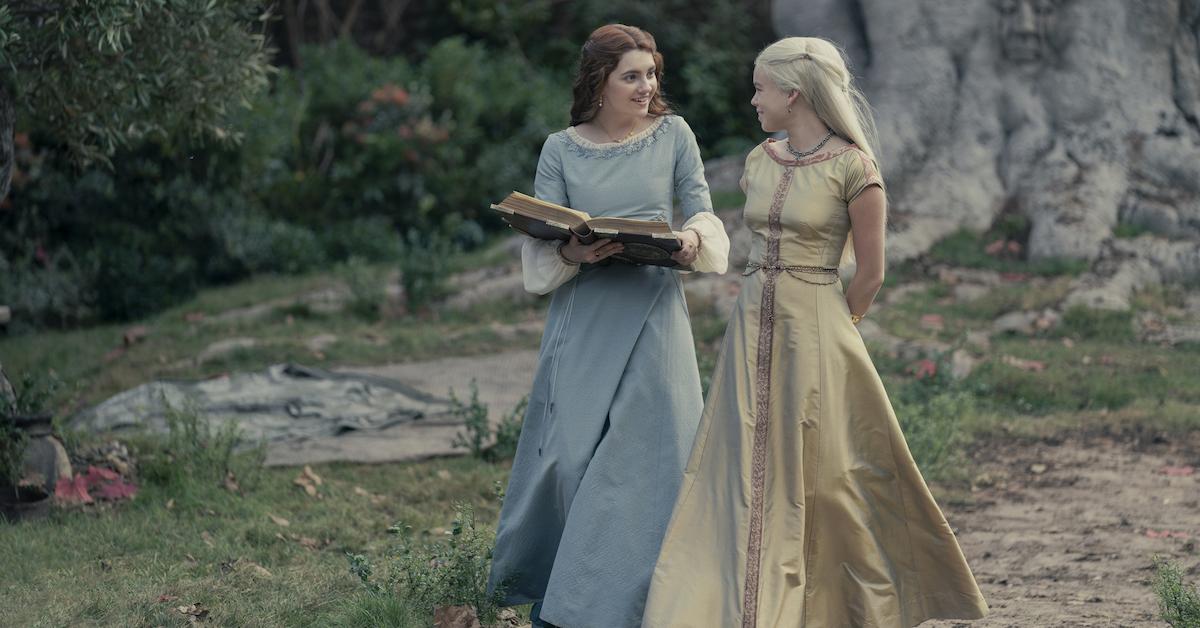 Article continues below advertisement
This feeds into a major theme of the series when it comes to women having (or not having) a seat at the table. "These women aren't given the privilege to know what choices they have because of the world that they live in," Milly refers to a potential romantic relationship between Rhaenyra and Alicent. "That's the theme that runs through this entire story, and Alicent and Rhaenyra's relationship is a prime example of it."
Plus, in the books, it's rumored that Rhaenyra and Laena Velaryon have a closer relationship than sisters. With Laenor already being gay, it wouldn't be surprising if Rhaenyra and Laenor's sister wanted to explore a similar relationship. In addition to them, there are a couple other LGBTQ characters we may meet.
Article continues below advertisement
Jeyne Arryn, also called the Maiden of the Vale and the Lady of Eyrie, sides with the blacks, allies of Rhaenyra who believe she and her family have a right to the throne, when Rhaenyra's eldest son Jacaerys approaches her with an alliance. However, it's widely believed that Jessamyn Redfort is a "dear companion" to Jeyne.
Another LGBTQ character we could meet is Alysanne Blackwood, also known as Black Aly. Like House Arryn, House Blackwood was declared for the blacks when Black Aly was just 16-years-old. While on campaign, she shared a tent with Lady Sabitha Frey, who Black Aly was rumored to be "very fond of." She eventually married Lord Cregan Stark of Winterfell, who shortly served as Hand to the King Aegon III Targaryen.