Christine Quinn and Her Husband Dated Less Than a Year Before Getting Married
So much has happened since Selling Sunset Season 3 wrapped. Heather Rae Young got married, Chrishell Stause started dating Jason Oppenheim, and Brett Oppenheim left the Oppenheim Group.
With two new seasons in the works, there have been some questions as to whether or not Christine Quinn will return. Amid speculation, she took to Twitter to set the record straight. "I am in every single episode of Season 4 and 5 of Selling Sunset," the reality star confirmed.
Article continues below advertisement
Phew! We're not going to lie: Selling Sunset would not be the same without her. As you may recall, Season 3 ended with her lavish gothic wedding to Christian Richard. Since the show went on hiatus nearly a year and a half ago, you may have been wondering: What have Christine and her husband been up to?
Keep reading to find out everything we know about Christine Quinn and her husband Christian Richard's relationship.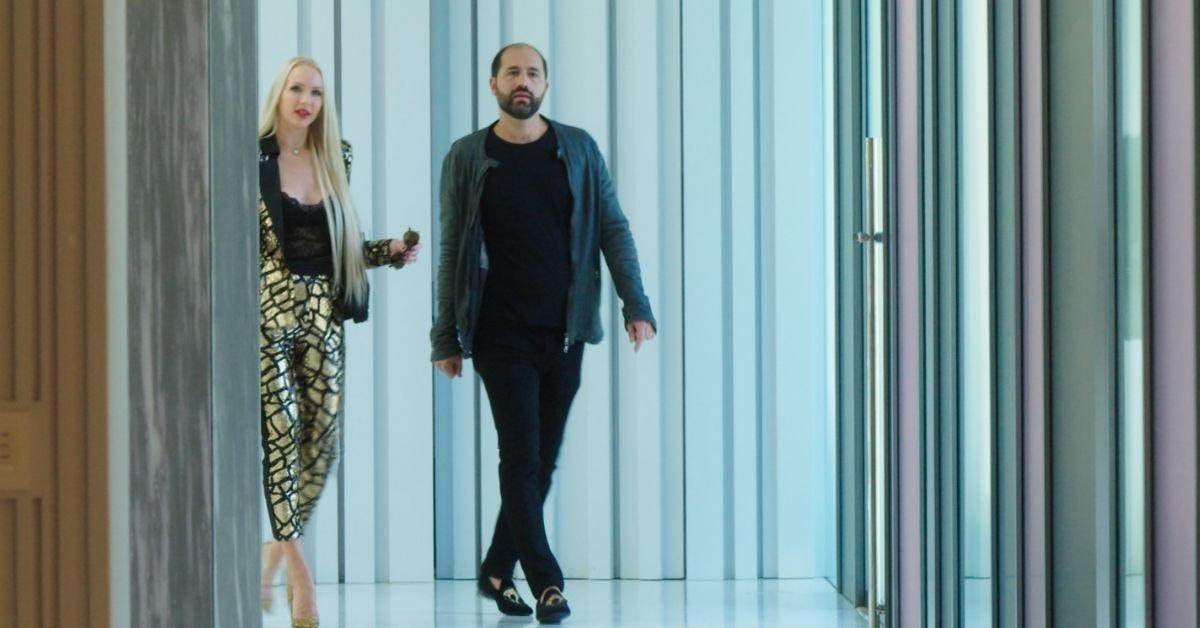 Article continues below advertisement
Are Christine Quinn and Christian Richard still together?
Yes, Christine Quinn and her husband Christian Richard, officially known as Christian Dumontet, are still together. In fact, the pair, who got married in Dec. 2019, welcomed their first child in May 2021.
The couple, who keep their relationship fairly private, has had somewhat of a whirlwind romance. They said "I do" less than a year after their first date.
During a toast at their engagement party, Christian shed a light on their fast-paced relationship: "Christine, I met you in Beverly Hills not even a year ago, and I absolutely fell head over heels in love with you. We had instant banter which is really special, you don't get that too often," he said, according to ELLE. "I pursued her, and she's a tough catch. But here we are now, she's amazing, complements me perfectly, and we're building a life together," he continued.
Article continues below advertisement
Christine Quinn met Christian Richard through a mutual friend.
During an appearance on the Dear Media's Not Skinny But Not Fat podcast, Christine revealed how she met her hubby. "I met [Christian Richard] through a girlfriend of mine. She went on a date with him and she just wasn't into it. And she was like, 'Hey, I went on a date with this guy and just like, not feeling it, but I do know that he is looking for a house,'" she told host Amanda Hirsch. Christine, being the career-oriented boss lady she is, had to help out.
Article continues below advertisement
But after going on a date with Christian, she realized that he was much more than her typical client. "He's like different. He's funny. And then, you know, we started dating immediately and then when we were looking for houses, like we were looking for houses like for us, you know, so it really was like the perfect situation and I kind of manifested it," she shared.
In 2019, Christine sold Christian the home of Crystal Hefner, who was the widow of Playboy founder Hugh Hefner, for $5 million.
Christine Quinn named her baby after someone special.
Christine Quinn and Christian Richard welcomed a son in May 2021. They named him Christian Georges Dumonte, after Christian's father.
"Baby C is more precious than I could have ever imagined. Nine months seems like a lifetime to wait to meet someone," Christine told People at the time. "It is the most incredible feeling to know that you have created life. My protective mama bear mentality is stronger than ever. My sole job is to protect him, to love him and to raise him," she gushed.
Article continues below advertisement
The new parents welcomed Baby Christian into the world via emergency C-section. "It was a giant gush of fluid, just like in the movies," she recalled to the outlet. "I wrapped a towel around my waist and off we went to the hospital. Twenty-two minutes later, Baby C was born via emergency c-section performed by Dr. Steve A. Rad," Christine said.
Article continues below advertisement
Christine Quinn's husband is "big in the tech world."
During an episode of Selling Sunset, Christine described Christian as "big in the tech world" to her coworkers — and she wasn't lying. According to Global Property and Asset Management, Inc., Christian "is the former CEO of Boston-based Foodler, a food delivery startup that sold to competitor GrubHub in 2017. As she told Women's Health in 2020, he attended MIT and specializes in "engineering of all types including software platforms."
Want to see more of Christine and Christian's relationship? Selling Sunset Season 4 will be available to stream to Netflix starting November 24.