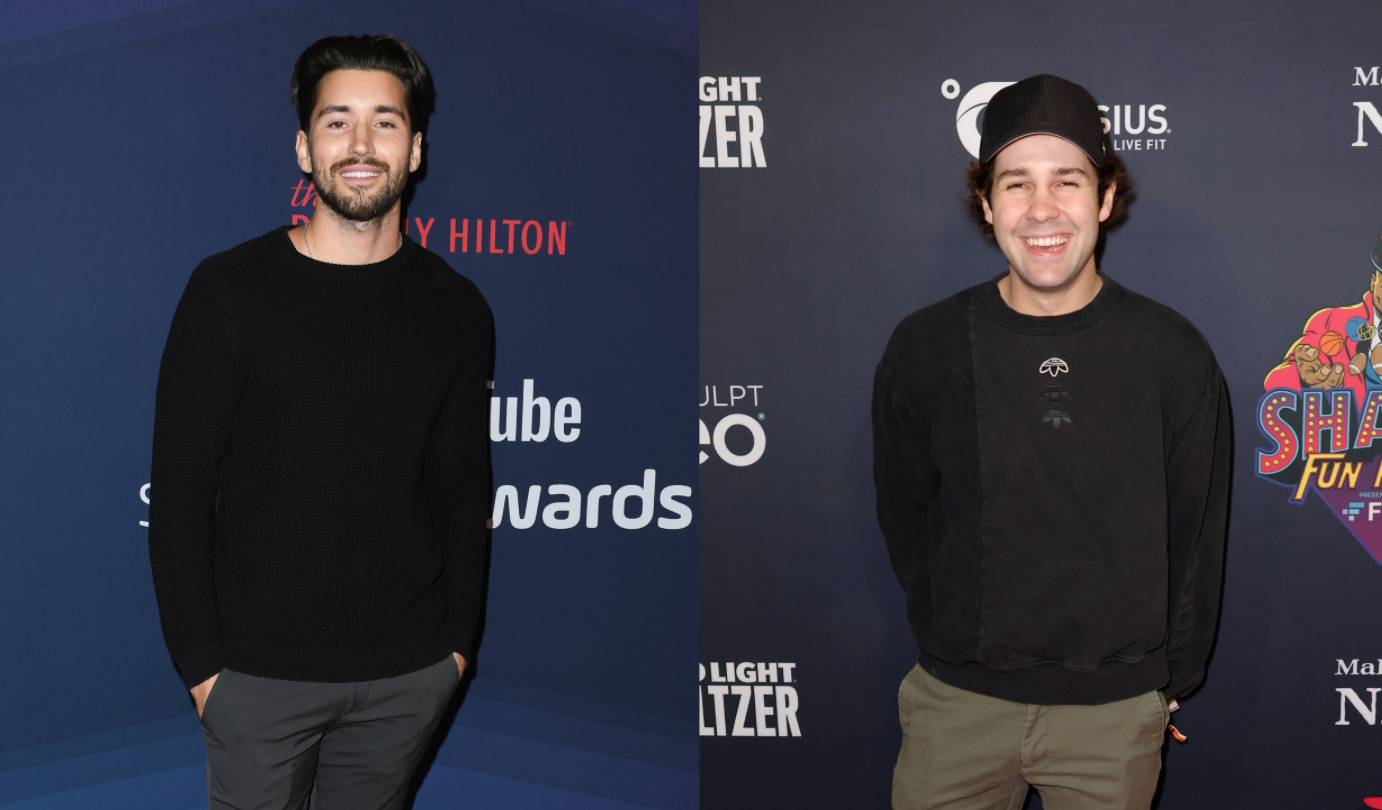 Jeff Wittek May Be Suing David Dobrik Nearly Two Years After the Excavator Accident
These past couple of years haven't been the best for David Dobrik. He got called out multiple times for seemingly putting content above the safety of those around him. Plus, he didn't publicly respond to almost any of the allegations, making people feel like he didn't care.
Article continues below advertisement
In June 2020, David and the Vlog Squad took a trip to a lake in Utah. In a vlog that was posted almost a year later in April 2021, you see David swing Jeff Wittek from an excavator, resulting in Jeff crashing into the machine, permanently damaging his left eye.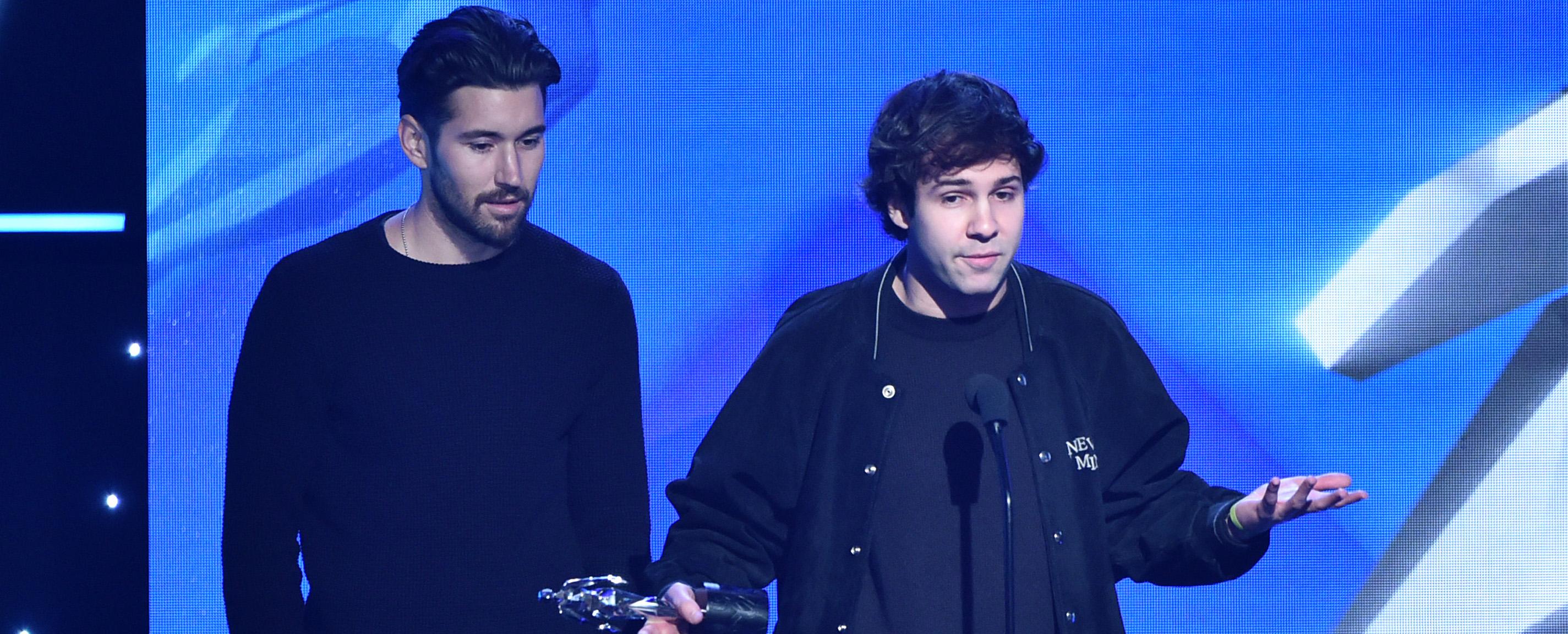 Article continues below advertisement
Since the accident, Jeff has not only not blamed David for the accident but he's also defended him publicly. In February 2022, though, Jeff started calling David out for not supporting him since his eye injury. At first, Jeff decided not to take any legal action against David even though some fans felt he should. But now that Jeff is calling David out, is he suing him?
Is Jeff Wittek suing David Dobrik?
As of now, Jeff has teased the idea to his audience of suing David Dobrik. In an episode of his podcast Jeff F.M., Jeff talks about the falling out that's happened between the two of them. When the accident first happened, it seemed like Jeff wouldn't even think to take legal action against David even though he was the one driving the excavator.
Article continues below advertisement
But all of that changed when Jeff found out that David blamed him for what happened in the upcoming documentary by Casey Neistat. Toward the end of the episode, Jeff says that Casey showed him the clip where David blamed him to "prepare me for what's coming and to prepare David for what's coming."
Jeff doesn't explain what this means. But at the end of the video, Jeff says to leave a comment on the video if you think he should sue or if you're an attorney.
David Dobrik finally addressed the accident with Jeff Wittek.
In the March 8, 2022, episode of David's podcast VIEWS, he and Jason Nash talk about David being canceled. For the first time, David talks about the accident with Jeff and tells his side of the story. He says that the excavator stunt was actually Jeff's idea but that Jeff didn't want anyone to know that. So publicly, David ended up being blamed for the whole thing.
Article continues below advertisement
David says that Jeff sent him a DM with a video by 50 Cent of him hanging from an excavator. But David did mention that he only saw the message when Jeff was already in the hospital. David says Jeff wanted it to be a secret that he was the first one to have the idea for the stunt, and David agreed not to say anything. But because people started blaming him for what happened, he felt the need to defend himself.
Article continues below advertisement
"This is not what happened," David says in the episode. "It was a combined decision we made and it was a complete accident. And I'm so f--king sorry that accident happened but it did and there's no going back from that."
Later on, David also says that Jeff isn't being truthful. For example, Jeff has said that David isn't paying his medical bills, but on the podcast, David says that Jeff isn't informing them about what needs to be paid.
David says Natalie Mariduena, his assistant, has been reaching out to Jeff to figure out what needs to be paid. But so far, no one has gotten back to them. David clarifies that he will pay for anything Jeff needs him to.
But at the end, David looks directly into the camera, speaking to Jeff, and apologizes.
Article continues below advertisement
Jeff has responded to David and updated his fans on whether or not he will be suing.
During David's podcast, he mentioned that he invited Jeff on the show because he didn't feel right at first talking about the whole thing without him there, but Jeff declined. So instead, Jeff decided to respond on his own podcast. He calls his episode, "Discussing what *really* happened."
In it, he starts off by saying that Jason reached out to him about the VIEWS episode, but he didn't go on the show because he didn't feel comfortable even being in the same room as David after what he said in the upcoming documentary.
Article continues below advertisement
Jeff continued reacting to David's podcast episode and went against almost everything he had to say point by point. David pointed out that swinging from the excavator was Jeff's idea, and Jeff doesn't deny that, but he does say that he didn't expect the machine to go as fast as it did. Jeff says that Vlog Squad member Corinna Kopf swung before he did and that when he was swinging on it, David spun it around much faster.
Article continues below advertisement
In terms of his insurance payments, Jeff also points out that Natalie knows when all of his surgeries were because everything is in a chain of emails. But instead of dealing with it directly, Jeff says she forwarded their concerns to an insurance company instead of making sure bills got paid directly.
Article continues below advertisement
He says that overall, David's podcast episode felt disingenuous and that he was just trying to "charm his way out" of responsibility. Regardless of what David is saying now, this is the first public response he's making after two years, and it only happened after Jeff called him out first.