Jaden Hossler Just Made an Edit to His Tattoo Collection and Fans Claim It's "Petty"
TikToker and singer Jaden Hossler has quite the tattoo collection and he's nowhere done yet. Read on to see which ex he shares a matching tattoo with.
TikToker Jaden Hossler (aka jxdn) first rose to fame in 2019 for his comical videos and his part in the L.A.-based collective, Sway House. The following year, he launched his self-released debut single "Comatose" and captured the attention of some big names in the industry like Travis Barker as well as some female fans who were obsessed with his look, sound, and tattoos.
As one fan tweeted: "I wasn't a fan of tattoo boys until I saw Jaden Hossler."
Article continues below advertisement
The Texas native is covered in tattoos and it's no secret that his ink is a huge part of who he is. Keep reading to learn more about Jaden's tattoo collection and which ex-girlfriend he got a matching tattoo with.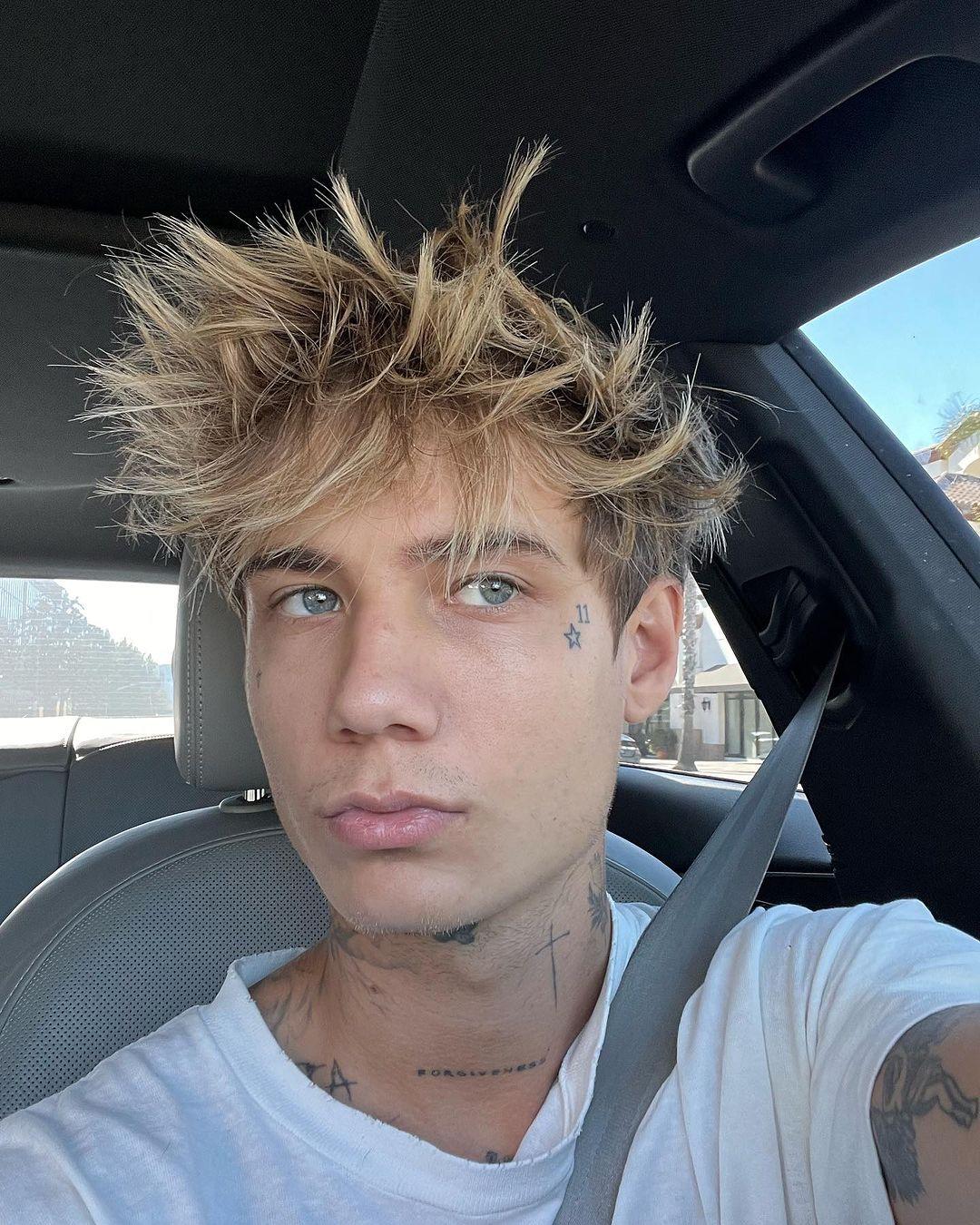 Article continues below advertisement
What are Jaden Hossler's tattoo goals? He wants to be covered like Travis Barker.
Jaden has no shortage of tattoos on his body. Some of his standout tattoos include a woman's eyes near his wrist, a broken heart on his hand, a star and number 11 under his left eye, and the word forgiveness printed right on his Adam's apple.
Jaden also sports a crown tattoo on his chest, a design he described as his "most painful" during an episode of the Zach Sang Show.
Article continues below advertisement
"All tattoos hurt," he continued, adding "It's kind of like coffee, you learn to like the taste over time."
Jaden also revealed that he was hooked on tattoos from the get-go. In fact, after he got his first tattoo, he went back the next day to get another one.
In terms of his tattoo aspirations, Jaden said "I wanna be covered like Travis. My mom hates it and she's so sad."
Article continues below advertisement
Jaden once got a matching tattoo with his ex-girlfriend Nessa Barret.
Over the years, Jaden has had a few girlfriends, but one of his most memorable relationships was with fellow TikTok star and singer Nessa Barrett. The pair dated from April 2021 and announced their breakup in May 2022.
During their relationship, they both got the tattoo, "It's you I welcome death with" inked on their arms.
Article continues below advertisement
But in August 2023, fans quickly noticed that Jaden now had a line through that tattoo after he posted a photo carousel of himself on Instagram.
It seemingly was in spite of Nessa's June 2023 single "Lie," which contained the lyric, "Thank god our matching tattoos last for life." This line was believed to be about Jaden.
In his comment section, fans were heartbroken by Jaden's action, especially since rumors had circulated that he cheated on her which led to their breakup.
"I honestly feel so bad for Nessa that's just got to be painful," wrote one fan.
Another said: "Why not just get the tattoo removed why cross it out that's just petty."