If Addison Rae Didn't Bail Bryce Hall out of Jail, Who Did?
The TikTok community was completely shaken when two stars from the social media site, Bryce Hall and Jaden Hossler, were reportedly arrested for drug possession. The duo was, at the time, known for being part of the Sway House, a TikTok collective based in Los Angeles, Calif., and they were reportedly pulled over in Texas while on a road trip with other members from their friend group over Memorial Day weekend in 2020.
Article continues below advertisement
The two content creators reportedly made it out of the big house on bail, with Twitter convinced they knew who bailed Bryce Hall out for $5,000 and Jaden Hossler for $6,500. Stay tuned for more on the rumors regarding Bryce and Jaden's reported wealthy rescuers.
Article continues below advertisement
Did Addison Rae bail Bryce Hall out of jail? According to her, nope!
The rumor was that Bryce Hall's reported ex-girlfriend (now girlfriend again), Addison Rae, may have bailed the TikTok star out of jail. According to Seventeen, it all started when Twitter's TikTok gossip account, @TikkerTokker, tweeted, "Addison Rae reportedly bailed Bryce Hall out of jail. We will confirm this as soon as we can."
Article continues below advertisement
However, according to Addison herself, she wasn't the one to bail Bryce out of jail. In a game of two truths and a lie, she posted a TikTok in which she wrote, "I had a 1D fanpage when I was 11," "I bailed Bryce out of jail," and "I paid off my grandparents house." Apparently, the fanpage and her paying off her grandparents' house are real, but she did not bail Bryce out.
Article continues below advertisement
Rumor has it the Hype House may have pitched in to collectively cover Jaden's slightly higher bail.
At the same time that the rumors spread about Addison bailing Bryce out, another one spread about who bailed Jaden out. In fact, rumors regarding Jaden's rescuer — or rescuers — involve another major TikTok collective.
Twitter user @KhushiNoori tweeted, "Jaden and Bryce got arrested because of drugs and Addison Rae bailed him out and the hype house is working to bail jaden out whyyy," so it seems as though the infamous Hype House may have saved Jaden from spending a night behind bars.
While many had previously believed there was some sort of rivalry between the two TikTok collectives, it turns out the Sway House and Hype House have a solid relationship, according to Elite Daily.
Article continues below advertisement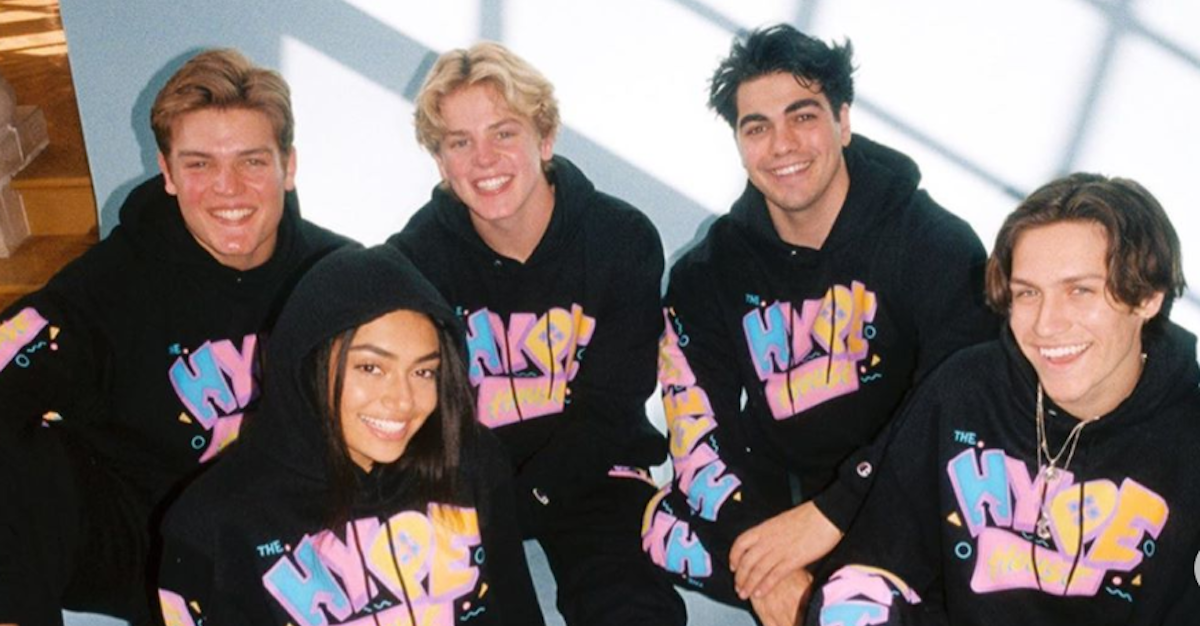 In one of Sway's early videos, Bryce stated, "There's no beef with Hype House ... Everyone is making it this thing like, Hype House versus Sway House ... There's like 16 people in that house. There's no room for us." Therefore, we aren't particularly surprised they may have helped him out (although Sway's Bryce and Hype's Thomas Petrou might have had a bit of a beef in 2020).
Bryce and Jaden were seriously lucky to get bailed out of jail after reportedly getting caught with marijuana, but as far as who their guardian angels were, we may never know. All we know at this point is it's not Addison.