Why Are the Kardashians so Tight With Dolce & Gabbana? Inside Their Relationship
The Kardashian family knows a thing or two about a brand partnership. But for some reason, they can't let renowned fashion house Dolce & Gabbana go.
While the Kardashian women are all bosses, they still dabble in endorsements with other notable brands. From fitness teas to headache medicine and luxury fashion houses, there aren't many things one member of the Kar-Jenner tribe hasn't endorsed over the years.
Unfortunately, not all of the famous family's endorsements and partnerships have resonated with those who follow their careers, and several of the Kardashians' deals have gone awry.
Article continues below advertisement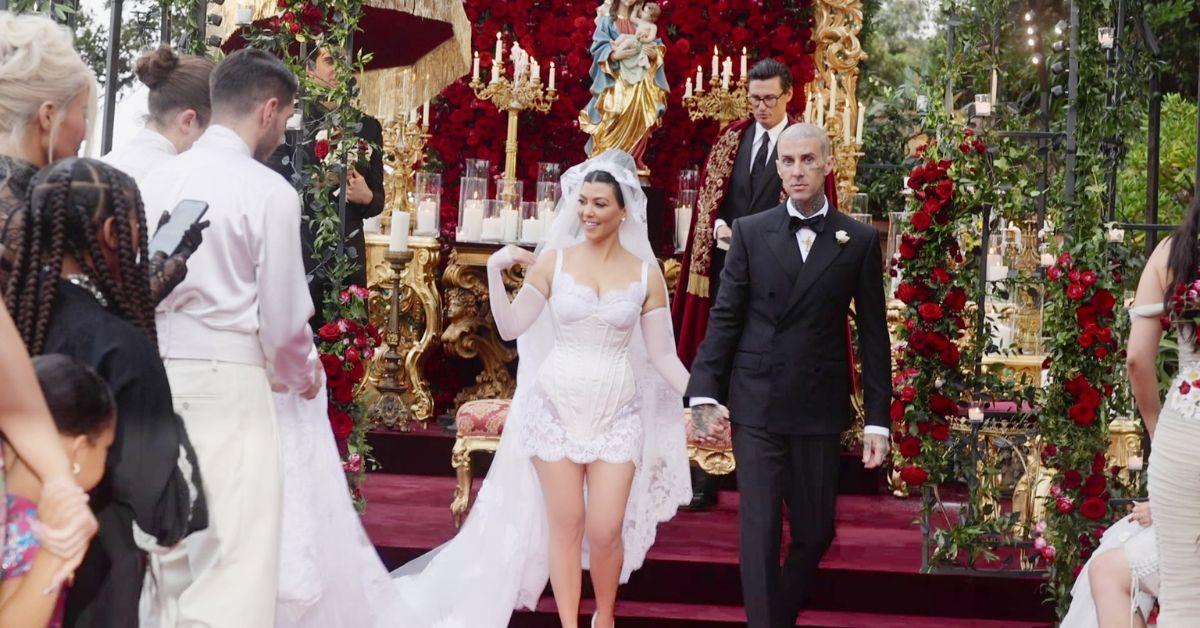 Article continues below advertisement
Kourtney Kardashian wore a Dolce & Gabbana dress to her and Travis Barker's Italian wedding.
The designers also collaborated with Kourtney to create her wedding veil, which was a long, embroidered veil with an image of the Virgin Mary. The veil was a replica of Kourt's husband's tattoo of the same image.
Article continues below advertisement
While a celebrity wearing a luxury fashion house on their wedding day is far from breaking news, Kourtney and Dolce & Gabbana went the extra mile to prove their love and respect for one another.
Article continues below advertisement
Additionally, the Kardashians' photos from Kravis's wedding showed that they all wore Dolce & Gabbana during their entire stay, which isn't a typical pre-wedding tradition.
Article continues below advertisement
Kim Kardashian is a Dolce & Gabbana brand ambassador amid the fashion house's many controversies.
Dolce & Gabbana's open-door policy with the Kardashians is likely due to the family's (especially Kim's) willingness to keep money in Domenico and Stefano's pockets.
Throughout the years, Dolce & Gabbana has gone from an acclaimed feature in fashion magazines globally to a company lacking support from its industry peers.
Article continues below advertisement
The fashion house has allegedly been canceled for multiple racial and sexually insensitive comments or content, including a 2018 screenshotted thread by Diet Prada of Stefano allegedly mouthing off anti-Asian remarks about China as the brand prepared for a show in Shanghai. Dolce & Gabbana also went under fire for developing a "slave sandal" in 2016 for over $2,000, per Fashionista.
Article continues below advertisement
Despite Dolce & Gabbana's controversies, the Kardashians haven't seemed to let the issues stop them from another bag. In February 2023, Kim Kardashian showed off her support for the brand by becoming the face of the brand's Spring/Summer 2023 ad campaign. Kim introduced her new gig with multiple black-and-white photos shot by Mert Alas and Mac Piggott.
The SKIMS founder also took her brand deal on the road by rocking Dolce & Gabbana during Milan Fashion Week. Kim wore not one, not two, but four D&G outfits in one day while promoting the partnership, per People.
"I love you, Milan!" Kim wrote on Instagram in February 2023. "I had to stop by the store to see the collection in stores since it just all arrived! What a surreal dream come true! And thank you all for coming to say hi to me there! I love you, Domenico and Stefano, for making my dreams come true."